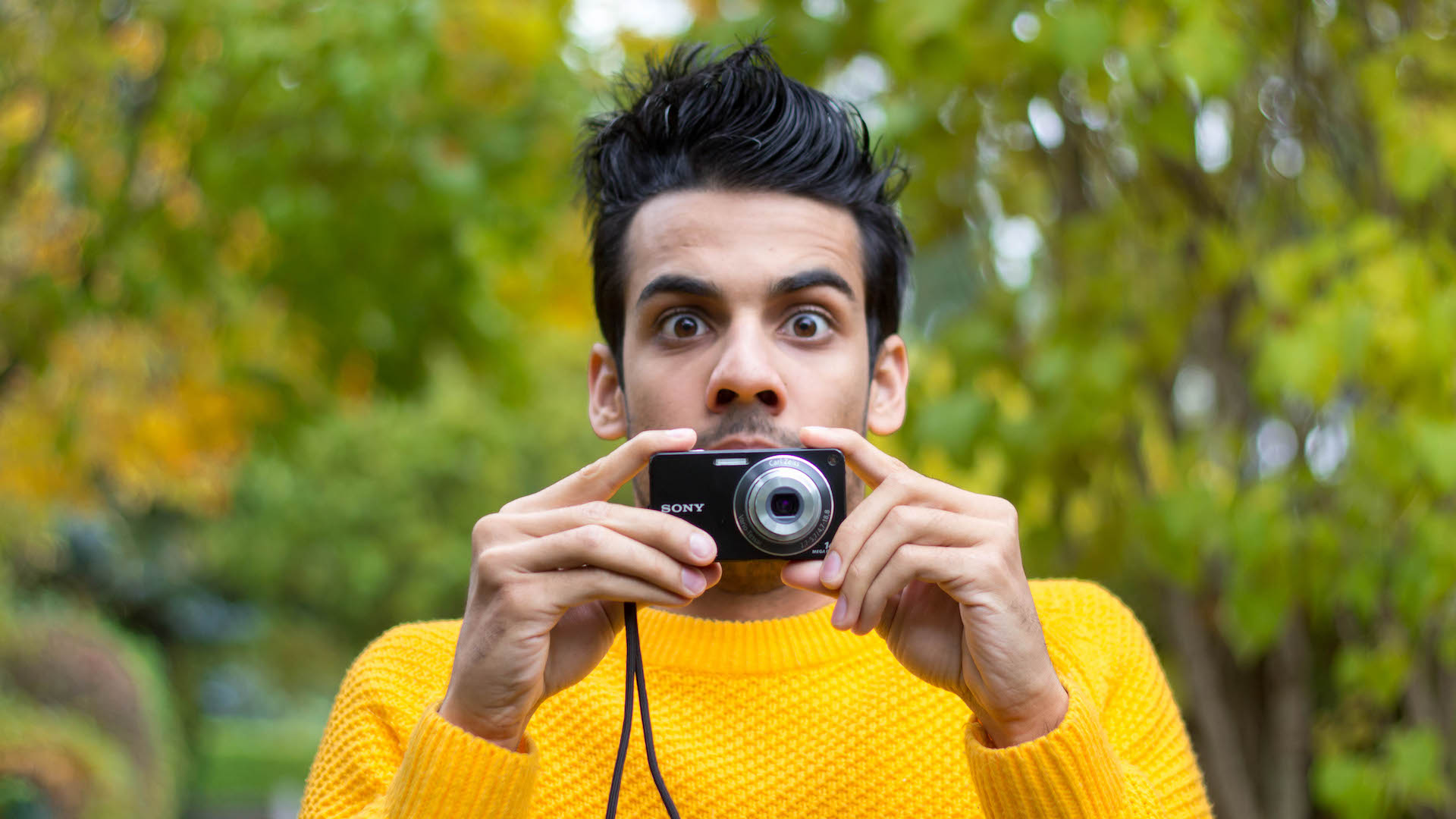 Nineteen monthly meetings, Holy days, and now the Bicentenary of Baha'u'llah's birth! The Baha'i calendar is full of events which you are likely to want to share with your family and friends, and more importantly, document for the future! Luckily, apps like Instagram, Snapchat and Facebook come running to the rescue, nowadays anybody can share these moments, not just professional photographers. I guess then this begs the question, "if I'm not a professional photographer, how can I take the best photos at my event?"
Having attended a lot of events myself, and being a photography enthusiast, I find myself more often than not, standing, sitting, crouching and army crawling behind a camera… hey look, here's a photo of me pretending not to be noticed. (Why did I wear bright white trousers…?)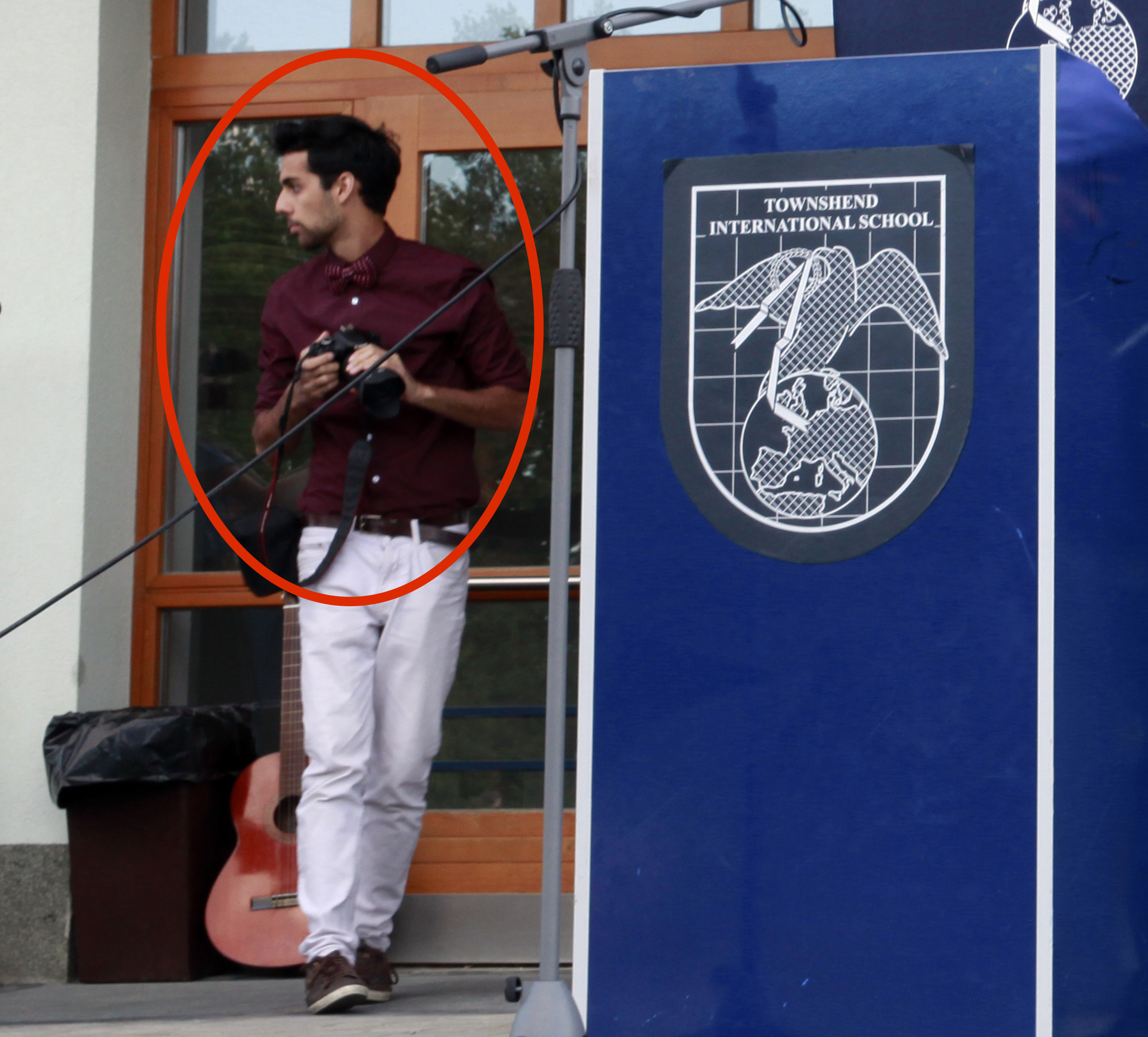 Basically, I totally get why you would want to remember certain events, which is why I wanted to share 10 little pointers on taking the best possible photos of your special events.
Note: this is not permission for you to replace a professional photographer, they have more advanced secrets.
So without further ado:
1. What Camera Should I Use?
Ok, so you are probably wondering what type of camera I recommend you use to take photos, and the truth is, there's only one camera that suits the job, it's the best kind of camera… The camera you have with you. Whether that is an iPhone 4 from 1995 or a $20,000 SLR, the BEST CAMERA is the one you will have WITH YOU, so just get out there and take some photos. This photo for example was taken with my phone: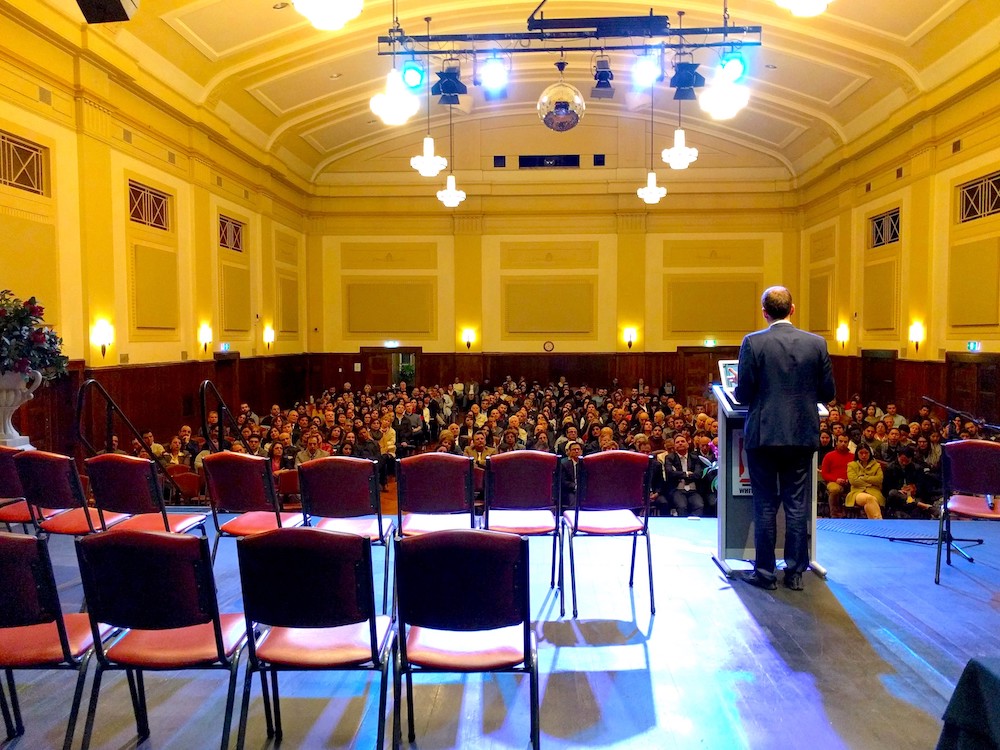 2. The Wide Shot
When people see photos from an event, they like to be able to imagine the space in which the photo was taken, they wanna soak up that vibe! So let them see the whole picture! Find a way to step back out of the action, and find a way that you can capture everything, the audience and what they are looking at. I have often found that for this it's best to get a vantage point, like an explorer. But if you don't have a mountain or helicopter, a chair in the corner of the room works too. Here is an example: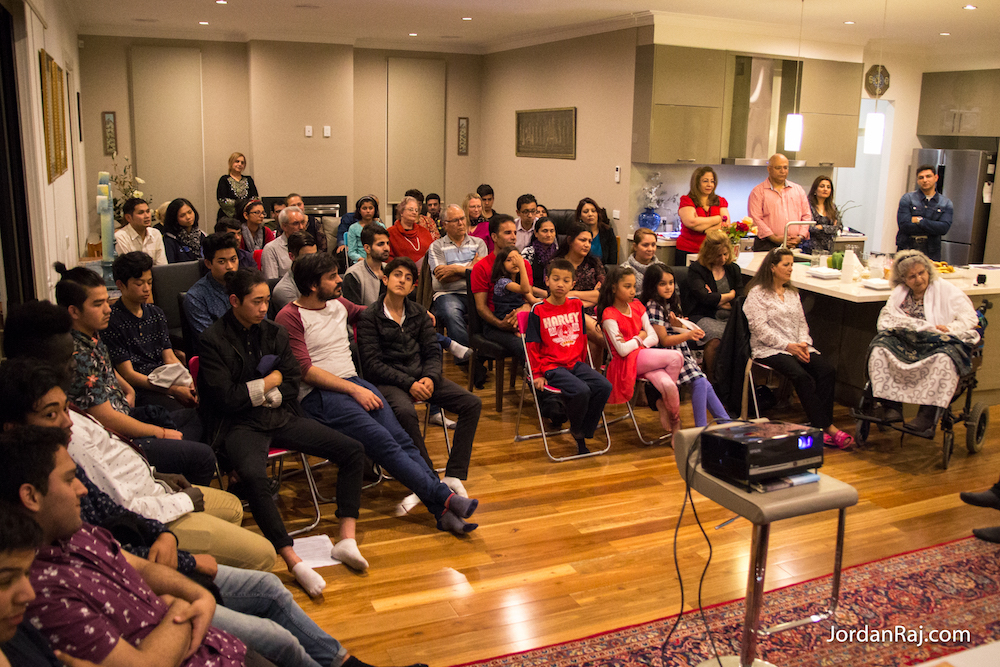 3. Capturing the Details
Now that you have captured the widest possible photos of the entire event, it's time to do the exact opposite. Here, the idea is that people can start to see the little things which made the event special. For example, photos of the artisanal paper on which the program was printed, or perhaps the custom balloons which were printed for the event. Really, how you do this is up to you. But here's a photo of a birthday cake: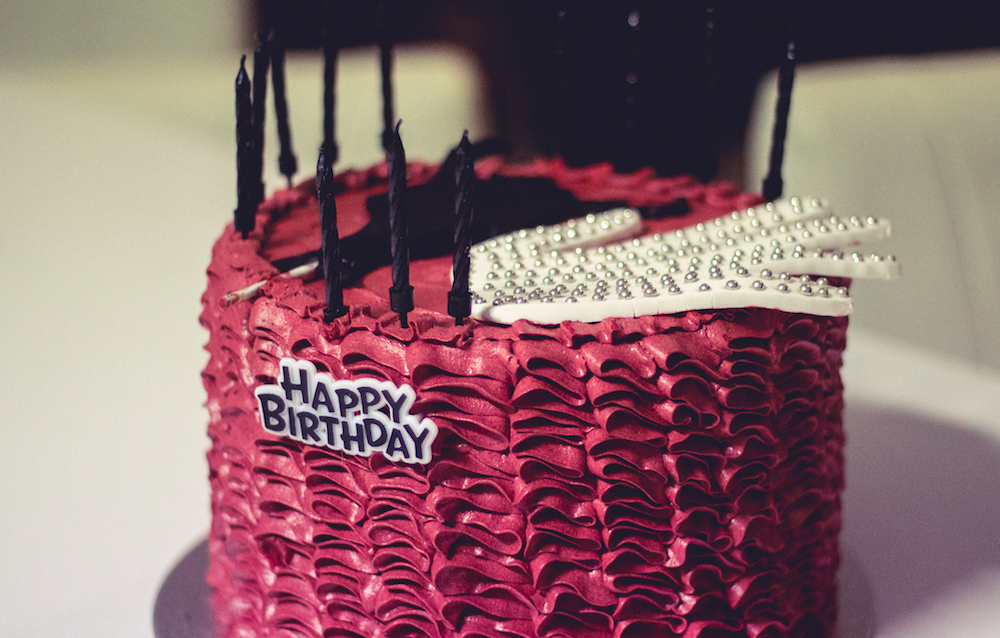 4. Keeping Things "Light"…
Talk to any photographer about what they recommend, and they will usually say "hire me", but shortly following that they will say that lighting your photo is super important. This means being aware of where the light is coming from in the room, and using it as best you can. For example, if there is a massive window in the room you will be able to stand in front of it and let its light shine upon your subjects!
Here is a good example, I had these two friends facing a window, so that the sunlight landed right on their friendship.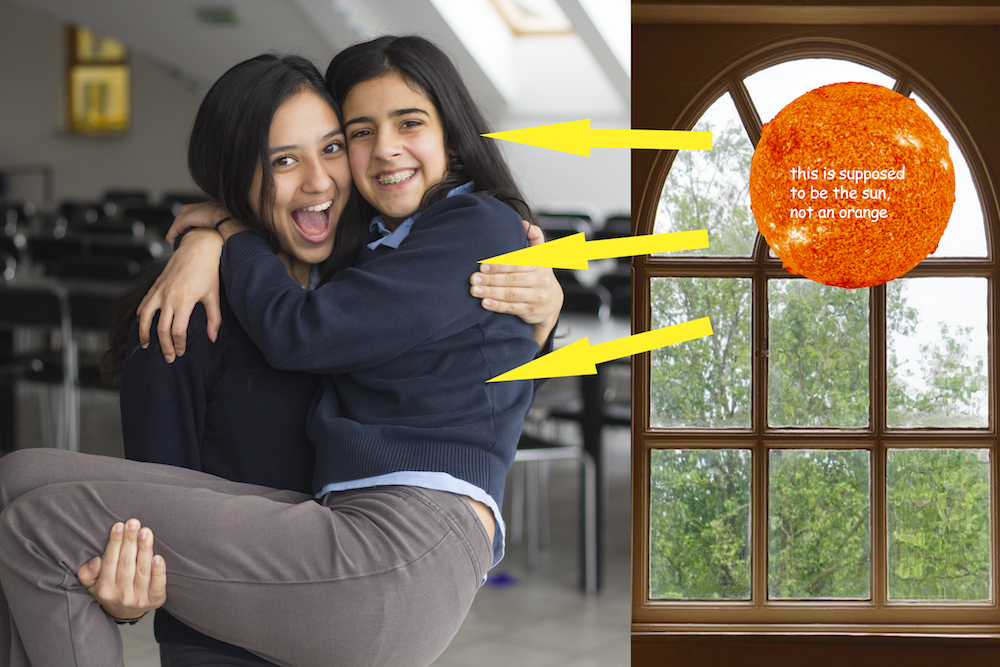 Note: if you look really closely, you will notice that the sun is fake…
5. Keeping it Natural
Ahhh, yes, the age old questions: "How should I stand?" "What do you want me to do? Should I smile?" "I don't know what to do!". Often times, once you have pointed a camera at them, people lose all sense of how to exist normally, they panic. Which is why at any event, it's a good idea to get a mixture of natural photos, and those which are posed. Here are some examples of natural sneaky photos (I took them whilst sneaking around):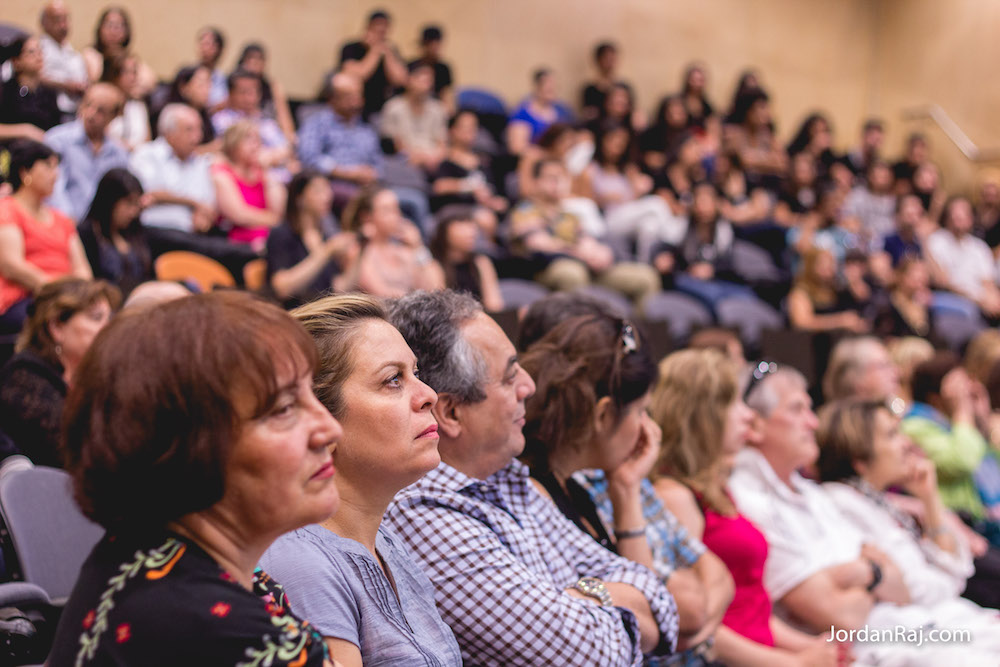 Whereas here are some posed photos, people bunching up together and smiling right into the camera: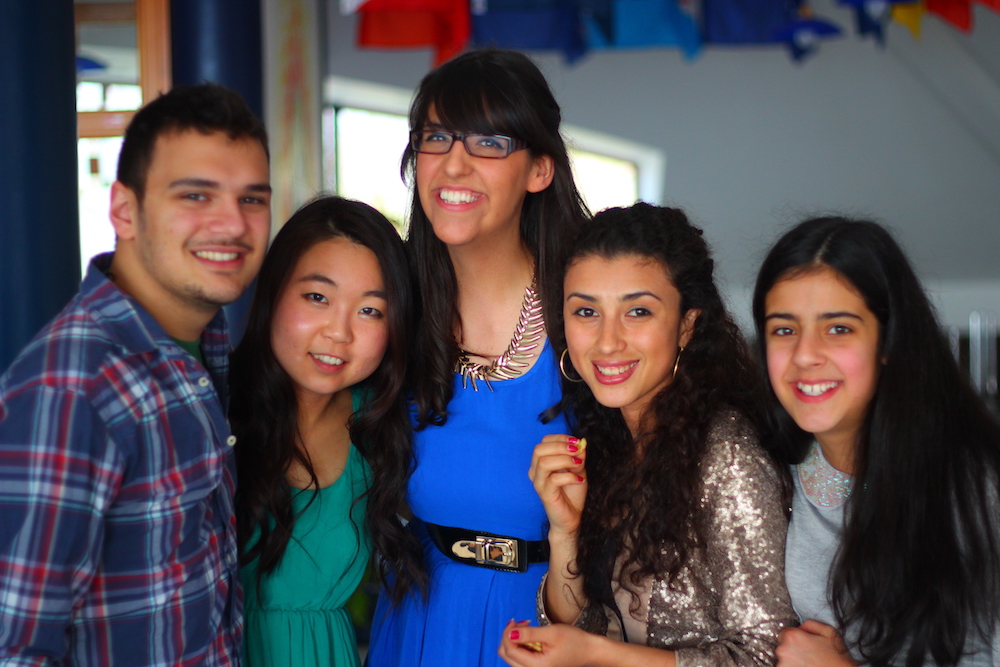 6. How to Get in Trouble
So, let's say you have been taking photos for a while, and you have started to get bored, you need something more, you need some adrenaline. In this case, I recommend you take photos of people eating. They will turn into vicious tigers which will chase you out of the building and hunt you down. In short, people really don't like photos of them eating. So please don't do it.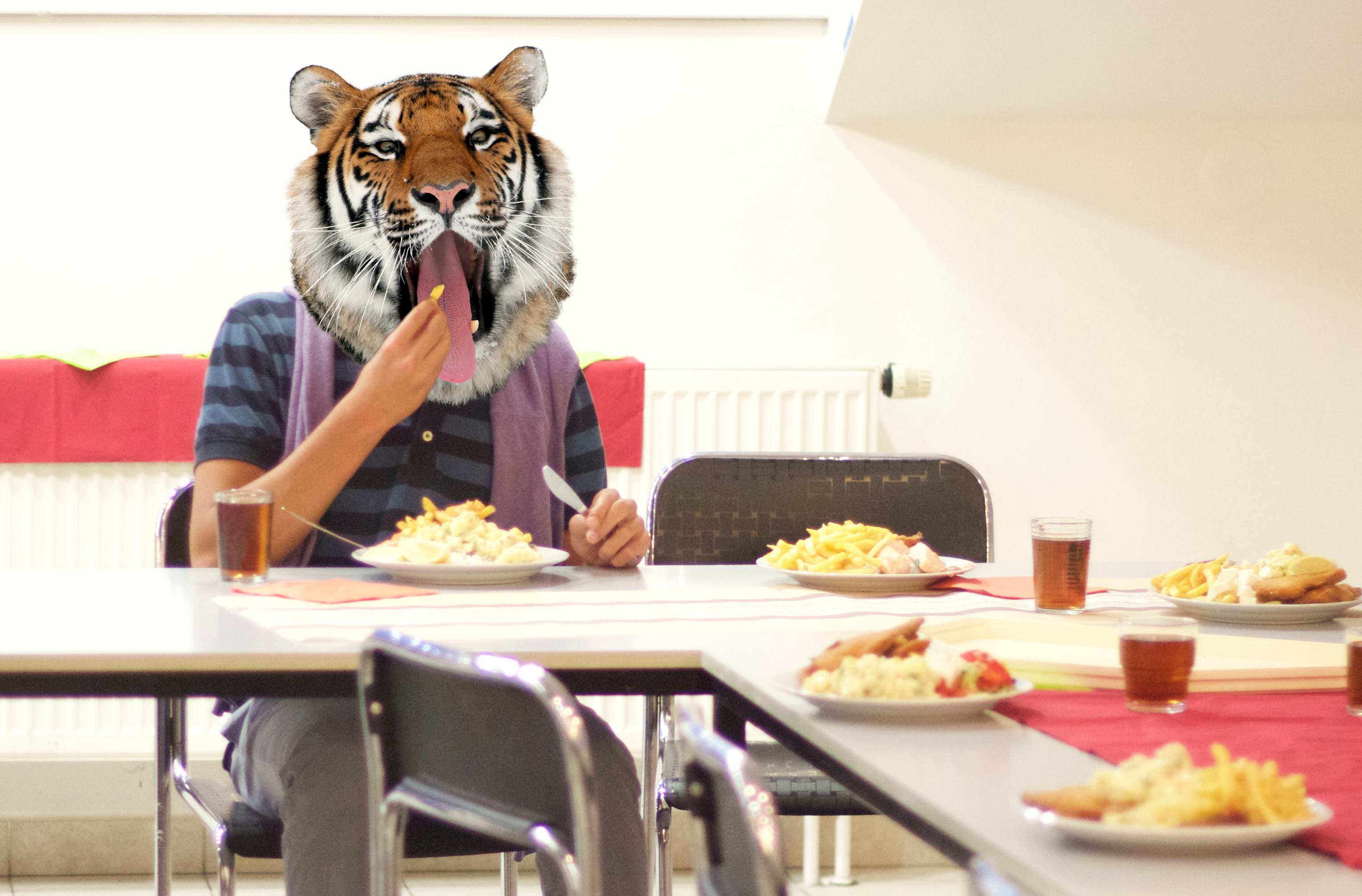 … unless, the food is the best part of the photo, like our Cheezle rings: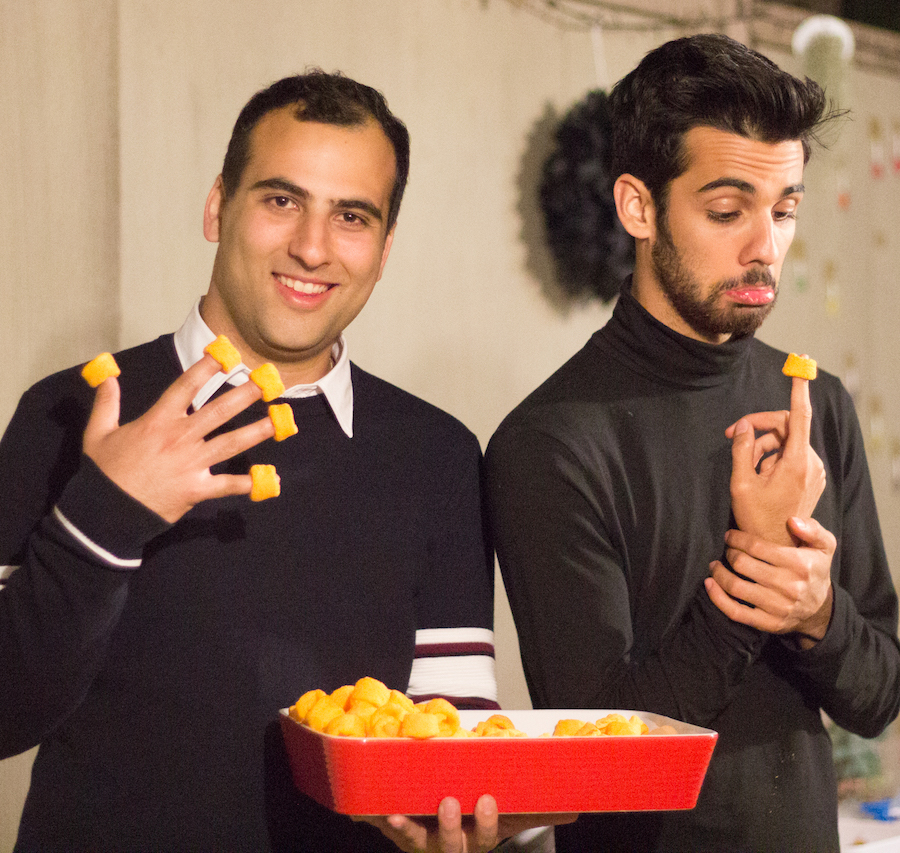 But don't get too scared off by the tigers! Because, during the meal time is still a good time to capture your photos, I mean, food has the power to be a very uniting force, so by all means, get a few photos of people around the table and ready to eat tasty food… just not with food half way in their mouths…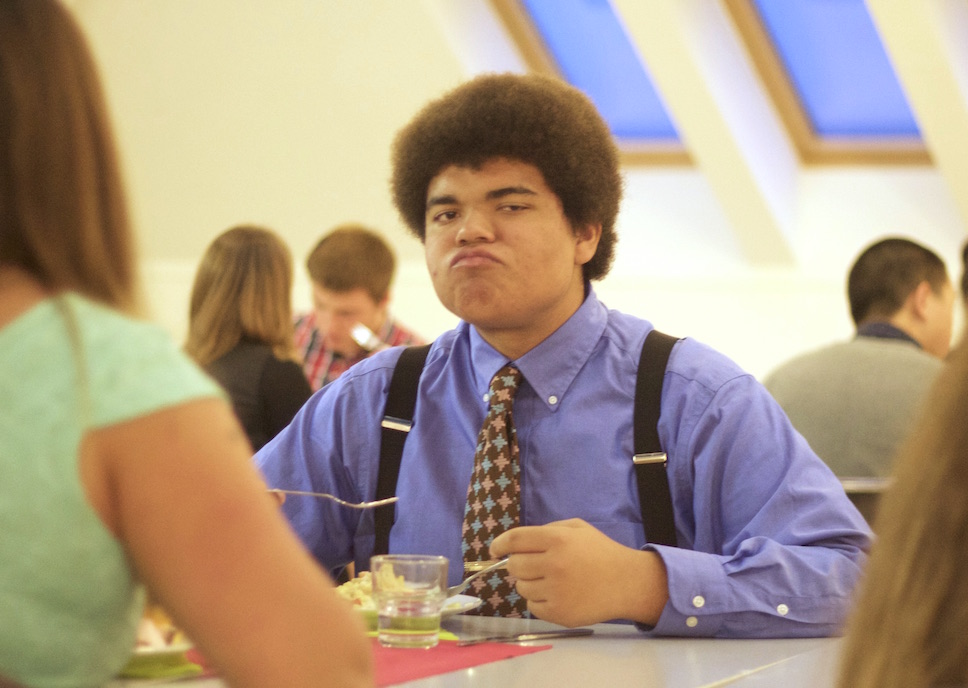 7. Composition!
Let's now say that you have seen the perfect moment, the person is looking glorious, as the sunlight peppers itself over their visage, you raise your camera… and then. WHAT DO YOU DO?! Well, besides pressing the photo button (which would help), you need to consider how to best compose your photo. Composition is how different elements of the photo relate to each other, how the photo naturally draws in people's focus. To help understand this better, there's a brilliant video by COOPH based on the work of Steve McCurry, which you can find here:
But if that's too much to take in, you can start by looking at the "rule of thirds", which basically suggests that you divide the frame into thirds, and put the interesting bits onto the intercepts: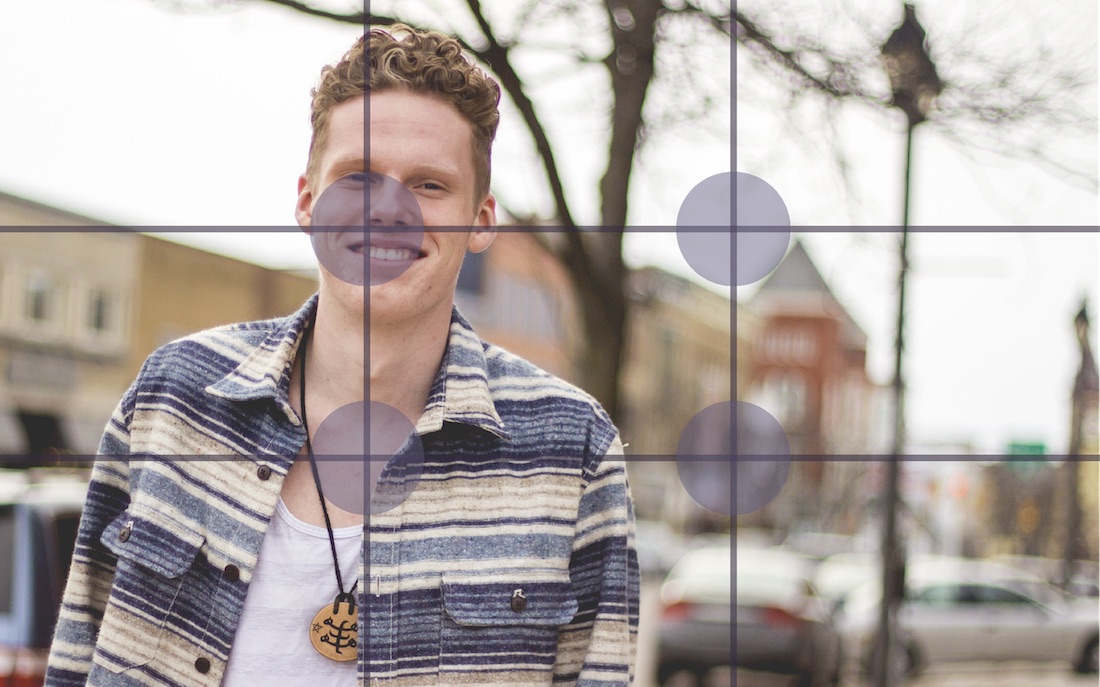 8. "But I Wore the NICEST SHOES!"
Something that I have been guilty of in the past is taking full-body photos and then chopping off the tips of people's toes. After doing this a few times however, and getting roasted, I quickly realized, that taking just another step back, and getting the toes in, makes people a lot happier… I mean… they can always crop it later if they want.
For example, here is a picture of a couple cool bros, whose feet got chopped off…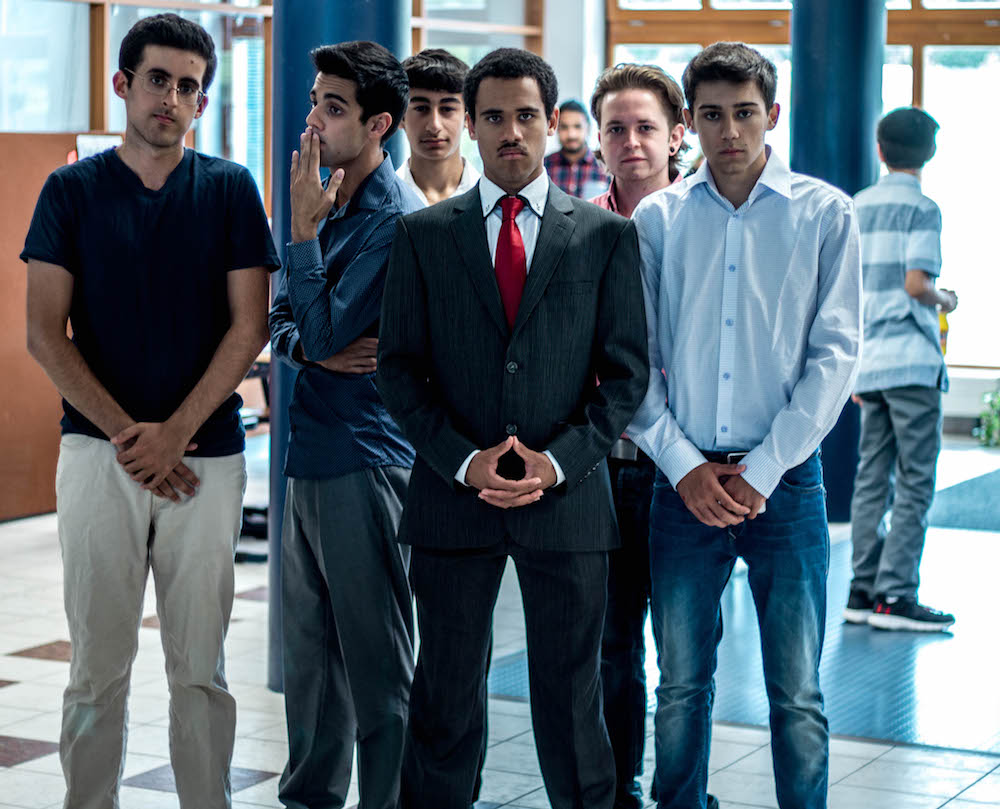 …shame, you can tell a lot about a man from his shoes… WHICH IS WHY I ADDED THEM BACK IN!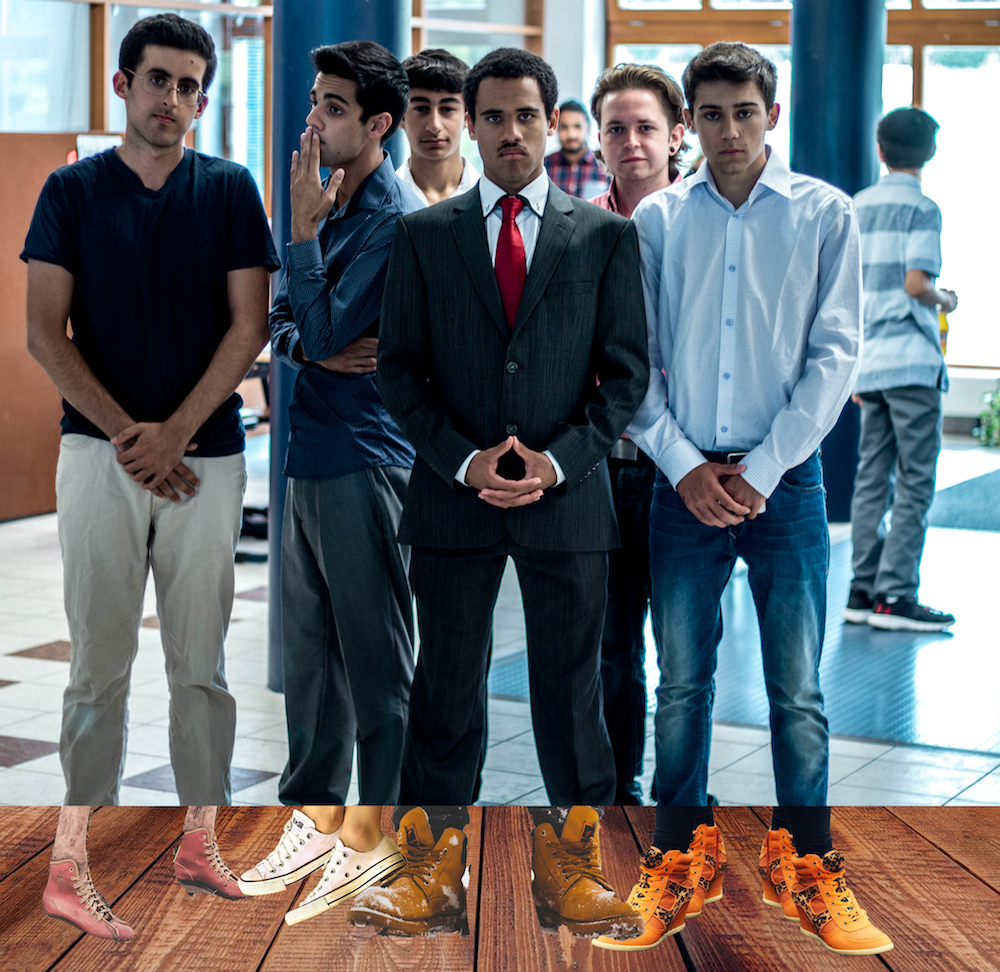 Not quite the same though…
9. Photo Editing
You've captured the perfect moment, but for some reason it does not look as magical on your phone as it did in real life, that's because the human eye is amazing, but the camera needs some help. So, using a photo software like Apple Photos, Preview, Instagram or even your phone's built-in editor, you can sprinkle some photo editing dust on your work, and believe me, it can be magical. For example, below, I have added some adjustments to the light and colour settings of the image, then straightened it out with a bit of a trim. Ahhh, much crisper.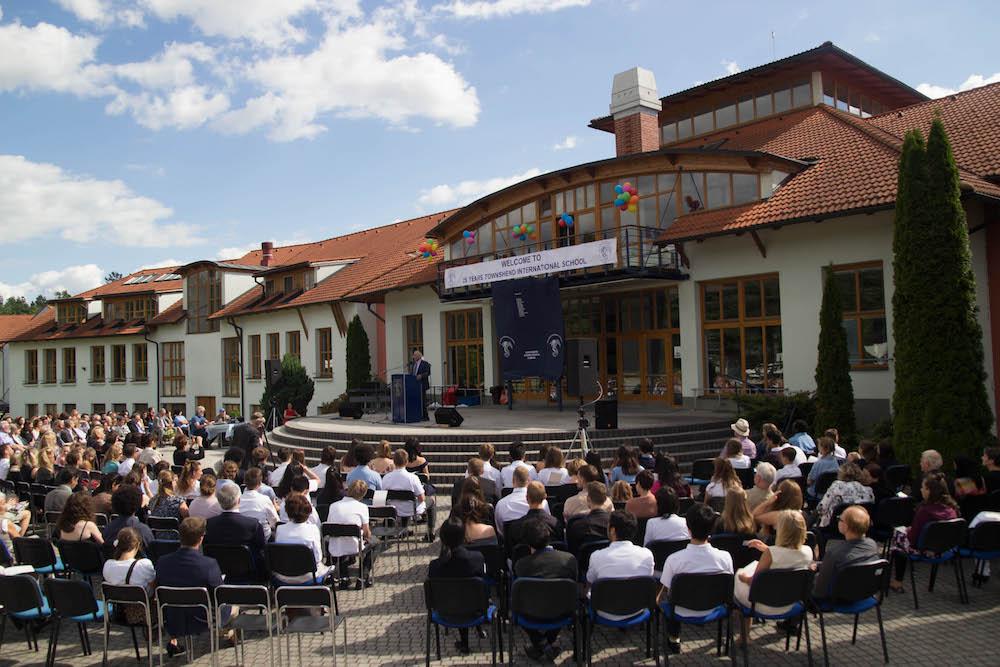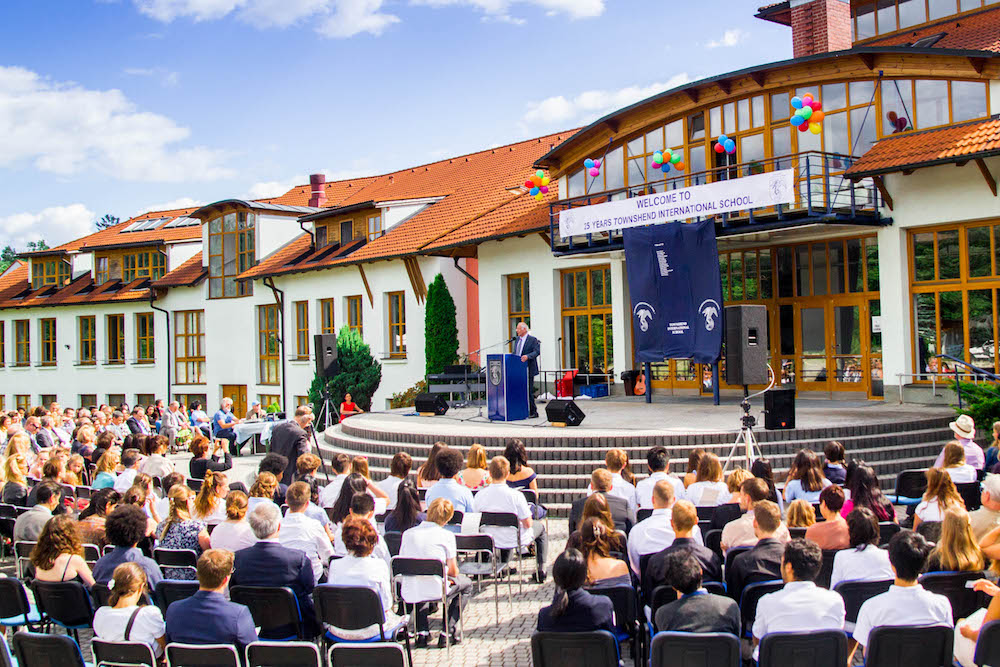 10. Sharing the Photos
You dance your feet off all night, you click over 1000 photos and then you come home and go to sleep. Then you realize, oh wow, I would love to share my night on Facebook and Instagram. No problem! But first, go through your millions of photos, and bring them down to about 30 favourites which you can post, and wow, even that's a lot for Instagram. The basic idea though, is that people don't want to go through 200 photos just to know how your weekend was, because they can get a pretty good idea in about 5 pics. Which is why, unfortunately, you have to do all the sorting for them… *sigh*. But at the end of the day, the sleepless nights are worth it!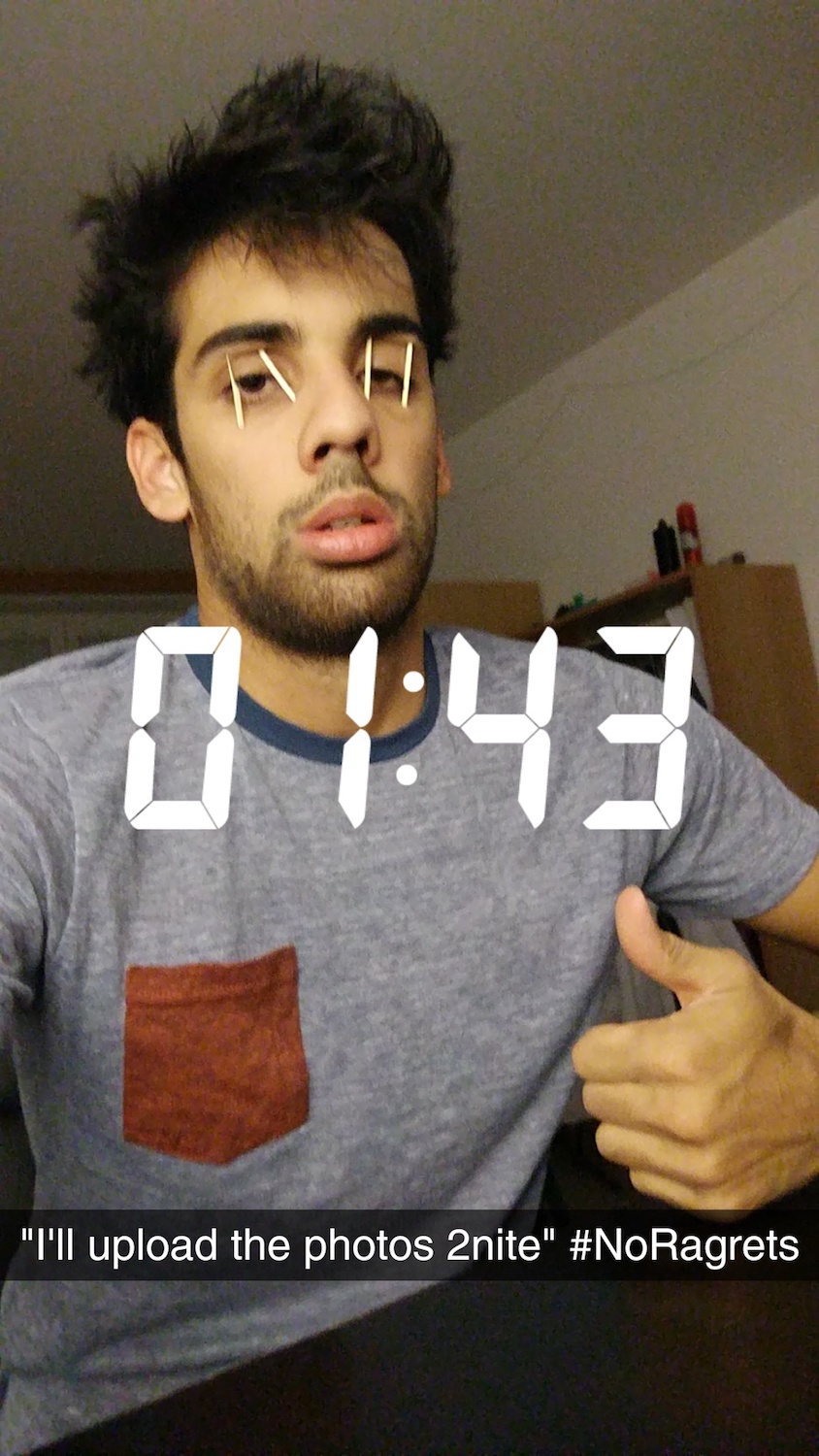 Well that's it for now, and I hope these tips have provided you with some sort of a concrete action plan, which you can employ to tackle the photography at your next event. Please feel free to comment below about any tips which I may have missed, or that you find handy… I would love to know how your events pan out… NOW GO FORTH. SNAP THE PICS, TAKE THE SNAPS, AND GOOD LUCK!
Posted by
Randomly bursting into song is a daily occurrence for Jordan, something which his friends find both hilarious and terrifying, however, for their own survival, they have grown accustomed to acts of randomness. Growing up in both the Czech Republic and Australia, and looking like he's from neither, Jordan took to creating Youtube videos from a young age, the intention of his content is to make people happy and hopefully spread some positivity juice. He is now studying Media in Melbourne Australia, and singing for his classmates. (he really does not sing that much)
"*" indicates required fields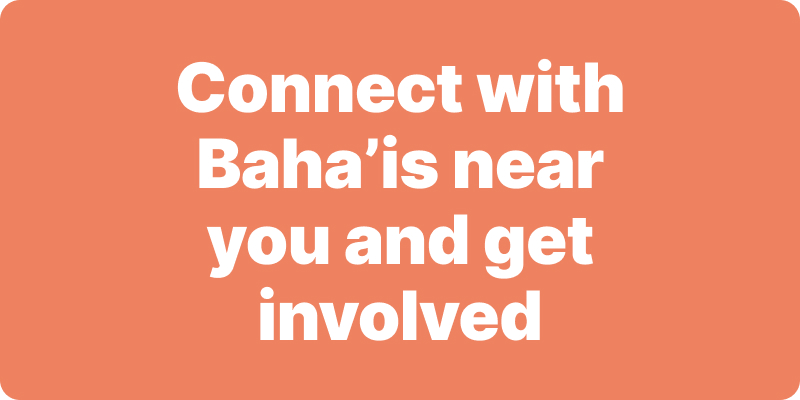 Join activities, celebrations, study groups, spiritual empowerment and education programs for young people, and more.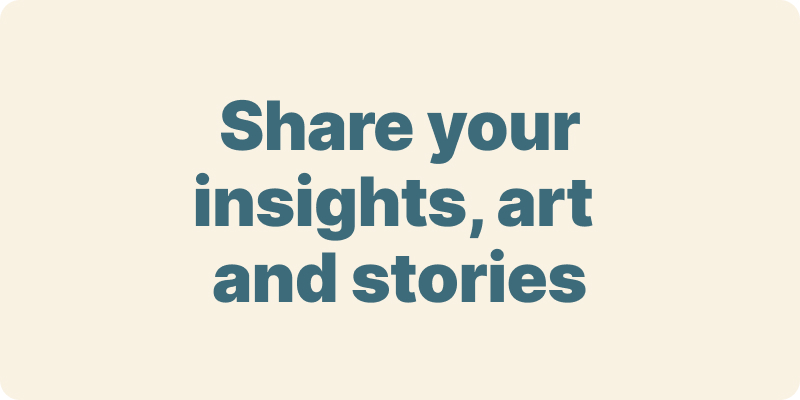 The arts and media have a critical role in how we share our community experiences. We've got resources, projects and more to help you get involved.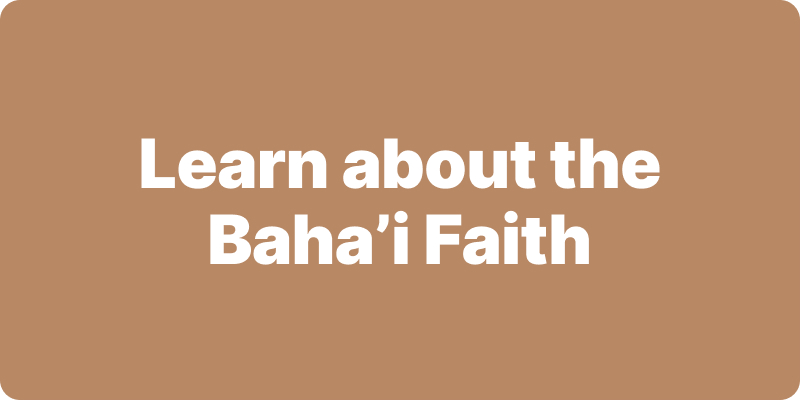 Baha'i beliefs address essential spiritual themes for humanity's collective and individual advancement. Learn more about these and more.
We acknowledge the Traditional Owners of country throughout Australia.

We recognise their continuing connection to land, waters and community. We pay our respects to Aboriginal and Torres Strait Islander people and their cultures; and to elders both past and present.
Baha'i Blog is a non-profit independent initiative
The views expressed in our content reflect individual perspectives and do not represent the official views of the Baha'i Faith.
Visit the site of the
Australian Baha'i Community
and the Baha'i Faith Worldwide