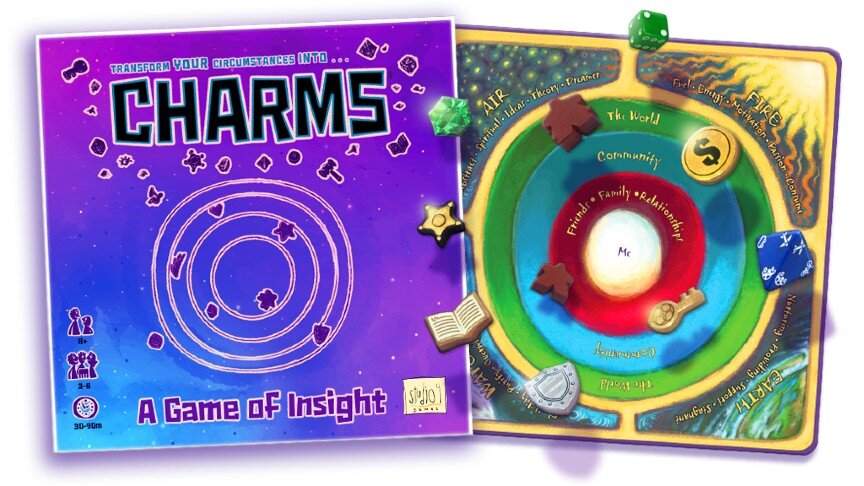 Julie Burns Walker, C. Aaron Kreader, and Lisa Blecker have teamed up to create a fun, unique, engaging and award-winning game called CHARMS: A Game of Insight. There are three iterations of the game: the original version, an expansion dedicated to antiracism, and an online version. All three aim to jumpstart meaningful dialogue.
I was curious to find out more and I'm grateful the game-creating trio agreed to tell us about CHARMS!
Baha'i Blog: Can you tell us a little bit about yourselves and about CHARMS? What inspired you to create it?
I'm Aaron and I developed games ever since I was a kid as a way to play through ideas. When I was bored I would just make up games. This is before kids had very good computers, so my imagination made up my own games on paper. I realized I was a game maker. I loved the process. I've made video games as well as tabletop games, which put me in a good position to help on this project.
I'm Lisa, and I had a dream about this game where you could roll different pieces onto a mat or a board. Each piece meant something different about life, and the board meant different things about your life. And so when you rolled the little pieces it would tell you something real about you and your life. And then my friend who is from South Africa suggested I talk with a mutual friend about making this game because it's real in his culture and she knows about it.
I'm Julie and I lived in Swaziland, now Eswatini, where I became a traditional healer and worked using a diagnostic tool—throwing bones to find out what was going on with a person and how they could heal. And I was very happy to work with Lisa and Aaron to create a game where people could be introduced to spiritual solutions through other people's spiritual awareness. I also think that if reality is one, sometimes we need the reflection of other people's awareness of us—like a clear mirror in order to see the solution to any problem.
So CHARMS is kind of like consultation in a way. Everyone gets to share answers to different life questions or dilemmas each player wants to pose to the group. It really gives everybody the opportunity to share and to be heard.
Baha'i consultation as we understand it is obviously more involved. It is an art that we're all learning about and I think we'll spend probably generations perfecting. But I think CHARMS is a little like bowling with those little guardrails for kids, at that level you don't need to be throwing gutter balls, it could ruin your confidence. So they put up those little guardrails so you are guaranteed to get some pins knocked down. CHARMS is to consultation what those guardrails are to regular bowling. You're gonna get some wisdoms and some insights from hearing everyone, and everyone gets to participate because there are rules and a game structure that assures the process doesn't go into the gutter by falling into one person's viewpoint. The CHARMS board is also going to give you creative prompts that will inspire new concepts and ideas. So it's almost like an extra component because really your wisdoms and insights are what's driving it, but you also have this structure and these rules that will help you get to wisdoms and insights for each other and for yourself.

Baha'i Blog: Who is it created for?
It's for everybody in these age groups—from junior youth, to youth, and adults.
Younger than that: I think a creative teacher could unpack the questions to create writing or conversation prompts. There are different ways to play both the online and the board game, which include cooperative play, as well as more of a party type of game. You can call it competitive, but everybody wins because you're all getting insights. There's lots of flexibility in how the game can be played or adapted.
Baha'i Blog: What's something you've learned in the process of creating CHARMS, the game's expansion, and online version?
One thing we've learned is that questions are very powerful. The addition of a very good question can be a potent tool to elevate conversation.
I've learned that questions are really the portals to finding out more about anything.
Baha'i Blog: What do you hope players will take away with them, long after they've finished playing?
I hope players take away the realization that even though the side of the box lists a number of components, there's something missing from those components and that is YOU. You're the missing component to the game. By including yourself in this game, that's the piece that you can carry forever—your reflective ability to gain access to wisdom, knowledge, insights and the power to elevate any subject. I think CHARMS increases the capacity to slip into a mode of learning with adaptive creativity.
The ability to open one's mind to this creative process. I love that players can gain amazing wisdom and insights they didn't have prior to playing. It reminds me of this quote by Abdu'l-Baha'. "…while you meditate you are speaking with your own spirit. In that state of mind you put certain questions to your spirit and the spirit answers: the light breaks forth and the reality is revealed."
CHARMS is a wonderful way to get closer to friends, family, and build community. It lends itself to genuine bonds of intimacy, which Shoghi Effendi said is the task of the Baha'is today.
As an example of that, a community recently sent us an entire devotional they put together around CHARMS, where they had a number of quotations and songs about racial justice and unity and then they asked the whole group some of the questions from the game's expansion—CHARMS: Quests for Antiracism. They had 21 participants from all different religions and backgrounds and it led them to a very strong conversation about facets of antiracism and combating racism in their community. So we hope to see other communities share their creativity and their creative ideas and solutions for how to adapt this to their devotional and other community building activities. This one was called Grace, Games, & Grub in Omaha, Nebraska, where gameplay helps to connect community.
Baha'i Blog: Thank you so much, Aaron, Lisa and Julie, for taking the time to share this with us!
You can find out more and purchase CHARMS here: www.CharmsGame.com
Posted by
In her innermost heart, Sonjel is a stay-at-home parent and a bookworm with a maxed out library card but professionally she is a museologist with a background in English Literature. She currently lives on Prince Edward Island, an isle in the shape of a smile on the eastern Canadian coast. Sonjel is a writer who loves to listen to jazz when she's driving at night.
"*" indicates required fields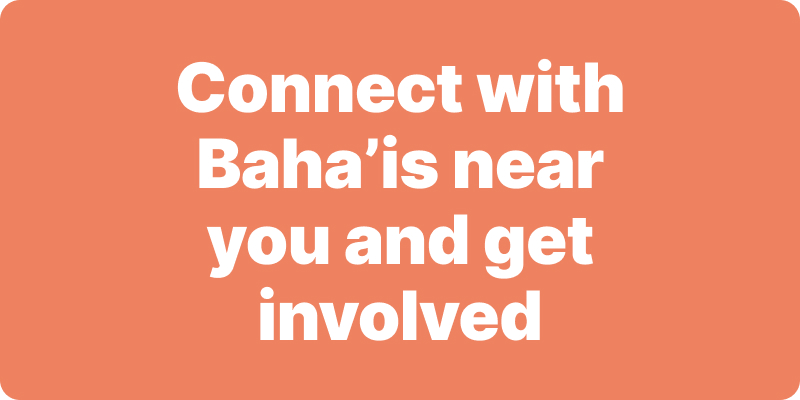 Join activities, celebrations, study groups, spiritual empowerment and education programs for young people, and more.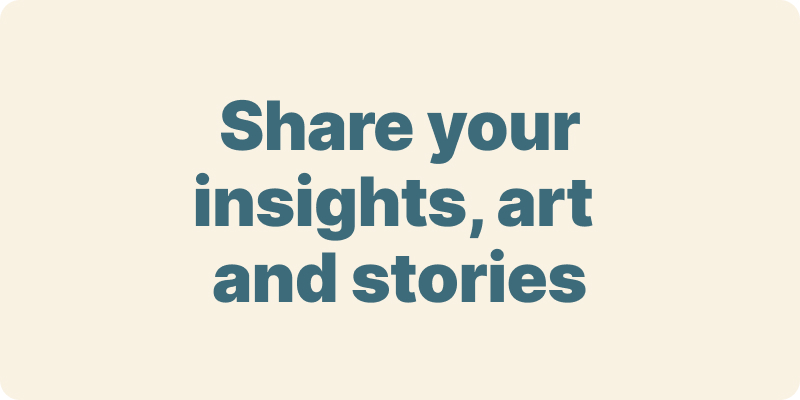 The arts and media have a critical role in how we share our community experiences. We've got resources, projects and more to help you get involved.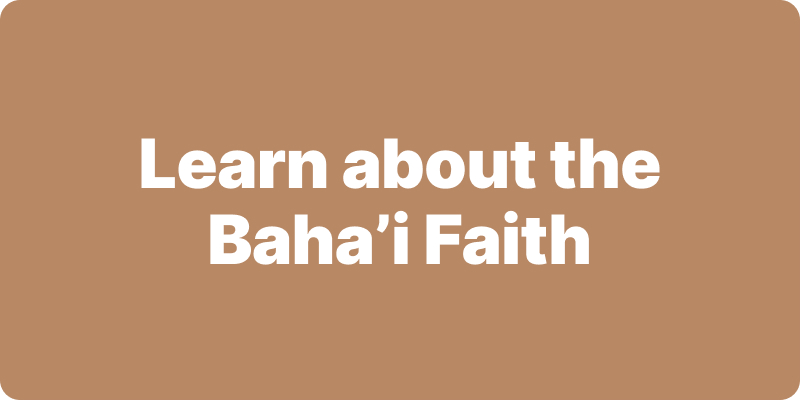 Baha'i beliefs address essential spiritual themes for humanity's collective and individual advancement. Learn more about these and more.
We acknowledge the Traditional Owners of country throughout Australia.

We recognise their continuing connection to land, waters and community. We pay our respects to Aboriginal and Torres Strait Islander people and their cultures; and to elders both past and present.
Baha'i Blog is a non-profit independent initiative
The views expressed in our content reflect individual perspectives and do not represent the official views of the Baha'i Faith.
Visit the site of the
Australian Baha'i Community
and the Baha'i Faith Worldwide