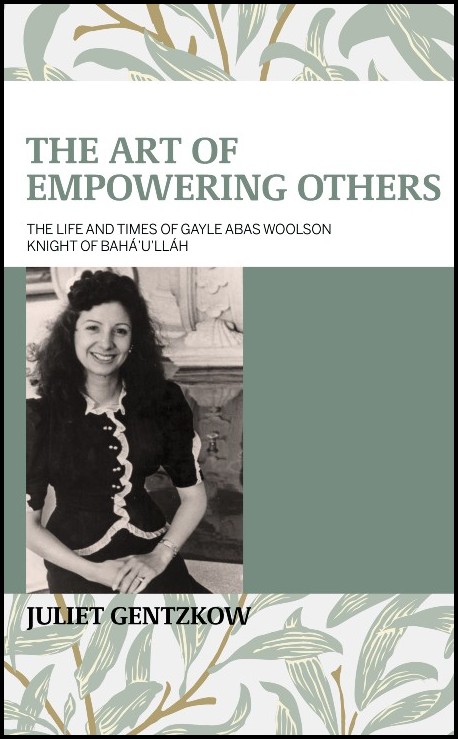 I have been thinking recently about what it genuinely means to empower others and George Ronald has released a biography of someone who did just that: Knight of Baha'u'llah, Gayle Woolson. Her life's story was penned by Juliet Gentzkow, who very graciously agreed to tell us about her book called The Art of Empowering Others: The Life and Times of Gayle Woolson Knight of Baha'u'llah, and to give us a glimpse of who Gayle Woolson was. Here's what she shared with me:
Baha'i Blog: Can you tell us a little about yourself?
By profession as a teacher of children, counsellor, and hospice worker, I have served in the United States, Guyana, and Haiti. I now live in Palo Alto California, near my son and his family. Limited to home by the pandemic, I continue a part-time counseling practice, Creative Transitions, and dedicate time to family, community building, biographical writing, and research.
Baha'i Blog: Could you please tell us a little about your book?
'The Art of Empowering Others', a biography of Gayle Woolson (1913-2011), now joins the George Ronald series on the Knights of Baha'u'llah. Gayle was one of nine children born in Minnesota to parents of Syrian origin. In 1930, her father introduced his family to news of a new Faith, brought to his attention by a Syrian friend in St. Paul. Mr. Abas told his children of teachings for a new, spiritual worldwide civilization based on humanity's oneness. He said the youth had an important part to play in its development. By 1933, Gayle was teaching a children's class, which became a stepping stone to public speaking. She then participated in her Local Spiritual Assembly's initial development and became one of the very first youth traveling teachers in the United States, accompanying Ms. Marguerite Reimer (Sears) and Mrs. Mabel Ives. Following a marriage tragically cut short by her husband's unexpected death, she arose to serve internationally. In 1940, she and another Baha'i became the first to go to Costa Rica, beginning 29 years of service throughout Central and South America. She witnessed the emergence of Baha'i communities and institutions throughout the continent, becoming a Knight of Baha'u'llah for the Galapagos Islands and serving successively on four elected National Spiritual Assemblies and as part of the initial cohort of appointed Auxiliary Board Members for the Americas. As much at home in a Quechua village as in a president's palace, her heart burned with love for all who crossed her path. She had a simple eloquence that was yet refined. She saw in each person a unique potential destiny needed in the building of a new civilization. In 1975, following five years of service at the Baha'i World Centre, Gayle returned to the United States, where, for 20 years, she taught and also developed her Children's Public Speaking Program.
Baha'i Blog: What inspired you to write it?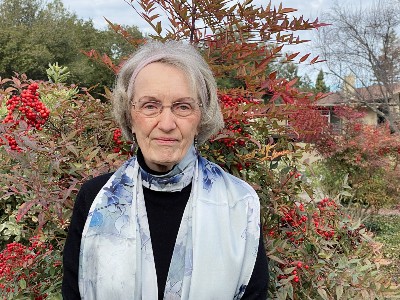 Those of us sitting at Gayle's bedside, during her last days and on the eve of her 98th birthday, were overcome with her gentle serenity, her unalloyed peace, her blue-eyed smile, and her eagerness to enter the Great Beyond. On her bedside table was a photograph of her family in which she sits beside her grandmother, a starched white bow in her hair, seeming ready to leap from the seat of childhood into adventures that would take almost a century to unfold. What was the story that had shaped her life from the moment of the picture to the one we now shared? Later, preparing her 30 boxes of papers for the Wilmette Baha'i Archives, we found those adventures precisely documented by one who had grasped their historical significance, even as they occurred. The papers called to be shared, rather than simply stored.
Baha'i Blog: What was your creative process in putting this book together?
It began with profound regard for Gayle's history of distinguished service and for her loving friendship to all. After her passing, the compulsion to write her story strengthened, though to do so would involve new avenues of learning. Each effort to move forward, prayerfully made, engendered the next. The pattern of Gayle's adult life revealed a sequence of acts of immediate obedience to the messages and Plans of Shoghi Effendi, Head of the Baha'i Faith. The narrative thus became a counterpoint of call and response. This required a careful study of the Guardian's works and their historical context, to truly understand the life described. A frank and loving circle of friends would critique each draft, until information yielded to what is hoped may offer the reader a flowing narrative. May Hofman, through her invaluable mentorship, edited the story into final form.
Baha'i Blog: How did empowerment play a part in the writing of your book?
Several thoughts come to mind. To study the unfoldment of Shoghi Effendi's Plans and their impact on the world through the lives of earlier generations is itself a transformative experience. Shoghi Effendi wrote to Gayle while she was in Costa Rica, "Future generations will extol your labours, follow in your footsteps, and derive inspiration from your pioneer activities." He inspired her to greater service, as she would do for others. Gayle herself said that her code of life came from this passage of Baha'u'llah: "Live then the days of thy life, that are less than a fleeting moment, with thy mind stainless, they heart unsullied, thy thoughts pure, and thy nature sanctified, so that, free and content, thou mayest put away this mortal frame, and repair unto the mystic paradise and abide in the eternal kingdom for evermore." Following this counsel, her heart became a mirror in which others could find images of their potential and possibilities. The response of Gayle's generation of Baha'is illuminates the importance of responding fully to the call of the present hour, moving in serried lines towards a single vision. When asked what is most important in making decisions about service, Gayle once said, "To know the significance of time."
Baha'i Blog: Do you happen to have some words of encouragement that might empower others to write a book inspired by the teachings of the Baha'i Faith?
What comes to mind is this: to remain inwardly and outwardly attentive to themes that would unite hearts, give hope to the hopeless, and/or illumine the path towards the new world civilization. In particular, many early Baha'is are remarkable in how their lives unfolded in obedience to the same guidance we now follow. Individually and as they united to form our embryonic institutions, their lives manifested the very processes we are learning collectively in the current Plan. Perhaps the encouragement is to trust what one feels called to do, knowing that in the listening, the responding, the persevering, there lies a mysterious power. Once an idea is born, perchance it will take shape through following the five steps of prayer given by Shoghi Effendi:

… use these five steps if we have a problem of any kind for which we desire a solution, or wish help.

Pray and meditate about it. Use the prayers of the Manifestations, as they have the greatest power. Learn to remain in the silence of contemplation for a few moments. During this deepest communion take the next step.

Arrive at a decision and hold to this. This decision is usually born in a flash at the close or during the contemplation. It may seem almost impossible of accomplishment, but if it seems to be an answer to prayer or a way of solving the problem, then immediately take the next step.

Have determination to carry the decision through. Many fail here. The decision, budding into determination, is blighted and instead becomes a wish or a vague longing. When determination is born, immediately take the next step.

Have faith and confidence, that the Power of the Holy Spirit will flow through you, the right way will appear, the door will open, the right message, the right principle or the right book will be given to you. Have confidence, and the right thing will come to meet your need. Then as you rise from prayer take immediately the fifth step.

Act as though it had all been answered. Then act with tireless, ceaseless energy. And, as you act, you yourself will become a magnet which will attract more power to your being, until you become an unobstructed channel for the Divine Power to flow through you. 1
Baha'i Blog: Congratulations on your book, Juliet, and thank you so much for sharing this with us!
You can purchase Juliet's book from Amazon: The Art of Empowering Others: The Life and Times of Gayle Woolson Knight of Baha'u'llah You can also buy it from Baha'i distribution services such as Bahaibooks.com.au in Australia.
Posted by
In her innermost heart, Sonjel is a stay-at-home parent and a bookworm with a maxed out library card but professionally she is a museologist with a background in English Literature. She currently lives on Prince Edward Island, an isle in the shape of a smile on the eastern Canadian coast. Sonjel is a writer who loves to listen to jazz when she's driving at night.
"*" indicates required fields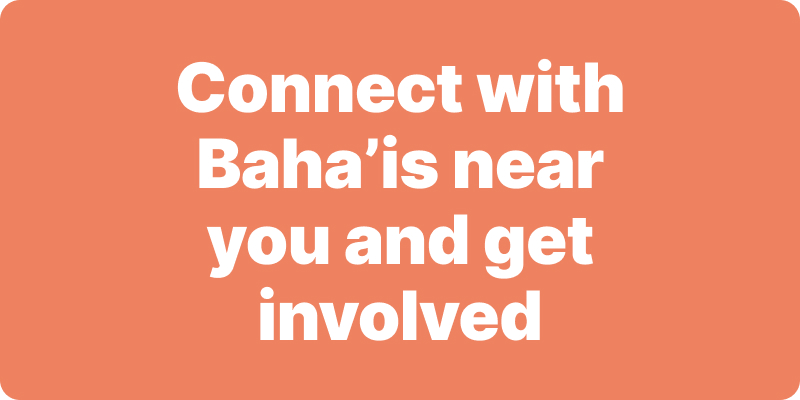 Join activities, celebrations, study groups, spiritual empowerment and education programs for young people, and more.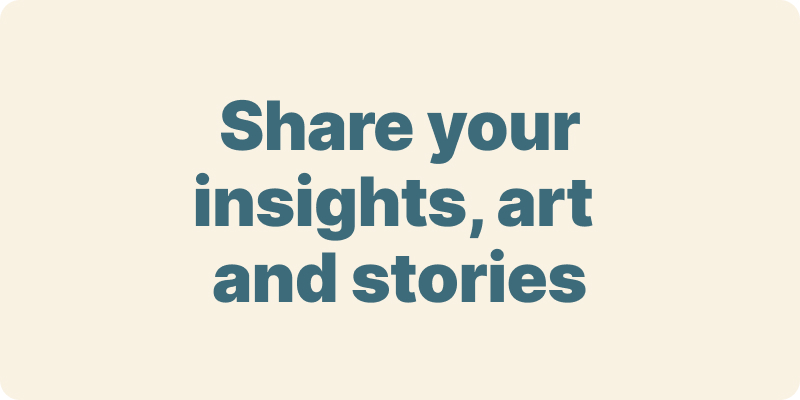 The arts and media have a critical role in how we share our community experiences. We've got resources, projects and more to help you get involved.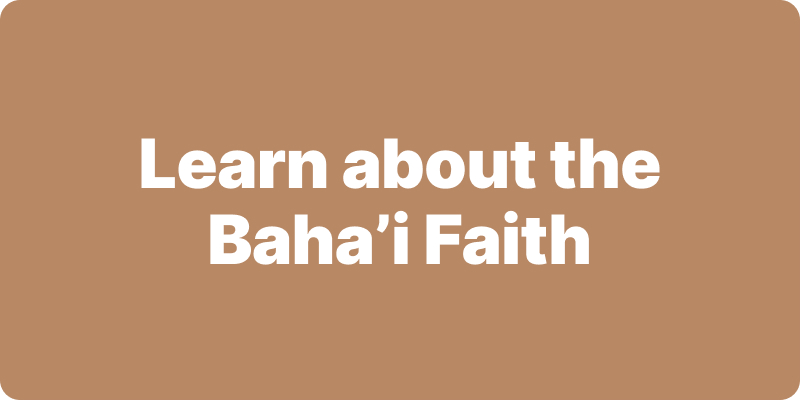 Baha'i beliefs address essential spiritual themes for humanity's collective and individual advancement. Learn more about these and more.
We acknowledge the Traditional Owners of country throughout Australia.

We recognise their continuing connection to land, waters and community. We pay our respects to Aboriginal and Torres Strait Islander people and their cultures; and to elders both past and present.
Baha'i Blog is a non-profit independent initiative
The views expressed in our content reflect individual perspectives and do not represent the official views of the Baha'i Faith.
Visit the site of the
Australian Baha'i Community
and the Baha'i Faith Worldwide