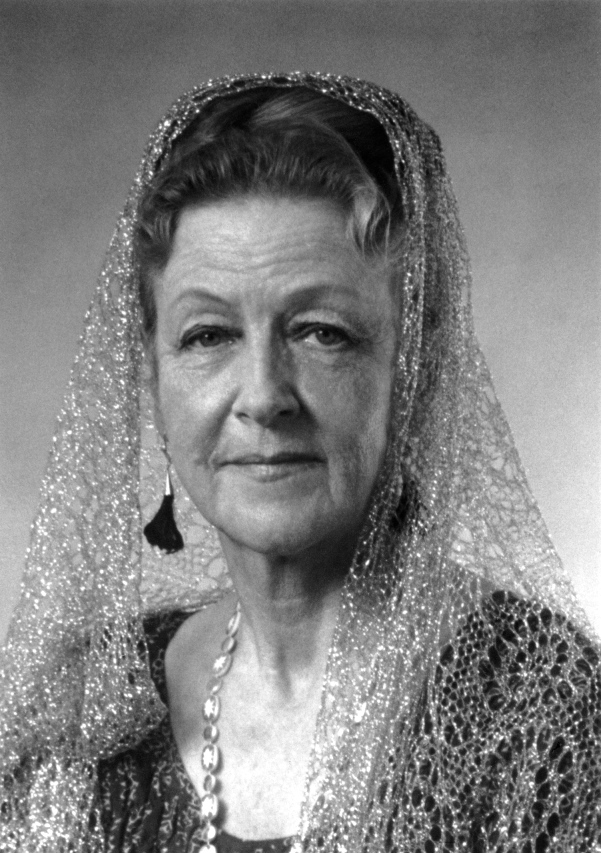 15 years ago, on January 19, 2000, Madame Ruhiyyih Rabbani, born as Mary Sutherland Maxwell, and affectionately known by the title Amatu'l-Baha Ruhiyyih Khanum, passed away from this earthly plain. She was the Handmaiden of Glory; the beloved consort of Shoghi Effendi; his "shield", his "helpmate", and his "tireless collaborator"; a Hand of the Cause of God; and the "Baha'i world's last living link to the family of Abdu'l-Baha".
On the Sunday afternoon that her precious remains were laid to rest, the sweetness of a chanted Persian prayer reverberated throughout the garden where nearly a thousand friends had gathered from places far-flung across the globe to pay tribute and homage to this beloved personage. A soft rain began to fall gently upon all there; perhaps nature's own testimony to the grief felt in all the hearts and the tears upon many a cheek.
The beauty of the love story that was to become Ruhiyyih Khanum's life was one that began long before her birth. Mary Sutherland Maxwell was born on 8 August 1910 in New York City. The beloved only-child of William Sutherland Maxwell and May Ellis Bolles, she was a result of the prayers of Abdu'l-Baha for the fulfillment of May Bolles' heart's desire to have a child, and perhaps, the gift of her mother's complete acquiescence and resignation to the Will of God.
A strong-willed, independently minded and vividly imaginative child, the depth of love within which Mary was raised is seen in a story written for her by her own mother in her early years, beginning thus:
This book is called Mary because it is named after its little heroine, and because there are probably more little girls named Mary that any other name in the world, and because Mary has been the name of some of the best and loveliest women that have ever lived.

Ruhiyyih Khanum quoted in The Maxwells of Montreal: Early Years 1870-1922 by Violette Nakhjavani, 2011
When Mary was two years old, Abdu'l-Baha came to visit the Maxwell family in their home in Montreal. Describing her as "the essence of sweetness", Abdu'l-Baha recounts an encounter with two-year-old Mary:
Today I was resting on the chaise longue in my bedroom and the door opened. The little girl came in to me and pushed my eyelids up with her small finger and said, 'Wake up, Abdu'l-Baha!' I took her in my arms and placed her head on my chest and we both had a good sleep.

Tribute to Amatu'l-Baha Ruhiyyih Khanum, by Violette Nakhjavani, 2000
Ruhiyyih Khanum herself said:
I was so attracted to Him that it was hard to keep me away from Him at all.

The Maxwells of Montreal
In April 1923, following the passing of the Master, Mary and her mother set sail from New York for the Holy Land.
Violette Nakhjavani describes this very significant period as follows:
This first pilgrimage left an indelible impression on her, and in later years she recalled, in a personal letter, how she was touched by "the spirit of service" she discovered in Haifa, saying "… a Queen or a beggar woman would be met with the same loving sweetness. Indeed it was this divine normality that really confirmed me here as a little girl of twelve years."

Tribute to Amatu'l-Baha Ruhiyyih Khanum, by Violette Nakhjavani, 2000
This was also the first time that Ruhiyyih Khanum met the Guardian:
She often described the meeting with a sweet pleasure in the remembrance. She and her mother were installed in the Old Western Pilgrim House at the end of Persian Street and May, who had not been able to walk for over a year, was resting in bed. Since her nights were frequently sleepless and her nerves delicate, Mary had learned from an early age to protect her from intrusion. She was in the hallway of the Pilgrim House when the door suddenly opened and a young man stepped in, with a swift, deft movement, and asked if he could see Mrs. Maxwell. She was a tall girl for her age, fully grown and physically well-developed. She said she pulled herself up to her full height and, looking him squarely in the eyes with considerable dignity and aplomb, asked to know who it was who wished to see Mrs. Maxwell. The young gentleman meekly replied, "I am Shoghi Effendi." Upon which she turned tail and fled into her mother's room in mortified embarrassment. Hiding her head, as she used to say "like a puppy", beneath her mother's pillows, she could only point to the door and gasp, "He – he – is there!" when her mother asked her what the matter was. And when May Maxwell found out who it was behind the door, she said, "Pull yourself together, Mary, and go and invite him in."

Ibid.
It was during a later pilgrimage, in 1937, that another chapter opened in the life of Mary: that of her marriage to Shoghi Effendi.
The wedding took place on 24 March 1937, in Haifa, and it was on this occasion that the beloved Guardian gave her the name 'Ruhiyyih Khanum', meaning 'Handmaiden of Glory'. In the book The Priceless Pearl, she describes the simplicity of her wedding day, when she went with Shoghi Effendi to Bahjí, saying:
I remember I was dressed, except for a white lace blouse, entirely in black for this unique occasion, and was a typical example of the way oriental women dressed to go out into the streets in those days, the custom being to wear black.

Ibid.
In a letter to her mother, one year after her marriage, Ruhiyyih Khanum wrote:
If anyone asked me what my theme was in life I should say,'Shoghi Effendi'.

Ibid.
Indeed, the beloved Guardian referred to Ruhiyyih Khanum as "my helpmate", "my tireless collaborator in the arduous tasks I shoulder", and "my shield". She worked consistently and arduously as his secretary for the twenty years of her intimate association with him, was appointed to the first International Baha'i Council in 1951, was its chosen liaison with the Guardian and, in 1952, was elevated to the rank of Hand of the Cause of God.
When, on 4 November 1957, the devastating news of Shoghi Effendi's passing shook the Baha'i world, it was to Ruhiyyih Khanum that the friends turned. As Violette Nakhjavani describes:
It was up to her to take the next step to ascertain what should be done. The fulfilment of all the Guardian's hopes and aspirations for the Ten Year Crusade became of uppermost importance to her. His good pleasure became the goal and object of her existence. From that moment to the end of her life her priorities never wavered.

Ibid.
Violette Nakhjavani recounts the following conversation that took place between Ruhiyyih Khanum and Shoghi Effendi, prior to the Guardian's passing:
One day, as he was passing by her desk, he stopped and looked at her and said, "What will become of you after I die?" She was shattered by this unexpected remark and began to weep, saying, "Oh, Shoghi Effendi, don't say such terrible things. I don't want to live without you." He paid no attention, however, and after a pause continued, "I suppose you will travel and encourage the friends." She said that this was the only remark he ever made about what she should do with her life after his passing.

Ibid.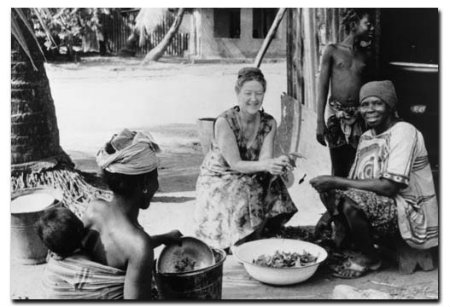 And thus, in 1964, Ruhiyyih Khanum's travels across the globe began. She traveled to over 185 countries and territories, visiting towns, cities, remote villages, jungles and islands, fulfilling the directive of the Guardian to "encourage the friends". As an Ambassador of the Faith, she met with numerous Heads of State, members of Royalty, government officials, and gave hundreds of radio, television and newspaper interviews. She served as a representative of the Universal House of Justice at both national and international conferences, gatherings and conventions. Violette Nakhjavani describes Ruhiyyih Khanum during this time as follows:
…she was erect and regal and forever memorable, the essence of dignity and beauty. Her mastery of just the right word on each of these occasions, her ability to draw out her audience and touch people's hearts, her clear and simple logic, and, above all, her wit and her bewitching sense of humour—these qualities endeared her to and charmed her audiences.

Ibid.
Perhaps most poignant was the love and attention that she gave to "perfectly normal people in the peripheries of society." 1 Violette Nakhjavani recalls:
When asked what was her favourite spot, she would often say that it was in the villages and jungles of the world. She rarely missed the opportunity to validate people in far flung and remote places whom few had heard of and whose simple actions none might ever know.

How often in the course of these forty years by her side did I witness shy, unsure, sometimes dejected human beings uplifted by her genuine kindness, her praise and patience. Her instinct was to approach people with an open, candid heart, simply and unselfconsciously. It was to look for positive qualities in people and verbalize these. But though she was the perfect diplomat in some respects, she was also very direct and often said things frankly and outspokenly. The driving impulse in all her encounters with the Baha'is was to stir them to action and rouse them up so that they would teach the Faith.

Ibid.
The words of the beloved Guardian to her, that "your destiny is in the palm of your own hand", were ones that stayed with her for the duration of her life, and her faith and complete dedication and devotion to the Covenant were "strong and vibrant to the end". 1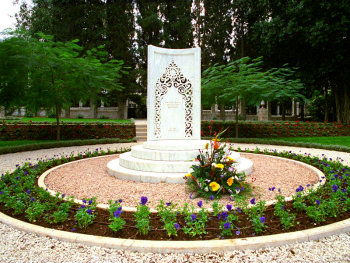 In remembering and honoring this brilliant and luminous heroine of the Faith, perhaps we can turn to Ruhiyyih Khanum's own words to find strength and inspiration in our own lives:
THIS IS FAITH

To walk where there is no path
To breathe where there is no air
To see where there is no light –
This is Faith.

To cry out in the silence,
The silence of the night,
And hearing no echo believe
And believe again and again –
This is Faith.

To hold pebbles and see jewels
To raise sticks and see forests
To smile with weeping eyes –
This is Faith.

To say: "God, I believe" when others deny,
"I hear" when there is no answer,
"I see" though naught is seen –
This is Faith.

And the fierce love in the heart,
The savage love that cries
Hidden Thou art yet there!
Veil Thy face and mute Thy tongue
Yet I see and hear Thee, Love,
Beat me down to the bare earth,
Yet I rise and love Thee, Love!
This is Faith.
---
Posted by
Yas is happiest when the sun is shining. After country-hopping across the globe for the last ten years, she lives (for now) in the most beautiful (and windiest) city in the world. She loves the power of the creative word and teaches literature and creative writing to teenagers. She also loves strawberries.
"*" indicates required fields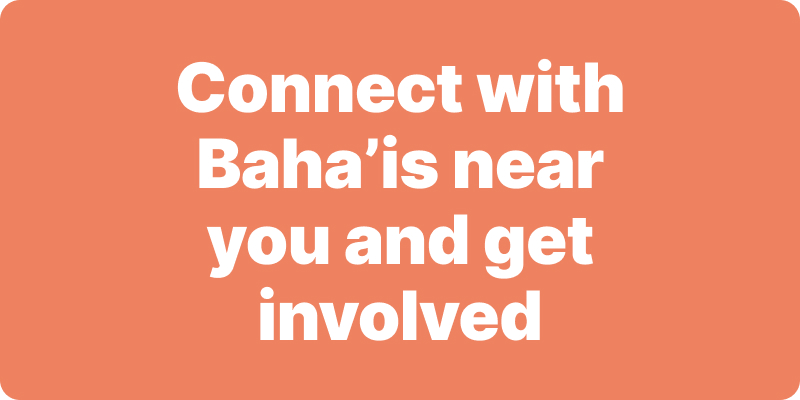 Join activities, celebrations, study groups, spiritual empowerment and education programs for young people, and more.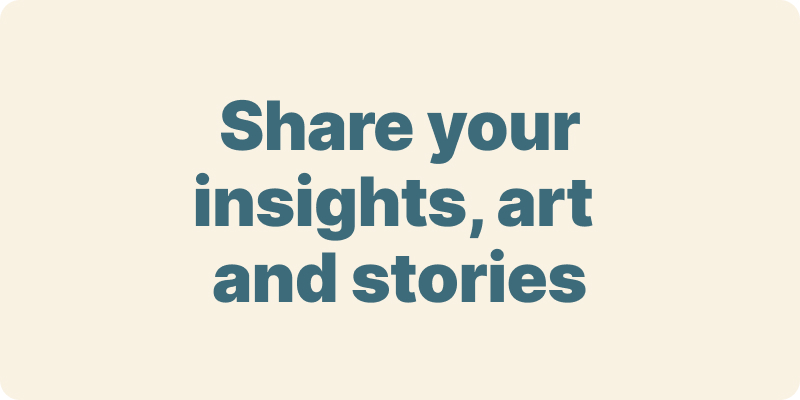 The arts and media have a critical role in how we share our community experiences. We've got resources, projects and more to help you get involved.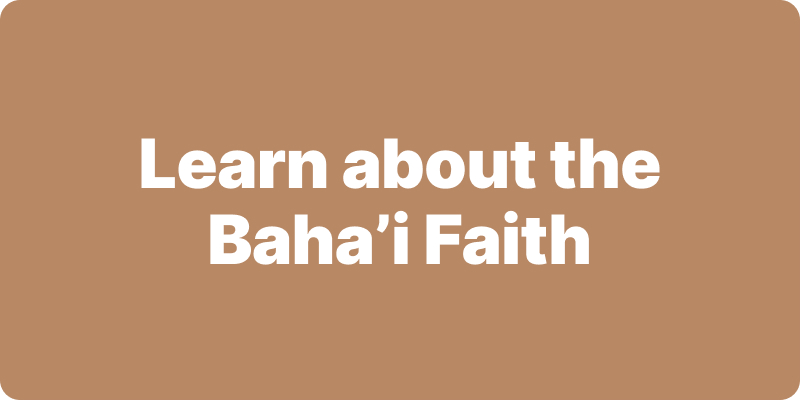 Baha'i beliefs address essential spiritual themes for humanity's collective and individual advancement. Learn more about these and more.
We acknowledge the Traditional Owners of country throughout Australia.

We recognise their continuing connection to land, waters and community. We pay our respects to Aboriginal and Torres Strait Islander people and their cultures; and to elders both past and present.
Baha'i Blog is a non-profit independent initiative
The views expressed in our content reflect individual perspectives and do not represent the official views of the Baha'i Faith.
Visit the site of the
Australian Baha'i Community
and the Baha'i Faith Worldwide