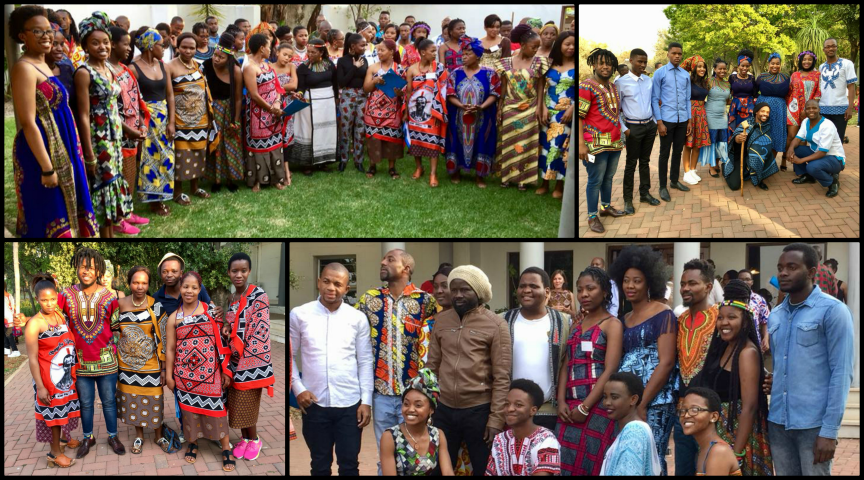 I was excited when I heard about a recent choir festival that occurred in Johannesburg called "5 Countries, 1 Love", which was a collaboration of five different choirs from around Africa, who came together to learn and share music with each other and the Baha'i community. They came from Swaziland, Botswana, Namibia, the Democratic Republic of the Congo (DRC) and South Africa. Hosted in South Africa by the Joburg Baha'i Choir, the festival was held at the Baha'i National Center in Johannesburg. You may have seen the Joburg Baha'i Choir before, as they participated in Baha'i Blog's Studio Sessions with their songs "Be a Baha'i" and "O Thixo", plus we also featured their "Usifiwe Naw Ruz" music video and their album, Homage.
A few friends who participated in the event told me how uplifting the festival was, so I decided to chat with Page, one of the festival participants, to find out more about it:
Baha'i Blog: Hi Page! Can you tell us more about the festival and what it was all about?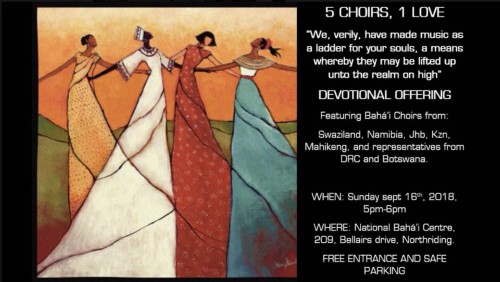 The name of the festival is "5 Countries, 1 Love" and it was all about a collaboration of different choirs coming together to learn and share music with the Baha'i community. There were 90 friends who participated in the choir and we had friends from Swaziland, Botswana, Namibia, the Democratic Republic of the Congo (DRC) and friends around South Africa. The festival was held at the Baha'i National Center in Johannesburg, South Africa. Friends arrived Friday evening at the center and the rehearsal sessions started Saturday morning at 9am till Sunday afternoon at 4pm. Then at 5pm we had the actual performance for the friends in the Johannesburg community.
Baha'i Blog: That sounds incredible! Can you tell us a little bit about yourself and your role at the festival. Also, why you decided to attend the festival?
I am a 22 year old Baha'i who believes in the importance of expression and creativity, within the arts and other spheres of life; a diligent individual who is multi-talented, very passionate about music and who believes in community development and contributing to the betterment of humanity through service. I was one of the participants at the festival and the reason I decided to be part of it is because I love music. I find healing in singing and listening to music. I initially didn't plan to go because I was in a bad space emotionally and something struck me and I finally decided to surround myself with joyfulness and love and the choir festival was a great opportunity for me.
Baha'i Blog: So can you tell us a little bit more about the kind of impact the festival had on you personally, and also, why do you think it's important to have events like these?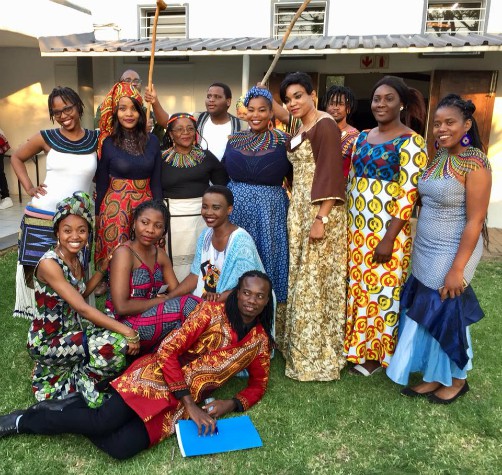 It was amazing! We made strong bonds of friendships with other participants, learned new beautiful songs but most importantly, I reconnected with God more strongly than ever before through praises and being in a state of meditation. I think it's very important to have such events within our own communities around the world because it is through the existence of art in such spaces that we learn how to become channels of change within our own personal lives and the world at large, where we learn how to polish the mirrors of our hearts and build strong ladders of our souls through service.
Baha'i Blog: What was the energy at the festival like, and what was the response you had from the other participants?
The energy was very intense – everyone was excited to sing, even during breaks. At night people would walk to their dormitories while singing. I've spoken to a few friends and the response was filled with a lot of gratitude and happiness yet the question "when is the next festival?" kept popping from each conversation, which I find very interesting, hence I believe we can use this opportunity to invite more people within the community and friends of the Faith to join us so that we can spread the word of Baha'u'llah and teach the Faith through music. And hopefully we will come up with a constructive solution for how we can have more long festivals.
Baha'i: Was there anything that really stood out to you personally?
What stood out for me personally was just how powerful the words "Music is a universal language" are. We literally had two days to practice and prepare 13 songs, all in different languages and by the time we had to perform, 90% of the participants in the group knew all the songs by heart and everyone was in the spirit and that just proves how amazing the power of music is.
Baha'i Blog: Is there anything else you'd like to share?
I would like to share a quote by Abdu'l-Baha from Paris Talks:

"Music is an important means to the education and development of humanity, but the only true way is through the teachings of God. Music is like this glass, which is perfectly pure and polished. It is precisely like this pure chalice before us and the teachings of God, the utterance of God are like the water. When the glass or chalice is absolutely pure and clear and the water is perfectly fresh and limpid, then it will confer life, wherefore, the teachings of God, whether they be in the form of anthems or communes or prayers, when they are melodiously sung, are most impressive."
Baha'i Blog: How can people find out more about the festival, and is it something that will happen again?
People can contact us via the Joburg Baha'i Choir Facebook page, and they can also contact the National Spiritual Assembly of the Baha'is of South Africa for more information using this email: [email protected]
Baha'i Blog: Thank you so much for chatting with us Page, and a special thanks also to Neissan Besharati for his help with this post and for providing all the photos!
Posted by
Naysan is passionate about using the arts and media to explore the teachings of the Baha'i Faith. Back in 2011, Naysan started up the Baha'i Blog project, channeling his experiences in both media and technology companies to help create a hub for Baha'i-inspired content online.
"*" indicates required fields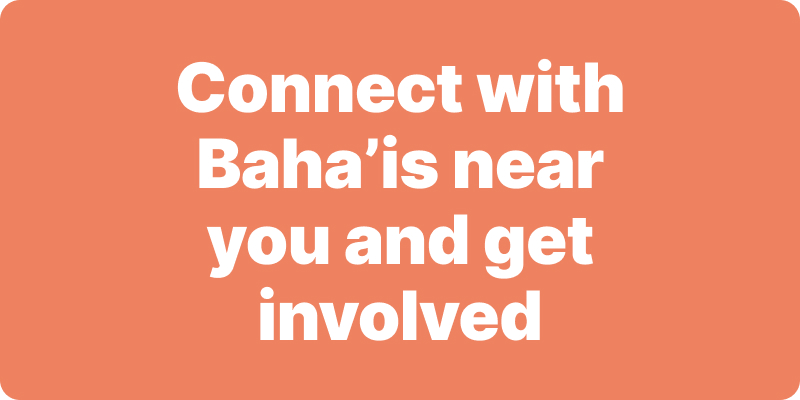 Join activities, celebrations, study groups, spiritual empowerment and education programs for young people, and more.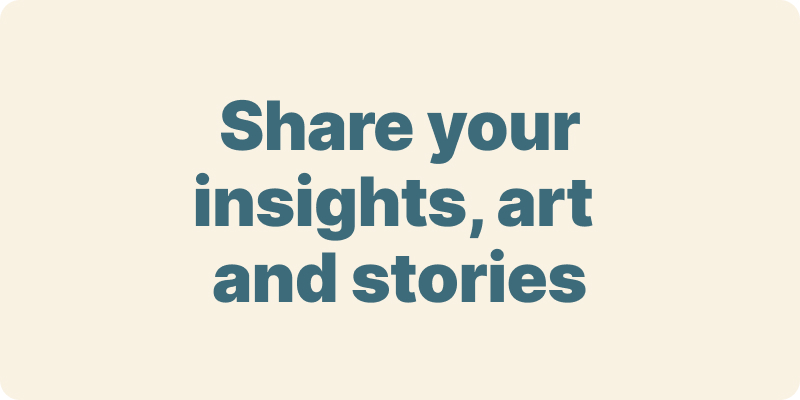 The arts and media have a critical role in how we share our community experiences. We've got resources, projects and more to help you get involved.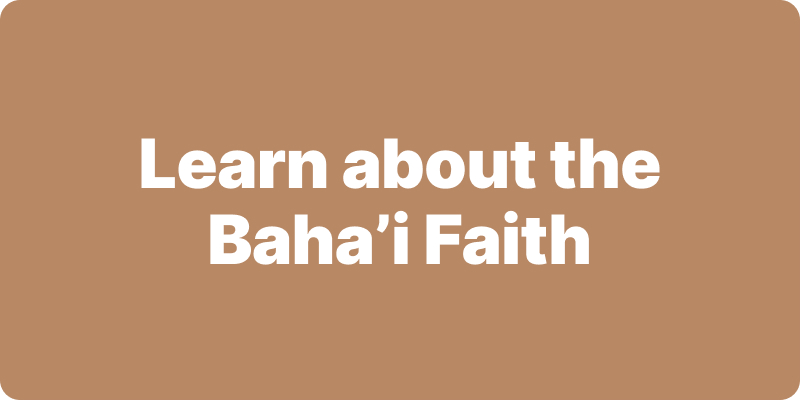 Baha'i beliefs address essential spiritual themes for humanity's collective and individual advancement. Learn more about these and more.
We acknowledge the Traditional Owners of country throughout Australia.

We recognise their continuing connection to land, waters and community. We pay our respects to Aboriginal and Torres Strait Islander people and their cultures; and to elders both past and present.
Baha'i Blog is a non-profit independent initiative
The views expressed in our content reflect individual perspectives and do not represent the official views of the Baha'i Faith.
Visit the site of the
Australian Baha'i Community
and the Baha'i Faith Worldwide