Child of Mine: A Baha'i Inspired Composition for Expectant Parents
November 2, 2015, in Articles > Books, by Dellaram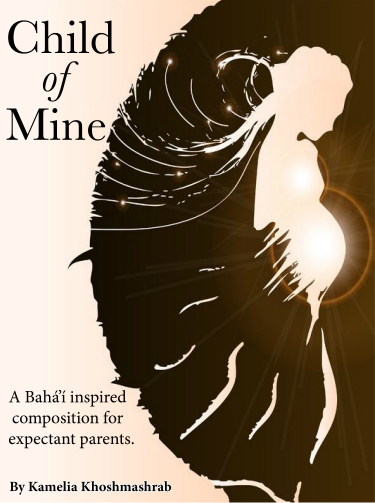 There is a wealth of information and differing opinions about pregnancy-related issues online and in print, so much so that expectant parents often feel quite overwhelmed when sourcing information. When I first fell pregnant, I avoided reading like the plague in fear that I would get confused and (more) anxious about my impending role as a parent. I decided the best way to source information was to turn to the Writings, and most other things could be learnt on the job.
A dear friend of mine, Kamelia Khoshmashrab has made it easy to find information about pregnancy-related matters from a Baha'i perspective with the release of her compilation Child of Mine. The publication brings together Baha'i Writings on a range of topics and is the perfect go-to resource for anyone who is planning, expecting or has just given birth to a baby.
Child of Mine is divided into five chapters as follows: pre-pregnancy matters, matters within pregnancy and breastfeeding, infant health, matters after birth and the spiritual environment of infants. Topics covered include (but are not limited to) chastity and the purpose of marriage, IVF and surrogacy, miscarriages, vaccinations, naming a child, godparents, and postpartum depression.
Baha'i Blog spoke to Kamelia to find out more about the new release:
Baha'i Blog: Thank you for taking the time to talk to us Kamelia. Could you start by telling us a little bit about yourself?
I'm a Baha'i mother of two girls under the age of 5, and along with my husband, Stefan, we live in regional Australia, in a small town called Ballarat. At university I completed a Bachelor of Law and a Bachelor of Commerce, and whilst I was pregnant with my first child I also studied a Diploma in Children's Services.

I'm very interested in children's education. In particular working with preschool aged children. I've helped start and develop Baha'i inspired preschool classes in Canberra, Melbourne and Ballarat.

I'm an avid book reader, and pre-kids my favourite thing to do was sit in a library and devour books. I'm still an avid reader, although all I seem to be doing nowadays is reading my kids' favourite storybooks over and over again!
Baha'i Blog: What inspired you to publish "Child of Mine"?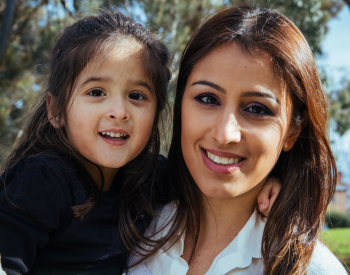 When I was pregnant with my first child, Lara, I was ecstatic, but at the same time anxious. I find as my knowledge increases my fears subside. So I scoured the Internet and read many pre-natal books in order to increase my understanding of what to expect. I found some wonderful resources that addressed what was happening to my body and the baby physically, but I struggled to find a comprehensive resource that addressed the spiritual implications.

I spent months searching Baha'i literature to find anything relating to pregnancy and parenting a newborn. Anything I did come across I would save and over time I had a fair few quotes. Initially this was all for my own understanding. However over the years friends and family members fell pregnant and I found myself sharing with them the quotes I had come across. I realised not everyone had the time or the opportunity to search through the Baha'i literature to discover these gem-like quotes, and it is then that I decided to compile and publish Child of Mine.
Baha'i Blog: How long did it take you to compile? What was the process?
It actually took me a few years to write the compilation. It initially started as a book that covers both spiritual and physical topics relating to pregnancy. It was ten times as long as the current compilation, as it covered topics ranging from breech babies to storing breast milk. I put off publishing the book as the medical advice on many of these topics kept evolving. After all Abdu'l-Baha has advised that modern medicine is still in its "infancy".

When I was pregnant with my second child, Eva, I remember typing into the Google search engine "Baha'i pregnancy" and the most irrelevant things came up. It saddened me, and it motivated me to forgo all the content of the book that was related to the 'physical side' of pregnancy and instead write a compilation that focused on the Baha'i Writings and pregnancy.
Baha'i Blog: Did you find there was a lot of information in the Writings related to pregnancy? How did you decide what to include and what not to include?
I included in the compilation anything and everything I could get my hands on about the Baha'i Faith and pregnancy. Mind you, I was limited with what was available in translated English. I have no doubt that there is more in the Baha'i Writings relating to pregnancy, and hopefully future generations will be able to compile them all together.

With regards to the content I did use, I was mindful that the compilation should be balanced in its views and I tried to restrain giving a personal opinion. I understood that medical practices varied between countries, cultures and even between doctors, so where necessary I state some basic facts about a topic but leave the Baha'i quotations as the primary source of information.
Baha'i Blog: What was the inspiration behind the title?
The title of the compilation, 'Child of Mine,' was inspired by the following quote from Baha'u'llah:

"… He that bringeth up his son or the son of another, it is as though he hath brought up a son of Mine; upon him rest My Glory, My loving-kindness, My Mercy, that have compassed the world." 1
Baha'i Blog: What do you hope the compilation will achieve?
I hope that expectant parents read and draw inspiration from the Baha'i Writings about the significant role they're about to undertake. They have undoubtedly embarked on journey with a new soul that will last an eternity.
Baha'i Blog: Thank you so much for your time Kamelia, and congratulations on releasing this valuable resource!
Child of Mine is available for free online.
It can be downloaded in .EPUB format from iBooks and Kobo.
The .PDF and HTML versions are available at www.bahaichildofmine.wordpress.com
It can also be viewed online via the Baha'i Library.
---
Footnotes & Citations
Baha'u'llah, The Kitab-i-Aqdas, K. 48, p. 37[↩]
Posted by
Dellaram is a Baha'i, wife, and mother of three, who works as a freelance journalist and copywriter in her hometown of Ballarat, Australia. She is passionate about building community and loves the thrill that comes with op-shopping!
"*" indicates required fields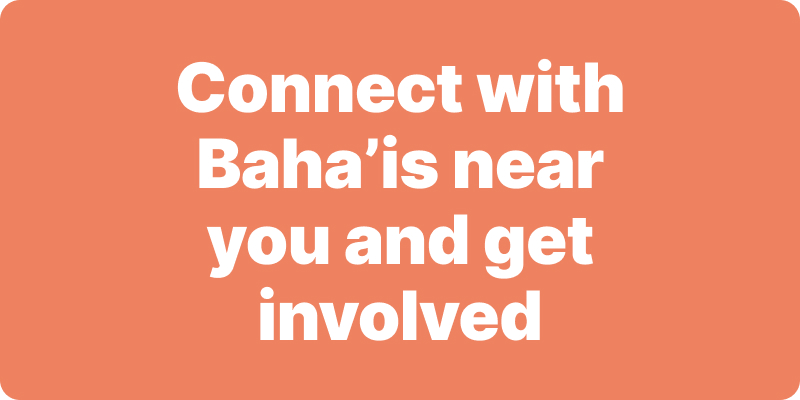 Join activities, celebrations, study groups, spiritual empowerment and education programs for young people, and more.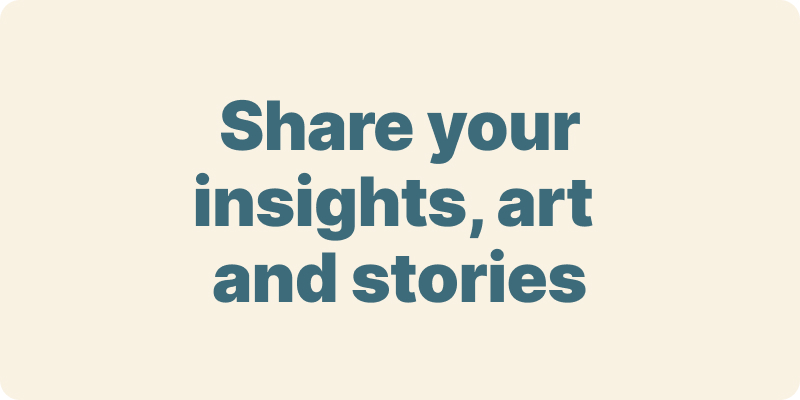 The arts and media have a critical role in how we share our community experiences. We've got resources, projects and more to help you get involved.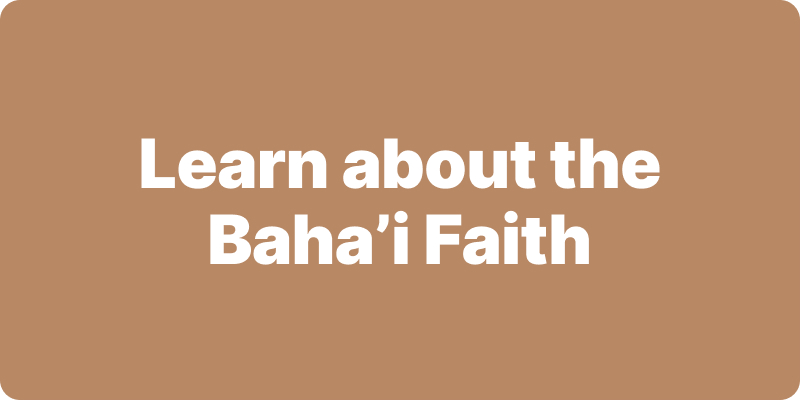 Baha'i beliefs address essential spiritual themes for humanity's collective and individual advancement. Learn more about these and more.
We acknowledge the Traditional Owners of country throughout Australia.

We recognise their continuing connection to land, waters and community. We pay our respects to Aboriginal and Torres Strait Islander people and their cultures; and to elders both past and present.
Baha'i Blog is a non-profit independent initiative
The views expressed in our content reflect individual perspectives and do not represent the official views of the Baha'i Faith.
Visit the site of the
Australian Baha'i Community
and the Baha'i Faith Worldwide