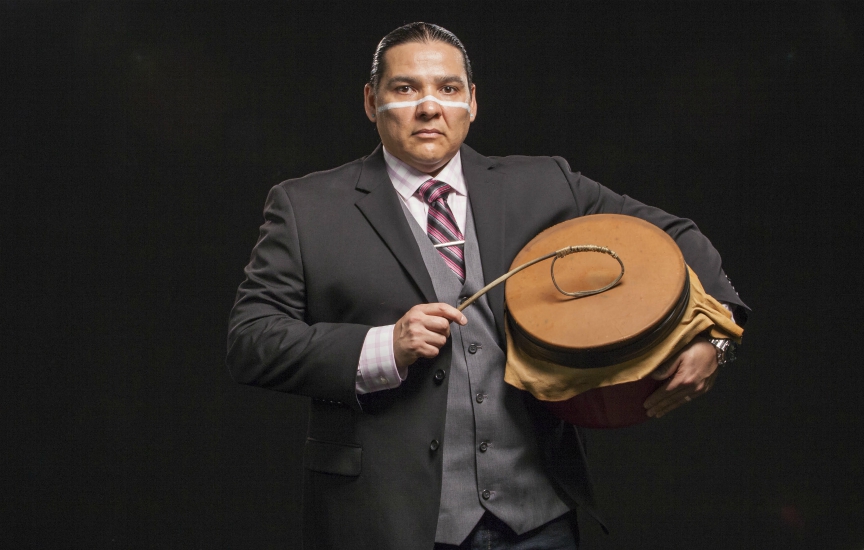 Raised in the culture of his Apache roots, Roman Orona, also know as "Ish Hish Itsaatsu" which means "One Who Dances With Eagles" in Apache, is a Native American performer and musician whose new award-winning album of Apache songs called Circling Spirits, expresses his people's sacred values and acknowledges the spirits of the ancestors who sacrificed their lives, families and lands, so that their tribal communities could endure.
I had the pleasure of meeting Roman while briefly living in Arizona, so I decided to catch up with him to talk about his new album and how his faith as a Baha'i and as a Native American heritage have shaped his life and his music.
Baha'i Blog: Hi Roman. Can you tell us a little bit about yourself and your musical background?
I am Apache (Chiricahua, Lipan and Jicarilla), Pueblo (Taos and Isleta) and Yaqui. I have a bachelors of science in both civil engineering and biology. It is from my deep family roots that gave me the extensive foundation in the faith, values, traditions and native culture in which I strive to preserve and also educate. From a young age, I was taught to respect and value all human beings. My family introduced me to unity in diversity and the oneness of humanity through the lessons of the Baha'i Faith. Now as a father of two, I have a greater responsibility to instill those same values in my children and those with whom I interact with.

The art of singing Apache and Powwow songs, playing the drum and dancing ceremonial and Powwow styles was passed down to me as a child. The stories for my people, of my people and of the atrocities that my people encountered were a big part of my upbringing. I learned the songs because they are made to touch the human soul. My musical development went beyond my cultural traditions, into classical, jazz, hip hop, rock, country, reggae, as well as music in different languages. With that diverse upbringing in music, it gave me a broader appreciation of music, but as an artist, it helped me to incorporate the various types of music into my own. I am really working hard to not only unify humanity, but bring that unification into my music as well. I am one that doesn't like to be put into a box, so I really try to break the mold both in music and life, but not trying to reinvent the wheel, but using the foundation laid and improving upon the things that have worked. I don't want to be stagnant in life and in my artistry, whether music, performing, films, etc.
Baha'i Blog: Can you tell us a little bit about the album and why it was important for you to create it?
The concept of this album came many years ago while participating in an Apache Sunrise Ceremony (Girl's Puberty Rights Ceremony) and wondering when indigenous music will become mainstream — not mainstream as in selling out, but in a way that everyone can listen and truly appreciate the music. I want non-native people to hear the songs of the Native People of the Americas and grasp their meanings. I want to shift the response from "that was nice" to "I understand what you are saying." This journey is an ever-evolving concept of bringing our music for all ears to hear and appreciate.

The concept of "Circling Spirits" is one of acknowledging those who have sacrificed their lives, family, possessions, language, land, and more, for us to be here, and now are adapting to the current times by transcending prejudices. It is about appreciating the struggles of life and surviving for the betterment of humanity. This album is about reaffirming and recommitting ourselves to live by our sacred values. It is honoring and abiding by natural laws of respect and balance. In Circling Spirits, I have combined the Powwow song style with the Apache singing traditions. The songs were translated into Apache by my father, Dr. Joel Orona.
Baha'i Blog: Can you tell me a little bit about being a Native American Baha'i and how the Faith has influenced your music?
Being a Native American Baha'i, has allowed me to see my ancestral prophecies and practice my traditions in a clearer way because the Baha'i Faith is the fulfillment of the traditions and prophecies of my people. They are both aligned in justice, truth, unity, harmony and equality, to name a few. I have been told that traditions can not and will not be as they were 100 years ago, or even 25 years ago. This world is constantly changing. We, as native peoples, are changing along with it. Our ability to adapt to our environments has kept us from becoming extinct. Our indigenous roots are deep-seated in the world that we live in. As Native People of the Americas we have a special obligation to the world. Abdu'l-Baha, the Son of Baha'u'allah, the Prophet-founder of the Baha'i Faith, bestowed great importance to us as Native People when He said, "Attach great importance to the indigenous population of America…these Indians, should they be educated and guided, there can be no doubt that they will become so illumined as to enlighten the whole world…" .

In this album and in my latest stage performance called "PROPHECY," I have incorporated the traditional songs and dances, and brought it to deal with the contemporary issues we are currently facing as a society. Those traditional stories, songs and dances deal with the issues that we face, and the Baha'i Faith has brought me to a greater understanding of the importance of those traditions, and how to practice them in a more unifying way, and expanding them and bringing them for the peoples of the world to experience.
Baha'i Blog: What's something that really touched you, or that you personally learned during the process of making this album?
As someone that maintains consistent dedication in all my work, I always try to be relevant and ever evolving as a human and an artist. One of my goals is to teach balance in all aspects of life, world peace, equality of men and women, environmental and cultural preservation, racial equality and the abandonment of all forms of prejudice. I work to illustrate in my latest video series, "#iamHUMAN," that all individuals are related through the common thread, and simply, that we are all HUMAN. In that I believe that we are at a great place in life, where we as humanity have a responsibility to each other, for each other. We have a choice to make this world a better place for the future generations, or to leave it for those that are unborn to come into a world of complete chaos. I believe that Mother Earth – including the peoples that live on her – is going through a rebirth of labor and delivery, which means that the old world order is leaving and the promised New World Order is coming, and if you ask any mother who has given birth, she will tell you that it is not easy, and it is painful, but with this pain comes new life.

Indigenous Peoples are spiritual and prayerful, constantly supplicating to the Creator through songs, dance, stories, visions, fasting, etc. Most importantly our prophecies that have been passed on through many generations, have foretold about this time that the world currently sees itself in. A world and people of separation, destruction, confusion and chaos. A time that humanity is at a turning point, that our choices today will determine the future course of civilization. To live in brotherhood and simplicity, establishing harmony with each other and all living things. That's why I think we are so lucky to be part of that birth. Such exciting times to be living in.
Baha'i Blog: What has the response to your music been like so far and how has it been received?
Well I think that it has been welcomed and liked by those who have heard it. There are always going to be people that don't get it or won't like it, and I am ok with that. I just ask that you know my story behind the music and base your decision on that. It can be new to some ears who are not used to Native American music, but I really think that it has a great vibe in the music. I have a track with the amazing R. Carlos Nakai, a world-renowned Native American Flutist, and Phillip Cassadore who was a Chiricahua Apache medicine man, singer, activist, Presidential Candidate and Baha'i. I have also include in several songs my son and daughter who both have some amazing voices. This album allowed me to win a Native American Music Award, which is the Native American GRAMMY equivalent, in the Best Male Vocalist category. I originally wanted to have so much more on this album, but the producer wisely scaled me back to first lay the foundation and then slowly advance my ideas for my music. The things that I wanted to do could have been much too fast, and the ears were not ready for it. So I will begin to slowly add additional sounds to my music. I have started a new trio called 'Medicine Arrow' and have already been getting lots of attention with the sounds that we have been creating. Medicine Arrow combines my vocals, Native American Flute and percussions from around the world. With my personal music and with the trio, I really want to create music that goes deep into one's soul and moves one's spirit.
Baha'i Blog: Is there anything else you'd like to share?
I am trying to change the world through my artistic abilities, but I am only one. I know that there are many people doing the same and I think we should combine our efforts and make a bigger splash in unifying the world. I really think it is time for us as indigenous peoples to step up and show the world that not only are we still here, but that we have many things to say and show when it comes to helping with the problems of the world. We were conquered and pushed aside hundreds of years ago, but we have never lost, among many things, our connection with mother earth, prayer, creating extended family and the ability to pass down the prophecies, traditions and stories of what makes us who we are. Harness our prophecies, traditions, victories and struggles. That, along with the Baha'i Faith, has helped me understand why there is such great importance placed of the "indigenous populations of America". We are needed, and will step forward to lead the world into the promised time of world peace.

Thank you. Love and blessings to you all.
Baha'i Blog: Thanks so much for taking the time to do the interview Roman, and congratulations on your new album and for winning Best Male Vocalist at the Native American Music Awards! That's awesome!
You can listen to and purchase a copy of 'Circling Spirits' here: Circling Spirits by Roman Orona.
Learn more about Roman Orona and all the things he's involved with, including his partnership with Lori Hines and their new storytelling guided meditations to help heal the mind, body and soul, by visiting: www.romanorona.com
Plus check out the #iamHUMAN project at www.iamHUMANmedia.com, and his new group 'Medicine Arrow' here on Facebook.
Roman Orona was also featured on Baha'i Blog's Studio Session series with his song "Blessings", which can be viewed below:
Posted by
Naysan is passionate about using the arts and media to explore the teachings of the Baha'i Faith. Back in 2011, Naysan started up the Baha'i Blog project, channeling his experiences in both media and technology companies to help create a hub for Baha'i-inspired content online.
"*" indicates required fields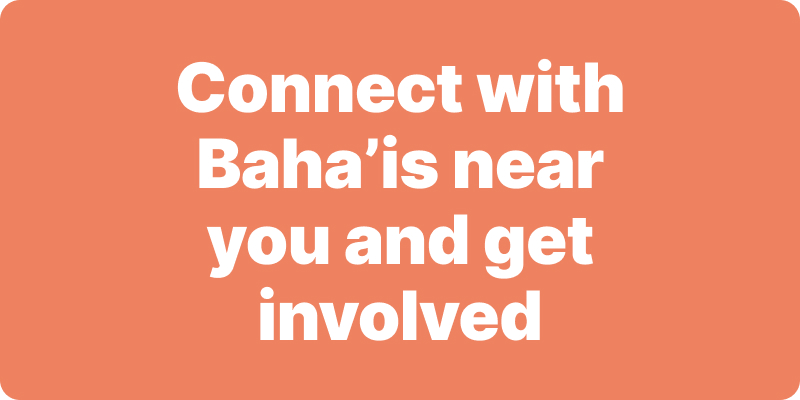 Join activities, celebrations, study groups, spiritual empowerment and education programs for young people, and more.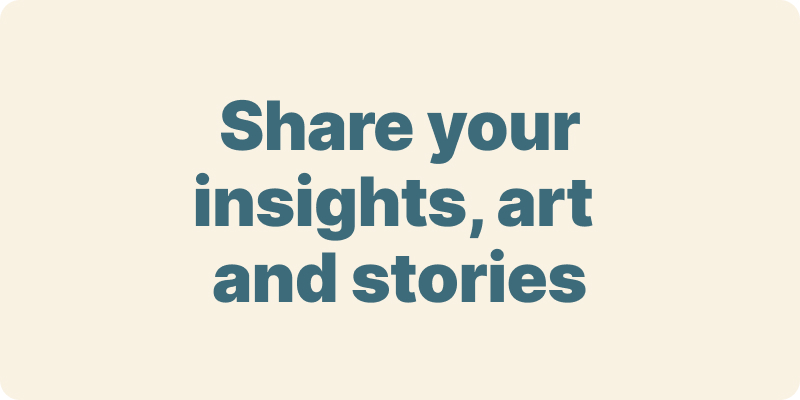 The arts and media have a critical role in how we share our community experiences. We've got resources, projects and more to help you get involved.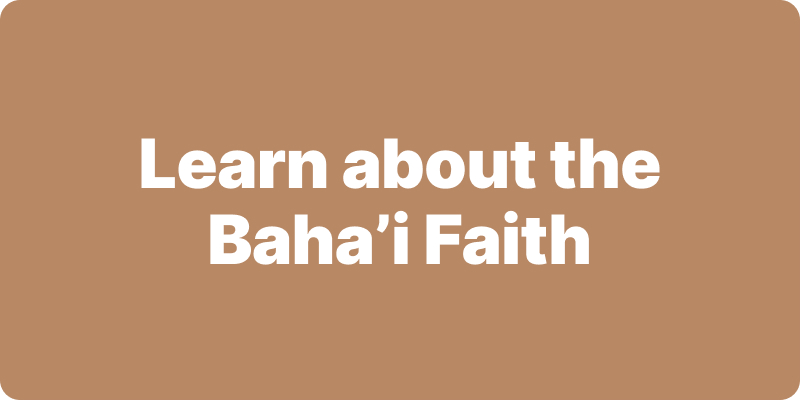 Baha'i beliefs address essential spiritual themes for humanity's collective and individual advancement. Learn more about these and more.
We acknowledge the Traditional Owners of country throughout Australia.

We recognise their continuing connection to land, waters and community. We pay our respects to Aboriginal and Torres Strait Islander people and their cultures; and to elders both past and present.
Baha'i Blog is a non-profit independent initiative
The views expressed in our content reflect individual perspectives and do not represent the official views of the Baha'i Faith.
Visit the site of the
Australian Baha'i Community
and the Baha'i Faith Worldwide