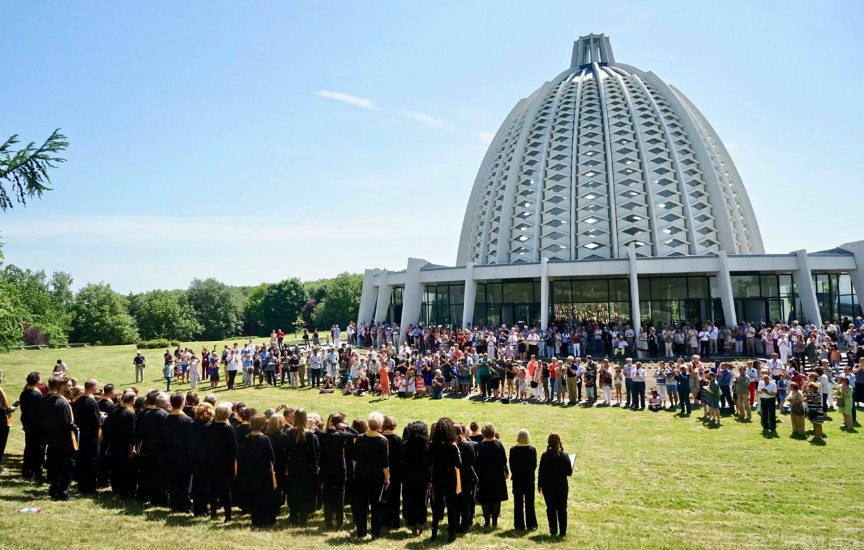 In a few weeks (May 29-June 2), participants from across Europe will come together at the European Baha'i House of Worship in Germany, to join voices and take part in the European Baha'i Choral Festival! This is the second year the event is taking place, and besides the singing and sharing of glorious music with others, the event aims to strengthen the bonds of fellowship and harmony amongst Baha'is and their friends across Europe.
I caught up with the festival's musical director, Ameli Dziemba, to find out more about the event and to hear about her experiences:
Baha'i Blog: Hi Ameli, can you tell us a little bit about the European Baha'i Choral Festival?
About 120 singers from all over Europe will be learning the a cappella choir music at home, as they are provided with sheet music, access to sound files and written support of the musical director, and then they come together for three and a half days of intensive rehearsals, to bring together two beautiful concerts of sacred music! We will mostly be singing music written by composers from all over the world especially for this occasion. All of the pieces vary in styles and language, such as English, French, Albanian, German, Finnish, Swedish, and all of them are intoned Writings of Baha'u'llah and Abdu'l-Baha. The rehearsals will take place in the Haziratu'l-Quds in Hofheim-Langenhain in Germany which is seated in a beautiful landscape in sight of the Baha'i House of Worship, so that all singers can see it while singing. On the fourth day of the festival, two concerts will be held in the House of Worship.
Baha'i Blog: What was the main idea behind the festival, and why do you think it's important to have something like this?
Music is the straightest way to peoples' hearts, singers and listeners alike. The idea was to connect people from all over Europe and let them share the uplifting experience of singing in the European House of Worship together, and to increase the bonds of fellowship and harmony across the Baha'i community in Europe. The Baha'is who live near the temple are fortunate enough to visit it whenever they want. But as big as Europe is, there are a lot of friends who have to travel far to come to the Temple, some of them never have been there. So we thought we'd initiate an event that encourages all friends to experience the combination of singing, meeting old and new friends, and visiting and praying in the European Temple. The concerts are a fantastic way to teach the Faith by singing the words of God. The listeners are stunned by the sound and the words go directly to their hearts. I'm very grateful that we have this gift and that we can serve in such a beautiful way.

In 2015, I was invited to conduct two of my compositions at the Australian Baha'i Choral Festival in Sydney, Australia, and that was such a wonderful experience that I wanted to bring the idea to Europe. That was actually the beginning of this project.
Baha'i Blog: Can you tell us a little bit about yourself?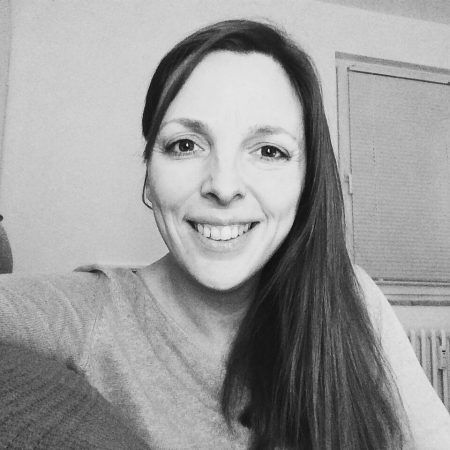 I'm a singer and composer living near Cologne, Germany. As a little girl of five, I grew up in London for six years, and that was the time when I got the feeling that I was a European citizen rather than being German. When I declared myself as a Baha'i at the age of 20, this feeling again changed to being a citizen of the world. Music is the language everyone can understand no matter where he or she comes from, and it was, and still is the language I can share my feelings and beliefs in the most adequate way.

I studied jazz in the 90's and since then I have worked as a singer, vocal and voice coach, piano teacher, choir director and composer for theatre and dance, and I love the diversity of that! I'm also the founder and musical director of "Stimmen Bahás", the German Baha'i Choir at the European House of Worship, which is the initiator and organizer of the festival.
Baha'i Blog: How many years has it been going, and approximately how many people usually attend?
We only started the festival in 2017 and we are going to organize it every two years, so 2019 is the second one. Last time 120 singers from all over Europe (Germany, UK, Greece, Belgium, France, Turkey, Italy, Sweden, Finland, Albania, Netherlands, etc.), USA and Australia took part.
Baha'i Blog: What has the response been like so far, both from the participants, and also from the audience?
The audience was delighted, if I may say so… haha! The choir did a great job and the sound of the voices in the Temple captivated the listeners. Many of them addressed me after the concerts and said it was an uplifting experience. The participants themselves were grateful to have been a part of the choir, and our idea of bringing singing people together at the European House of Worship proved to be highly successful. Quite a few travelled back to their home countries with the firm will to establish new Baha'i choirs! That was an outcome I didn't expect, but it made me very happy.

Of course, organizing such a big event, there is always something that doesn't suit everybody. When 120 people come together you can't satisfy everyone regarding food, breaks, toilets etc, but I guess that is something that happens to every event manager. Nothing's perfect for everyone.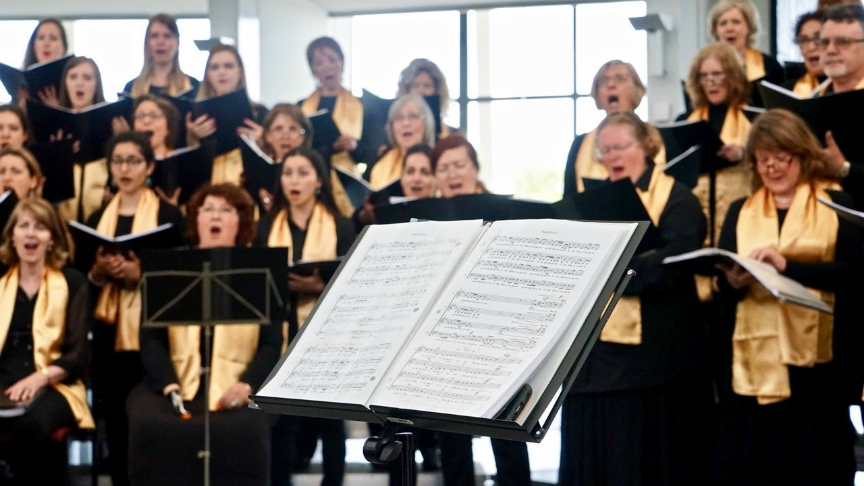 Baha'i Blog: What is something about the festival that has touched you personally?
That was definitely the sound of the choir! We only had three days of rehearsing 14, to some extent, really difficult songs, but when we started the first concert, I was so amazed by the perfection of the sound of the choir. Everything fell into place. Every singer gave her and his very best to bring the compositions to life, and to rejoice over the words of God.

The other thing was my energy during the preparation and the festival itself. It felt as if it was endless. It was only half an hour after the last concert that I had a complete breakdown and all the energy was gone. But I am so grateful, that somehow someone provided me with all the energy I needed until that point. Ya Baha'u'l Abha!
Baha'i Blog: What benefits do these sorts of initiatives have for all those who participate, and all those who attend?
Music and other arts are an important and very successful way to teach the Faith, to get in contact with new people and Baha'is, and to touch the hearts of people. It's not about the mind. It brings people together that perhaps otherwise wouldn't meet in everyday life.
Baha'i Blog: How can people get involved and find out more about the festival?
You can find more information at bahaichoralfestival.de/en

Registration is still open!

Come and join us and be a part of this great event!! There are still a few participant places left!
Baha'i Blog: Awesome! Thanks so much for the information, Ameli, and thanks for taking the time to do the interview as well. Also bravo on all the work you and others have put into this wonderful event, and I hope you all have an amazing time!
Posted by
Naysan is passionate about using the arts and media to explore the teachings of the Baha'i Faith. Back in 2011, Naysan started up the Baha'i Blog project, channeling his experiences in both media and technology companies to help create a hub for Baha'i-inspired content online.
"*" indicates required fields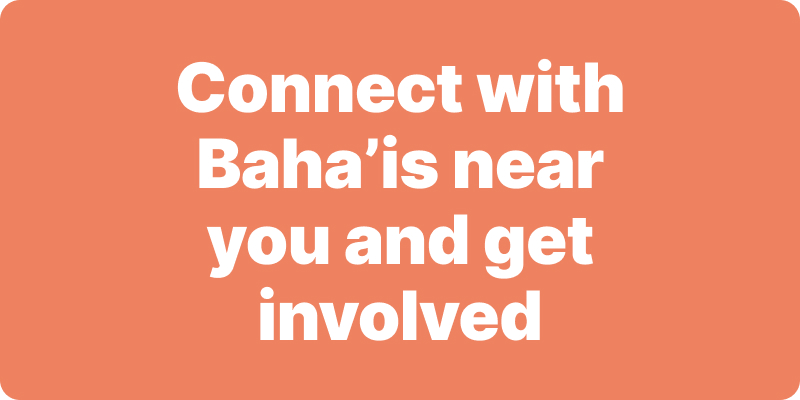 Join activities, celebrations, study groups, spiritual empowerment and education programs for young people, and more.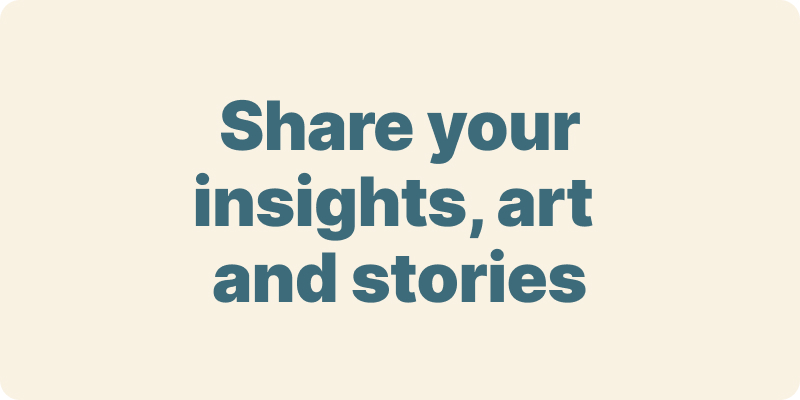 The arts and media have a critical role in how we share our community experiences. We've got resources, projects and more to help you get involved.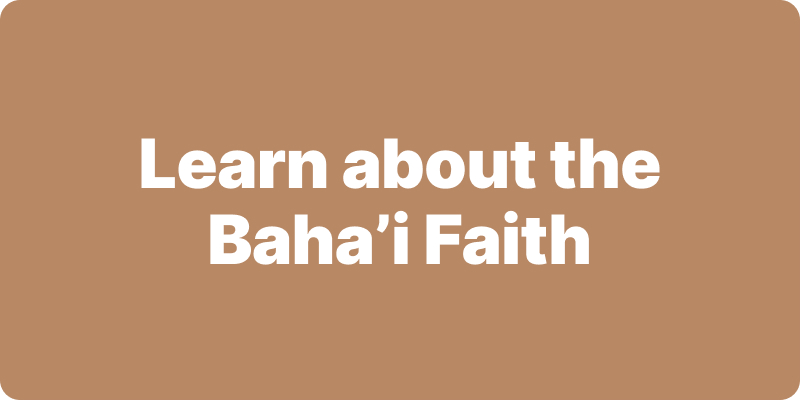 Baha'i beliefs address essential spiritual themes for humanity's collective and individual advancement. Learn more about these and more.
We acknowledge the Traditional Owners of country throughout Australia.

We recognise their continuing connection to land, waters and community. We pay our respects to Aboriginal and Torres Strait Islander people and their cultures; and to elders both past and present.
Baha'i Blog is a non-profit independent initiative
The views expressed in our content reflect individual perspectives and do not represent the official views of the Baha'i Faith.
Visit the site of the
Australian Baha'i Community
and the Baha'i Faith Worldwide