I recently stumbled upon an Instagram account called Baha'i Illustrated which features graphics, or infographics, about the significance of Baha'i Holy days, stories from Baha'i history, and much more. Natalia is the artist behind the account and she graciously agreed to share some of her work, and some of her words about her work, with us: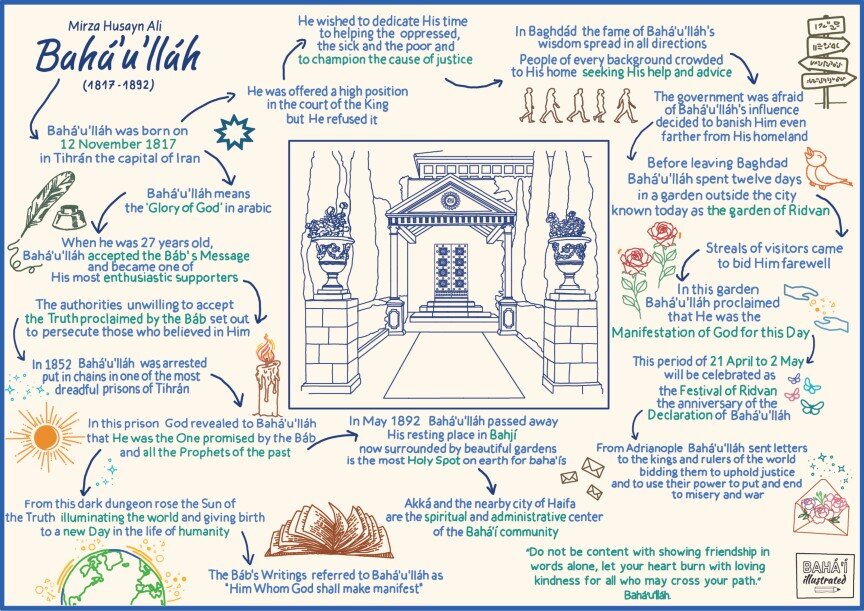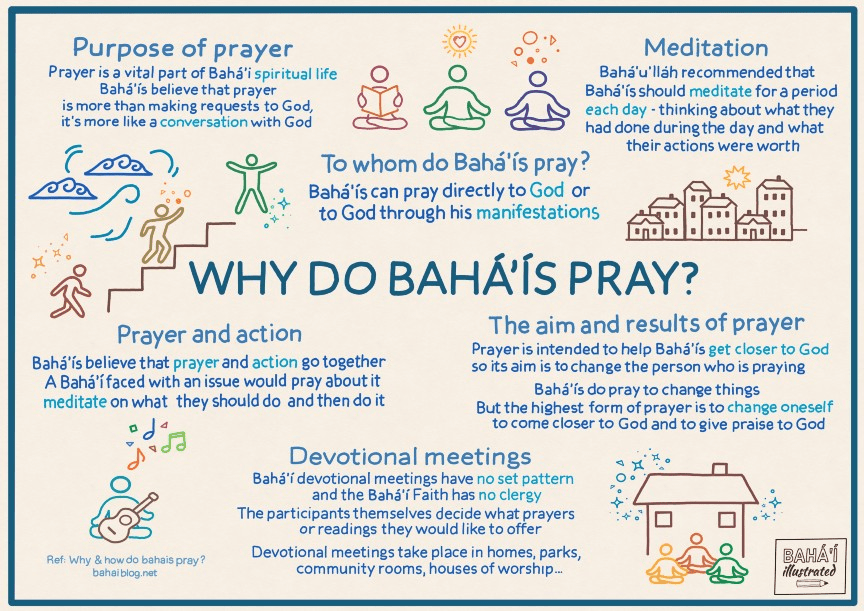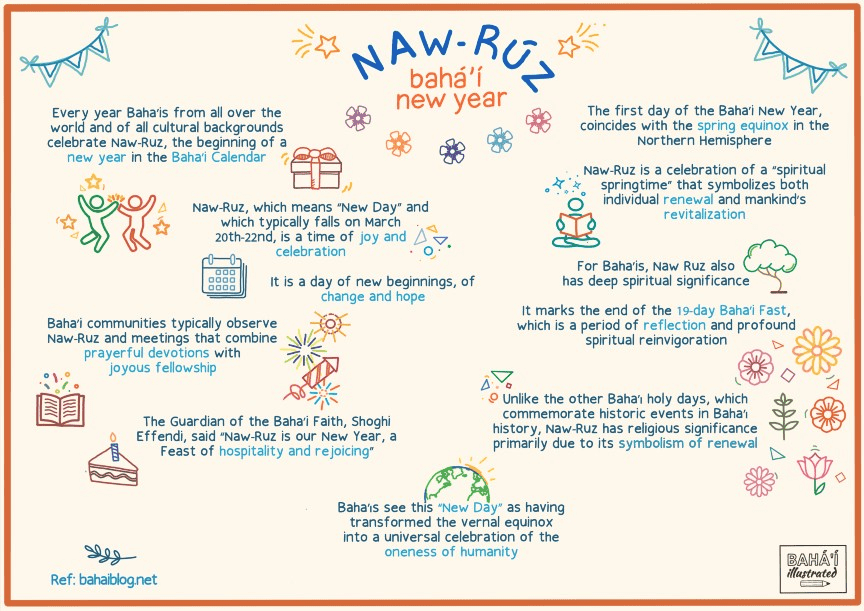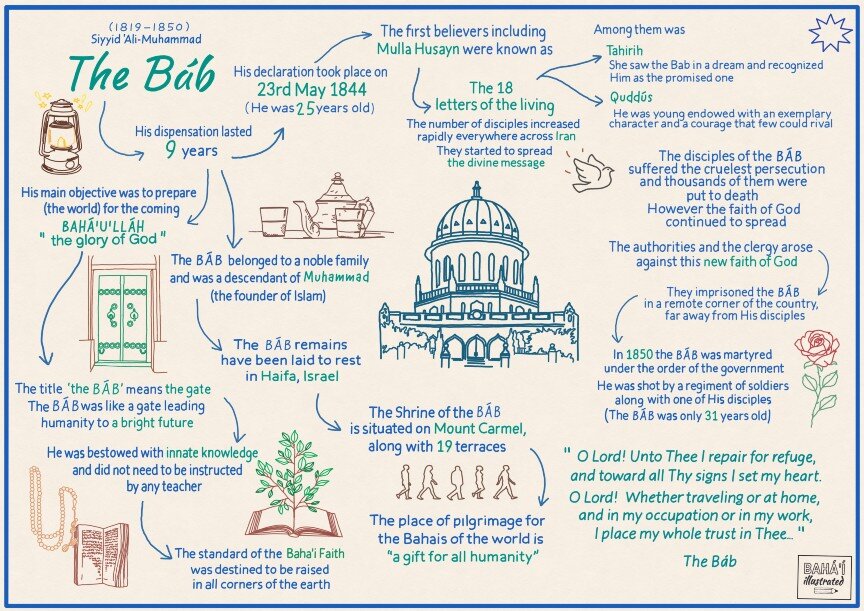 Baha'i Blog: What is Baha'i Illustrated?
Baha'i Illustrated is a personal project that uses illustrations to share about the different aspects, principles and topics that can be found in the Baha'i Faith in a way that can be used by others to teach the Faith. This project is constantly evolving for now you will find illustrations and mind maps but there is more to come.
Baha'i Blog: Can you tell us a little bit about your art and your graphics?
The project is based on the idea that art helps the viewer understand and remember more easily notions that are complicated or long to explain. Also, we know that social media is the best place to share however it is an ocean of information as well. That's the reason why I use visual content such as drawings and mind maps so that it is understood at a glance.
 Baha'i Blog: Who is the creator of this project?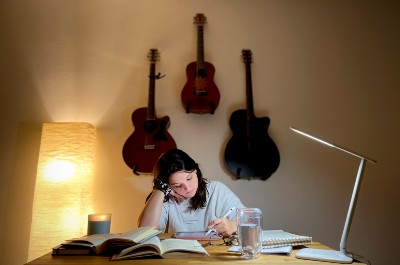 Baha'i Illustrated is an individual initiative created by a Baha'i who wants to use her creativity for the service of the community. More specifically, my name is Natalia and I'm 23. I'm Spanish but I'm currently living in France. I have a fine arts degree and I'm now studying art-therapy.

Originally this project came to my mind because in my community I was used to sketching during gatherings or Ruhi book study circles in order to summarize what had been said.

I have been thinking about this project for so long but I did not dare to publish it because I considered that it is such a big responsibility to talk about the Faith publicly in a manner that could either diminish or damage the high standards and depth of the Faith or by spreading wrong information because of a lack of knowledge from my side. I ended up doing it after a lot of encouragement from my husband and some of my close friends, they also helped me to make sure the content I publish is the best it can be.
Baha'i Blog: How is your work being used? Or how do you hope they'll be used?
I'm so happy that people around the globe message me telling me that Baha'i Illustrated images are helping them to share about their faith with their friends. This was exactly the desired goal of this project: our images are available for free to help people everywhere to find out more about the Baha'i Faith, for example in children classes, youth groups and teaching campaigns.
Baha'i Blog: What inspires you?
Trying to live my life according to the teachings of Baha'u'llah is the biggest inspiration. As Baha'is we are encouraged to read and study the Writings daily and with this habit naturally lots of questions come from yourself or from people around. Moreover I illustrate the significance of Holy Days and Feasts of the Badi calendar such as Naw-Ruz, Ridvan, and the fasting period. I use Baha'i Blog and Bahai.org articles as a source of inspiration but also as a reference.
Baha'i Blog: What is your creative process like?
It is more complex than it seems because summarizing deep concepts to make it visually simple is a big deal (and I do not always succeed!). Usually, the first step is to choose a subject and draft the written part (or summarize if it comes from an article). When the written part is ready, I try to make it punchy by adding some illustrations and decorations. Finally, what takes me the longest is to decide the layout. I try to follow a design pattern to unify all the images and make the general content recognizable.
Baha'i Blog: What projects are you currently working on?
I'm am nowadays working on a mind map for the #stophatepropaganda campaign but also thinking about a series of illustrations for the special date of the centenary of the Passing of Abdu'l-Baha that we will commemorate this year.

I have other projects in the works that I will be sharing soon.
Baha'i Blog: Thank you so much, Natalia!
You can find Baha'i Illustrated on Instagram: www.instagram.com/bahaillustrated
Posted by
In her innermost heart, Sonjel is a stay-at-home parent and a bookworm with a maxed out library card but professionally she is a museologist with a background in English Literature. She currently lives on Prince Edward Island, an isle in the shape of a smile on the eastern Canadian coast. Sonjel is a writer who loves to listen to jazz when she's driving at night.
"*" indicates required fields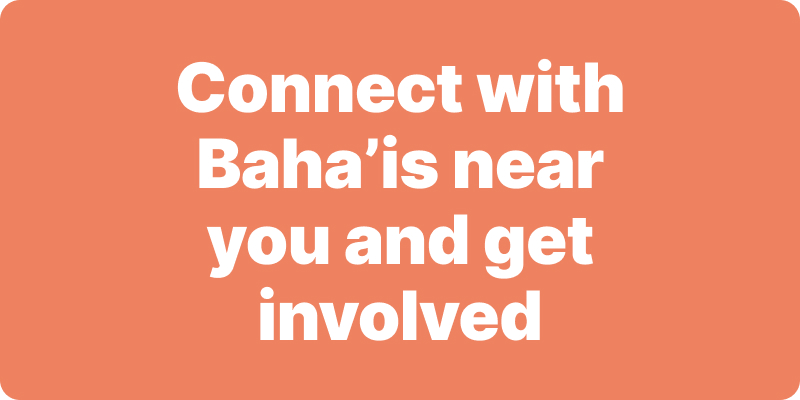 Join activities, celebrations, study groups, spiritual empowerment and education programs for young people, and more.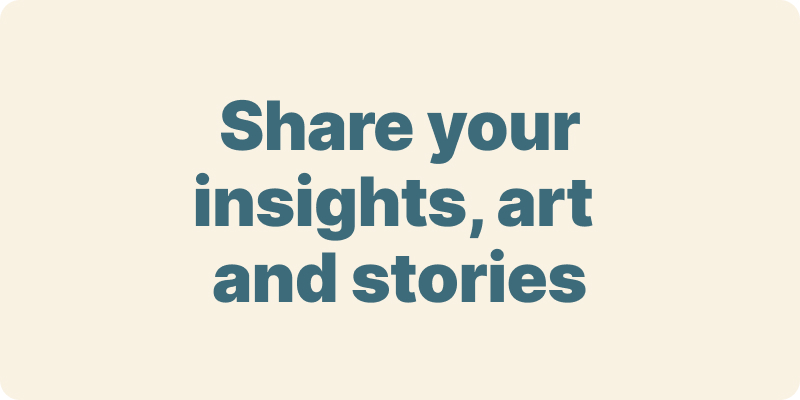 The arts and media have a critical role in how we share our community experiences. We've got resources, projects and more to help you get involved.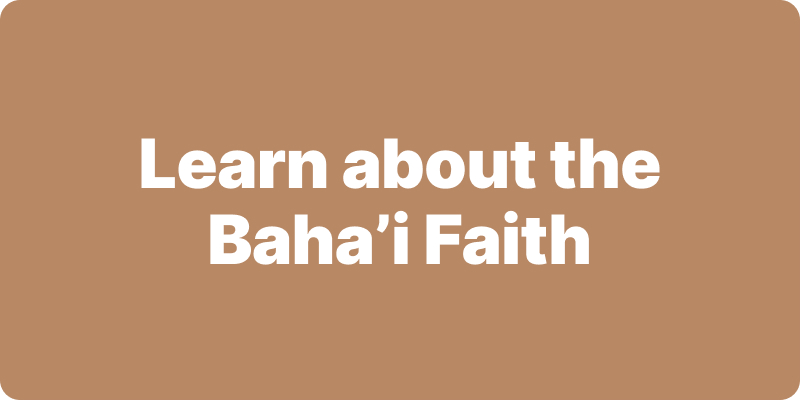 Baha'i beliefs address essential spiritual themes for humanity's collective and individual advancement. Learn more about these and more.
We acknowledge the Traditional Owners of country throughout Australia.

We recognise their continuing connection to land, waters and community. We pay our respects to Aboriginal and Torres Strait Islander people and their cultures; and to elders both past and present.
Baha'i Blog is a non-profit independent initiative
The views expressed in our content reflect individual perspectives and do not represent the official views of the Baha'i Faith.
Visit the site of the
Australian Baha'i Community
and the Baha'i Faith Worldwide