Will You Break the Silence? Poetic Practical Steps Toward Race Unity – A Book by Andrea Hope
February 10, 2021, in Articles > Books, by Sonjel Vreeland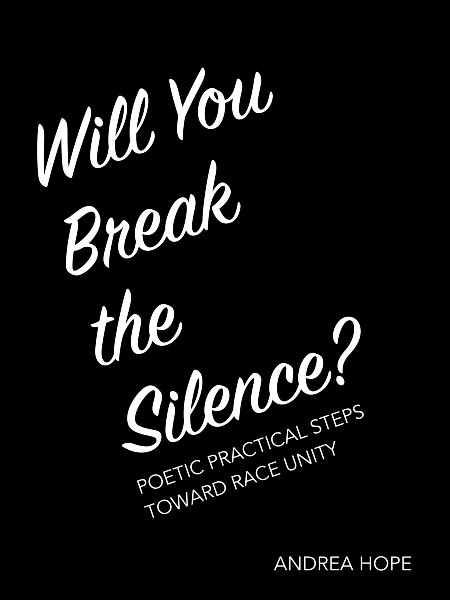 Poetry is powerful. Writer, poet and spoken word artist Andrea Hope has penned a poem about racism and what we can do to heal its wounds. Will You Break the Silence? is a work we've needed now more than ever before.
Andrea Hope has appeared on Baha'i Blog wearing various hats: you can watch her perform her spoken word piece called "World Citizen" here; you can read her thoughts and reflections on that poem here; you can also read an interview with her about her children's book A is for Allah-u-Abha here; or you can read and reflect on her article on failure (titled "Failure…You're Doing it Wrong").
I was grateful to Andrea for taking the time to tell us about this book. Here's what she shared:
Baha'i Blog: Could you please tell us about this work of poetry?
Will You Break the Silence? Poetic Practical Steps Toward Race Unity is composed of a single poem, accompanied by black and white illustrations. It uses simple, evocative stanzas to envision how a friend or ally might support a person struggling with the harsh realities of racial injustice.
Baha'i Blog: What inspired or compelled you to write it?
After several stories of racial injustice gathered media attention yet again in the United States, I was feeling quite exhausted and wondering what more I could do to contribute to enlightening and encouraging others. I also face the challenge in my personal life that I am in an interracial marriage, with a partner who has not been raised in the United States. After a restless night, I recorded a video calling on my friends and allies to take a larger role in addressing prejudiced statements, outlooks, and laws before they become dangerous actions. It felt like for too long the responsibility of explaining and overcoming injustice has fallen on the minority and the oppressed. Little did I know, at the same time, many Black artists and businesspeople like myself were feeling that heaviness and were creating content that asked people in positions of privilege to show their concern and support. I received several emails and responses from friends who wanted to help, but who didn't quite know where to start. Drawing on my own insights and information gathered for an article I did with Brilliant Star Magazine called "More than Two Colors", I sat down to put some practical steps into poetic form.
Baha'i Blog: What did you learn in the process of creating this poetry book?
I often write poetry for fellow artists, but it was really important to me that this book had a wider appeal – that it could be understood by almost anyone, yet still feel personal. I thought more about the reader than any other poem I've written. Will they appreciate the message? Will they feel condemned and guilty or stirred and motivated? Will they feel both the warmth and expectation of a friendship that goes beyond words alone?
Baha'i Blog: Your book starts and ends with a quote. Can you share how you chose these quotations?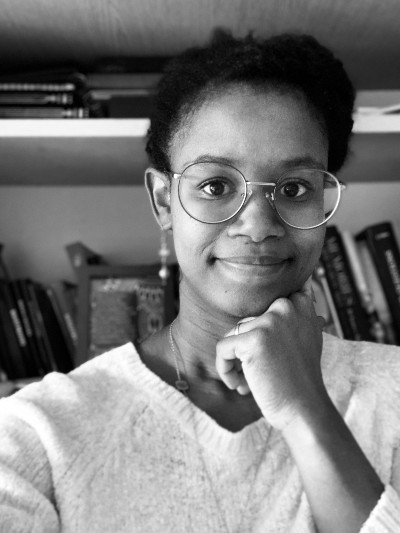 "In the end, we will remember not the words of our enemies, but the silence of our friends." Martin Luther King Jr.

Shortly before writing my poem, a friend shared a passage with me from "Letter from Birmingham Jail" by Dr. King. I really encourage everyone to study the whole letter. You can easily understand why Dr. King was an inspirational leader. His moral insight, his eloquence, and his wit and humor give so much to be admired. Often people quote Dr. King in his most optimistic and loving moments, yet it is important to remember how much action he organized, and how frank he was in calling on others, especially religious peoples, to participate in the change needed and to honor the nobility of all.

"The well-being of mankind, its peace and security, are unattainable unless and until its unity is firmly established." Baha'u'llah

I wanted the last quote to be from the Baha'i Writings, as I suspected that it could be an introduction to the Baha'i Faith for many readers. I felt it important to choose a quote from Baha'u'llah, the Prophet Founder. I read through many quotations on race, prejudice, and injustice, searching for one that was comforting yet a call to action, that looked expectedly toward the light of unity and also acknowledged our role in sparking it.
Baha'i Blog: What words of advice might you have for blossoming poets who wish to affect societal change and progress?
My advice would be to reflect deeply on the purpose of your work and your intended audience. On one hand, we do not want to be intensely abstract or understated, but in difficult times, we must also calm the urge to write solely from fear or frustration. This universe is full of energy, so I strive to honor spiritual beings of past and future by purifying my intentions and rewriting in that space. As Baha'is, it is our desire to seek truth and unity, not merely a confirmation of our own understanding. Therefore, secondly, I would encourage poets to host readings and conversations around their poems. Colby Jeffers of the podcast "Elevated Conversations" discussed the poem with me, going line by line, and it, along with the encouragement of my sister Elizabeth who wanted to discuss it with fellow parents, led to the creation of a study guide for small groups. Those interested in the study guide can email me at [email protected]. It would be a pleasure to join any sessions on the topic of race unity.
Baha'i Blog: Thank you, Andrea, for discussing your book with us — we really appreciate it!
You can purchase a copy of Andrea's book here on Amazon: Will You Break the Silence?
Posted by
In her innermost heart, Sonjel is a stay-at-home parent and a bookworm with a maxed out library card but professionally she is a museologist with a background in English Literature. She currently lives on Prince Edward Island, an isle in the shape of a smile on the eastern Canadian coast. Sonjel is a writer who loves to listen to jazz when she's driving at night.
"*" indicates required fields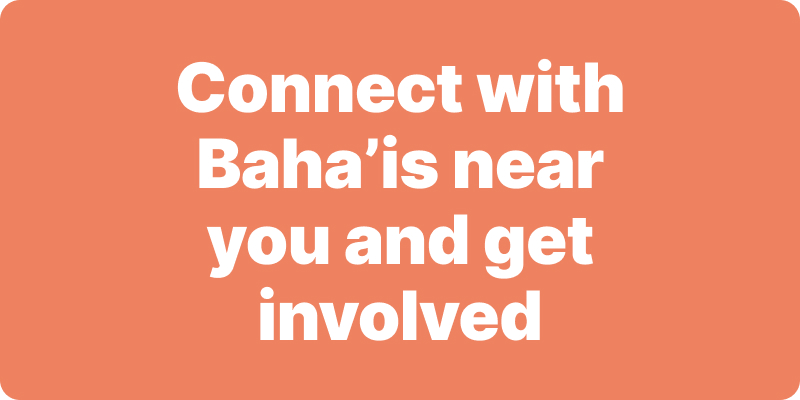 Join activities, celebrations, study groups, spiritual empowerment and education programs for young people, and more.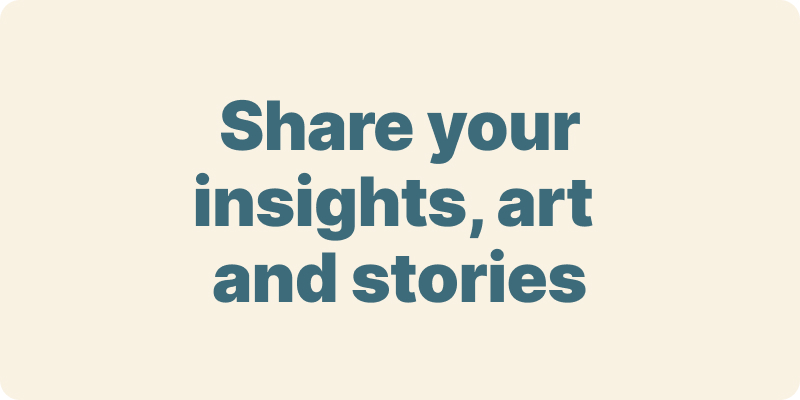 The arts and media have a critical role in how we share our community experiences. We've got resources, projects and more to help you get involved.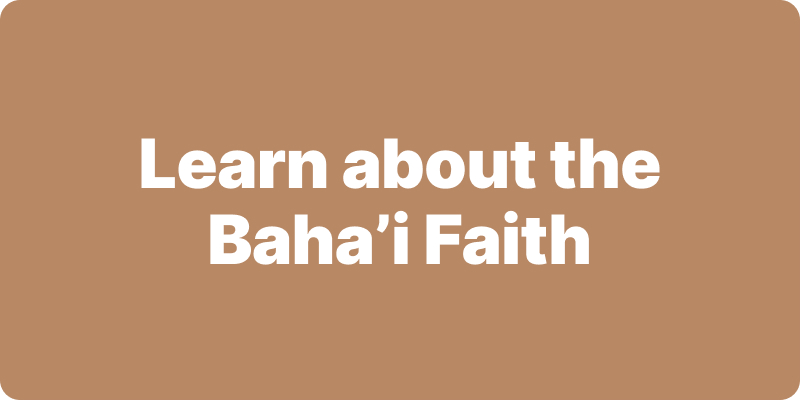 Baha'i beliefs address essential spiritual themes for humanity's collective and individual advancement. Learn more about these and more.
We acknowledge the Traditional Owners of country throughout Australia.

We recognise their continuing connection to land, waters and community. We pay our respects to Aboriginal and Torres Strait Islander people and their cultures; and to elders both past and present.
Baha'i Blog is a non-profit independent initiative
The views expressed in our content reflect individual perspectives and do not represent the official views of the Baha'i Faith.
Visit the site of the
Australian Baha'i Community
and the Baha'i Faith Worldwide