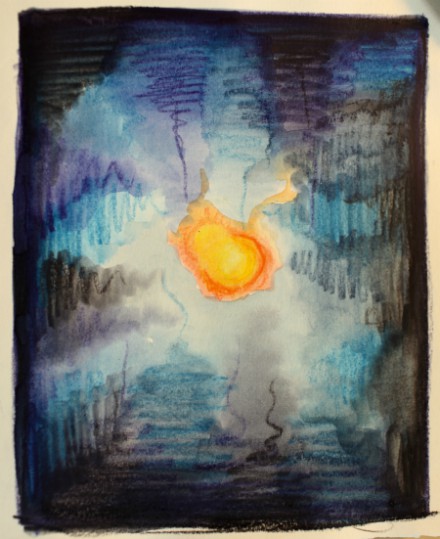 "One body, two souls!" a friend exclaimed when he saw me during my pregnancy. Shoghi Effendi explains that the soul or spirit of a human being is associated with the body at the moment of conception. The soul is a mystery, an intangible, untouchable and yet essential part of who we are. Abdu'l-Baha explains,
The essence of the human soul is clarified from material substances and purified from the embodiment of physical things. It is exclusively luminous; it has no body; it is a dazzling pencil of light; it is a celestial orb of brightness. 1
I was in a coffee shop when I found out I was pregnant and began reflecting on the transformation that was taking place, as well as this notion of the soul. Describing this discovery, I wrote:
In the café, no one looked at me. No one noticed the glassy-eyed woman clutching her tote bag, wondering what to do next. I went outside. I sat on a bench. I snuck another peek at the test. Maybe I had read it wrong. But I hadn't. I stared ahead. Then that means, then that means, then that means, then that means it's happened. That spirit, that soul is here. My God, you are here. Within your tiniest human form, a collection of cells, all your genetic information. Love. You have a heartbeat of your own and it comes from God. This miraculous dividing of cells, your two-chamber heart, all of these are wonders of God but your greatest, most powerful gift is your soul. We have been travelling together for some time. You have wanted to come here and be with us. This place you are travelling to is temporary you know, your true home is that divine world you've so recently come from. How I wish you could tell us of that place! This grey morning in early November, I pray for us and remember and connect with other friends who have passed on to that other world. I am right in between these worlds. Your grandmother and great grandmother… perhaps you've already met.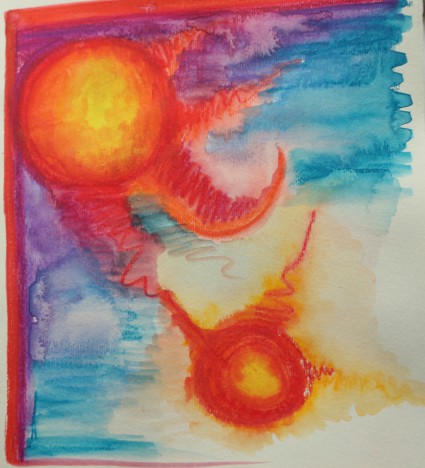 Baha'u'llah writes, "The world beyond is as different from this world as this world is different from that of the child while still in the womb of its mother." 2 I began thinking about the world of the womb, the first world the soul passes through. There are endless apps that help you track your baby growing from the size of a blueberry to a watermelon and all the incredible developments that accompany this. This was my baby's main "job" in the womb, to prepare physically for the world he was entering. Abdu'l-Baha explains that,
In the beginning of his human life man was embryonic in the world of the matrix. There he received capacity and endowment for the reality of human existence. The forces and powers necessary for this world were bestowed upon him in that limited condition. In this world he needed eyes; he received them potentially in the other. He needed ears; he obtained them there in readiness and preparation for his new existence. 3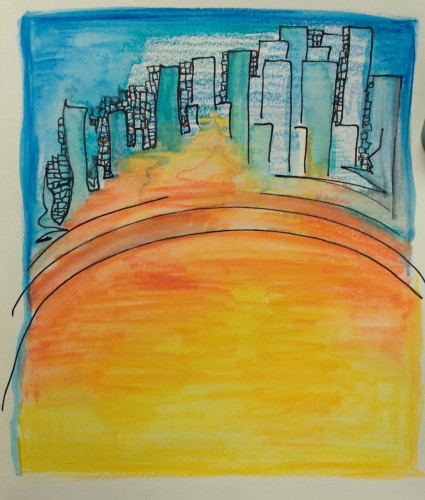 This led me to think about what my job is in this world and for what's to come.
Abdu'l-Baha continues in this vein:
Therefore in this world he must prepare himself for the life beyond. That which he needs in the world of the Kingdom must be obtained here. Just as he prepared himself in the world of the matrix by acquiring forces necessary in this sphere of existence, so likewise the indispensable forces of the divine existence must be potentially attained in this world. 4
This brought up many questions and parallels in thinking about the journey of the soul through the worlds of God. Many times, I've thought of the next world as being distant from me but Baha'u'llah describes that God is "closer to man than his life-vein." 5 Abdu'l-Baha explains "There is no doubt that the forces of the higher worlds interplay with the forces of this plane." 6 I wondered about the parallel with pregnancy, how close and present our baby was to us and yet, he didn't know it! I wrote,
You coming into this world, will it be a death of sorts for you? Coming out of the world of the womb? Will it feel terrifying or wondrous? How can you know what lies ahead as those contractions begin rushing you out of your cozy home? We all face this at the end of our lives. This death and rebirth into a new form. We, who are on the outside, already here, see you growing, you are so present to us. People buy you tiny shoes and clothes in preparation for your arrival. Every morning your father and I are surprised to see a stroller we inherited from a friend, sitting in the living room. But you couldn't possibly know all these details. You hear sounds and taste flavours of our world but it's all muffled. A sudden interruption of your sleep when my alarm clock goes off. A rush of energy when I drink cold water or sweet coffee.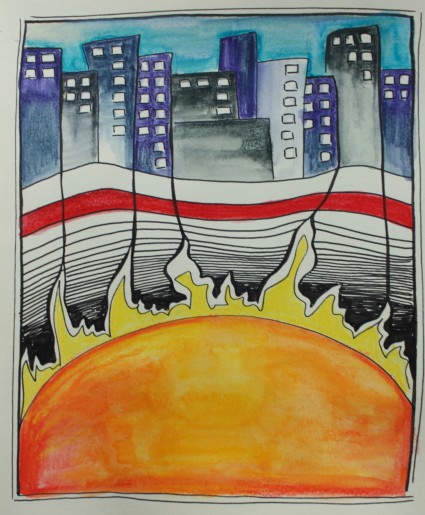 The reality of our baby entering this world hit us when we first heard the heartbeat. I wrote,
In a busy life, other than the daily hard work of cultivating spiritual awareness, there are only infrequent moments in this world of being where we have the opportunity to reach through the veil and hear or see fragments, filaments of other worlds. First, the cold gel on my low belly, then the strange sound of nothingness, a kind of biological radio static looking for the station…and then there you are my love, your heart beating so strong and quick. A powerful heart, my love. And I'm floating now. You're magic.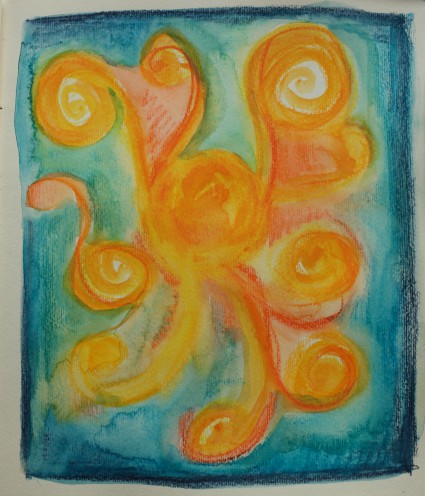 This moment felt like a gift, to be permitted to hear a presence so close to us and yet, in another world. It made me wonder if we are similarly, so close, perhaps even within the world to come. In The Hidden Words, Baha'u'llah seems to point in this direction, exhorting us to open our eyes to this other world:
O MAN OF TWO VISIONS! Close one eye and open the other. Close one to the world and all that is therein, and open the other to the hallowed beauty of the Beloved. 7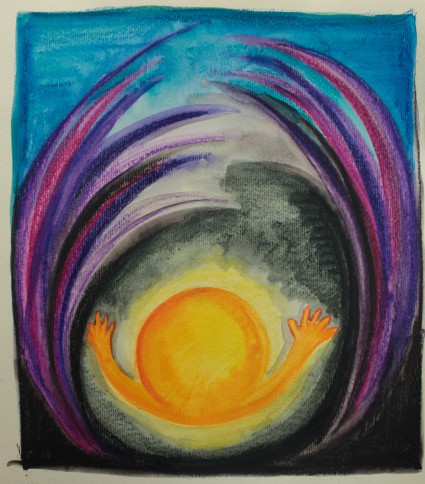 ---
Posted by
Esther loves stories. Over the last decade, she has worked in both theatre and film as an actor, director, writer and producer. She currently serves as coordinator of Illumine Media Project, a grassroots youth media initiative closely linked with community building activities in Toronto, Canada. Esther is pursuing her MEd at the University of Toronto. She lives in a very tall building that faces the sunset with her tea-loving husband and wide-eyed baby boy.
"*" indicates required fields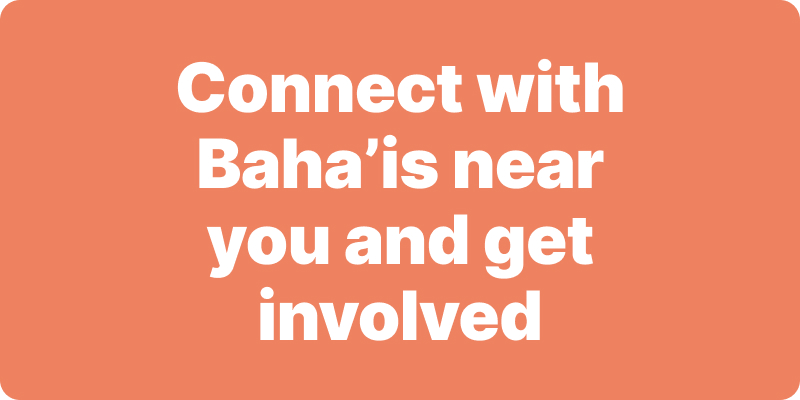 Join activities, celebrations, study groups, spiritual empowerment and education programs for young people, and more.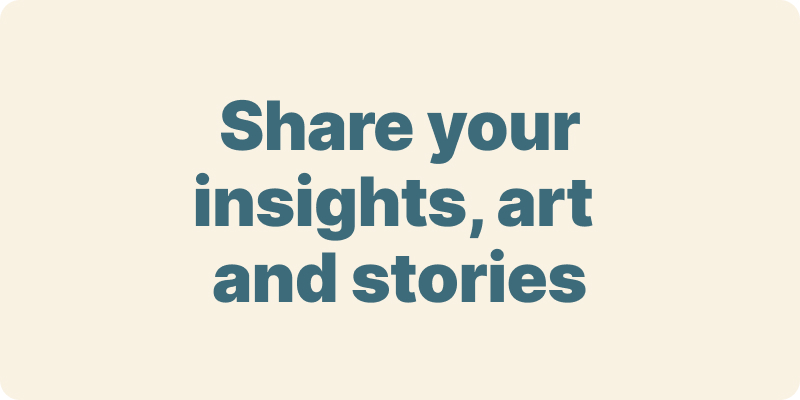 The arts and media have a critical role in how we share our community experiences. We've got resources, projects and more to help you get involved.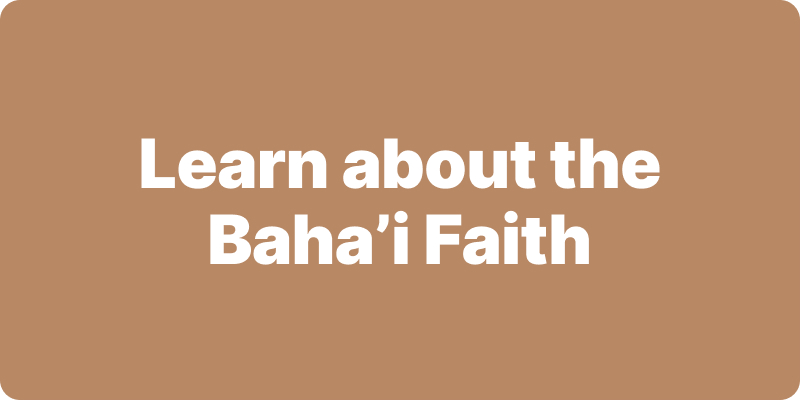 Baha'i beliefs address essential spiritual themes for humanity's collective and individual advancement. Learn more about these and more.
We acknowledge the Traditional Owners of country throughout Australia.

We recognise their continuing connection to land, waters and community. We pay our respects to Aboriginal and Torres Strait Islander people and their cultures; and to elders both past and present.
Baha'i Blog is a non-profit independent initiative
The views expressed in our content reflect individual perspectives and do not represent the official views of the Baha'i Faith.
Visit the site of the
Australian Baha'i Community
and the Baha'i Faith Worldwide