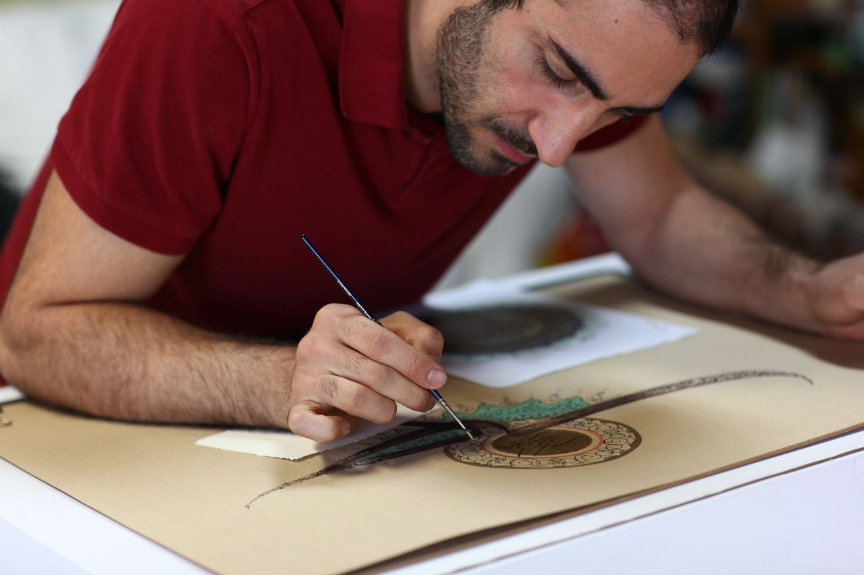 Reza Mostmand has been practicing and developing the art of Persian Calligraphy since he was a young student in Shiraz, Iran.
Years later while volunteering at the Baha'i World Centre in Israel as a Digital Imaging Restoration Specialist, he had the unique opportunity of being exposed to marvellous works of early masters of Persian calligraphy. This exposure to those historic pieces along with the teachings of the Baha'i Faith are his continuous source of inspiration and motivation.
Now based in Toronto, Canada, Reza works as a senior designer at 19gale, a design, web and multi-media agency which he co-founded over 3 years ago. But that hasn't stopped Reza from putting ink to paper and continuing the tradition of Persian calligraphy while adding his own unique spin to the art form. His work has been featured in local exhibitions and conferences, and he offers calligraphy workshops for youth and adults where they explore the history of calligraphy through drama, and are taught the basic rules followed by hands-on practice.
I've been following Reza's artwork for quite some time now, and I was finally able to corner him and ask him some questions about his wonderful art:
Baha'i Blog: Can you first share with me and our readers a little bit about Persian Calligraphy in general? It's significance and a few interesting things people may not know about it?
Hi, and thanks for this opportunity to connect with Baha'i Blog and your fans. A little about the origin of persian calligraphy: In the era of Islam, when the new revelation came to humanity, the Words of the Quran were the spiritual force that inspired many creative works of art. Many people began transcribing the Quranic verses with the most beautiful writing available, as their gesture of devotion to this new Faith. During this time, Iran was under the authority of Sassanid Dynasty. At the spread of Islam into Iran along with its new forms of science and art, Iranians too shared the development of the art of calligraphy, and created a new style to be uniquely Iranian, which is now known as Nastalíq. It was a style created by the fusion of Naskh and T'aliq. Nastalíq became a thing that not only excited artists but also the royal circle. In fact every king and their prince took it upon themselves to learn the art by the most distinguished masters in their time.

All the central figures in the Baha'i Faith also had masterful penmanship, which can be seen from the original tablets and letters. In fact the Bab's exhortation to His followers was to not transcribe any of the verses of the Bayan unless it was done by the best of penmanships.
Baha'i Blog: How would you describe your work to others, as it obviously takes from traditional Persian Calligraphy, but you seem to have adapted your own special twist to it. What are some of the distinct qualities or attributes you lend to your work?
Thank you, well my work as it appears is a mix of drawing/painting and writing, and I feel that this marriage is very effective in portraying the spirit of the words. In this way I try to be as engaged with the meaning and as creative as I can be. I have also been playing with the ideas of integrity of art and intricacy in my work.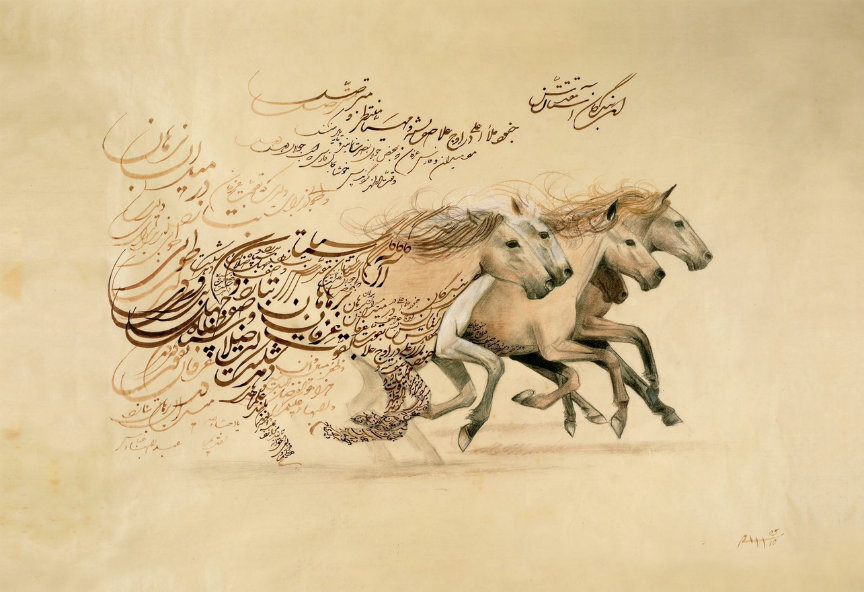 Baha'i Blog: Where do you draw most of your inspiration from for your art, and can you tell us a little about the process you go through when you work on a piece?
The pieces I have made so far are taken from the Writings of the Baha'i Faith. These creative words are powerful and rich with meaning, intended not just to inspire the reader but to change the heart of the individual and the world we live in. So in a sense my work is a symbol of the effect of these words on my heart, and the pieces are ways I was able to visually present the meanings of the Words. Often I start with a verse that I like and resonates with me, and depending on the length of the verse I sketch different layout options on paper, and choose the best. Then I determine the steps that are required to create the piece. I usually start by making a light sketch of the design on the final paper and decide where the writings and the visual elements go, the size of the pen I should use and the colours that would suit best. Once the Verse is written and drawings are done, I erase the pencil marks, add colours if necessary and look at the piece from far away to see how well it balance and if it needs any more elements. When the work is done I spray a matte coating over the piece which protects the ink and the paper and makes the piece last longer, and then worry about a complementary matte and frame.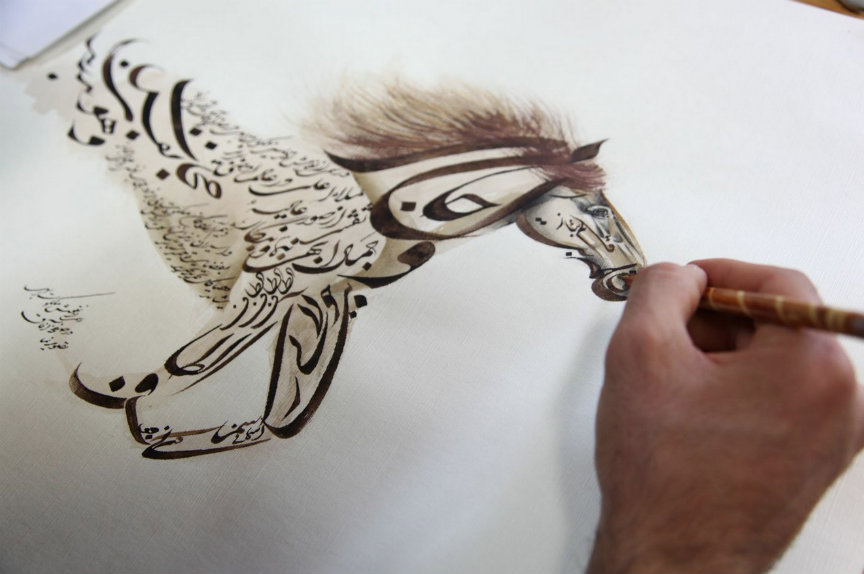 Baha'i Blog: What message do you hope to convey to others through your work?

I really appreciate that each art has some sort of an intention or a message. I guess the message in my work is in two levels. One is the message of the Writings themselves that I am trying to promote, which is often about love for humanity, the assurance of divinity, detachment from the self or ego to name a few. The other is my contribution to the circle of creativity and raising the level of excellency in art, one generation at a time.
Baha'i Blog: Who are some of your favorite artists and how have they inspired you?
The first artist that comes to mind is Mishkin Qalam who produced some of the most beautiful pieces of art. The other is Israfil Shirchi, who is a master calligrapher. I also love the work of some artists from other fields who represented a cause greater than themselves, such as Rumi, Ai Weiwei, Siamak Hariri and others.
Baha'i Blog: What are some of the challenges you are facing while making your art?
Other than the short term challenges of trying to portray a concept most effectively, I feel that I am in a battle with my art which is writing on paper. The idea of 'writing on paper' is becoming more and more strange. Texting and writing on a computer is moving us away from any work on paper and is widening the friendship between our hand and the pen. I am trying to catch it and keep it in for a while. Sometimes when we move away from something we grow a different kind of appreciation for it.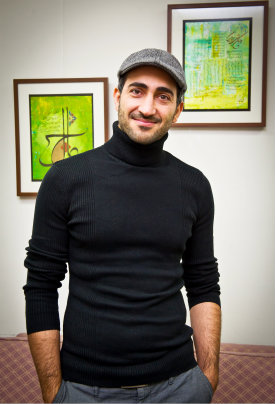 Baha'i Blog: You are also a graphic designer. What are the differences or similarities between your work done by the computer versus your work using your hand?
Actually, many ask me if I produce my calligraphy digitally using a graphic software, which is a very valid inquiry given the rapid expansion of digital art. Although I produce digital art as a graphic designer, these pieces are all done by hand. There are similarities between digital art and paper and ink art. Both of these areas allow the artist infinite possibilities of magnificent art. My career as a designer has informed my art greatly, and vice-versa. When I am using my hands, however, grabbing that pen wet with ink and placing it on the final sheet feels so different. Oddly, it feels less limiting. I feel that it asks for more detailed design, and encourages intricacy. The other value with hand-made work is that there is no going back once the pen touches the surface. This helps in the development of a few qualities such as excellence, courage, patience, endurance, deep emotions, care for particulars, authenticity, responsibility, organic creativity, etc., which using my graphic software may not offer as intensely. So, hand-made art and digital are both arenas that fulfill particular purposes for an artist. In many cases they can merge and mix together and in other cases they ought to do their own work that they are each good at.
Baha'i Blog: Do you have any personal advice based on your own experiences as an artist, which you can share with other artists out there?
Yes. I've recently been thinking a lot about the idea that art and producing creative work is, beyond an artist developing their qualities and abilities, really about advancing civilization. Just like some of the most influential souls in our planet's history, like Leonardo da Vinci, Plato, Tahirih, Gundi, Einstein and others who through their lives and their work left for us marvellous examples that others can aspire to and continue the work to a next level, we also need to be mindful that our work is contributing to this same historical line which youth and artists of today or the future generations would take inspiration from. Thus art advances into a new level in every generation.
Baha'i Blog: Thanks so much Reza for taking the time to do this interview and for sharing your experiences as an artist.
You can find most of Reza's work on mostmand.com, and those interested can get more information about the pieces, purchase prints, originals, and commission work. You can reach Reza either via his website or through his Facebook page.
Posted by
Naysan is passionate about using the arts and media to explore the teachings of the Baha'i Faith. Back in 2011, Naysan started up the Baha'i Blog project, channeling his experiences in both media and technology companies to help create a hub for Baha'i-inspired content online.
"*" indicates required fields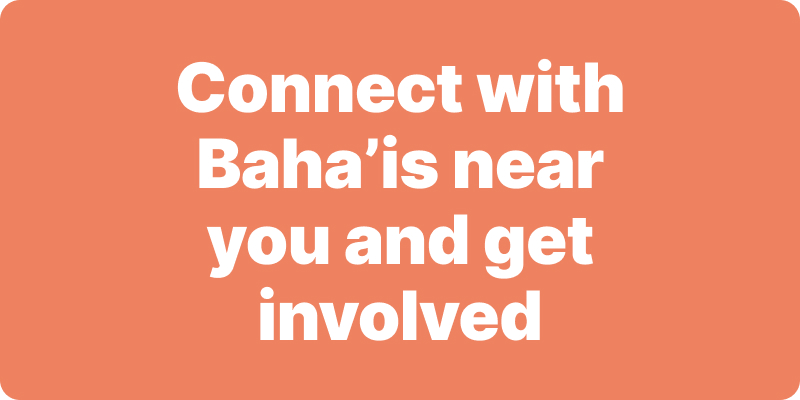 Join activities, celebrations, study groups, spiritual empowerment and education programs for young people, and more.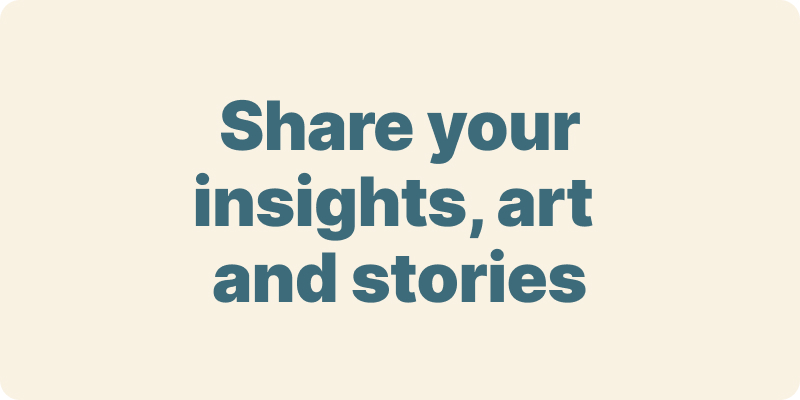 The arts and media have a critical role in how we share our community experiences. We've got resources, projects and more to help you get involved.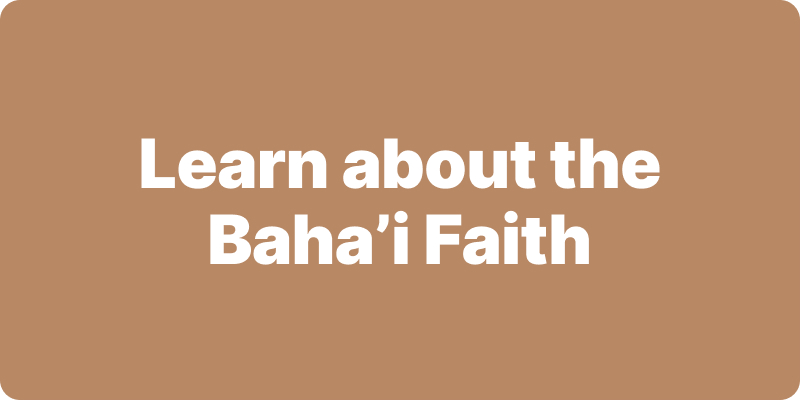 Baha'i beliefs address essential spiritual themes for humanity's collective and individual advancement. Learn more about these and more.
We acknowledge the Traditional Owners of country throughout Australia.

We recognise their continuing connection to land, waters and community. We pay our respects to Aboriginal and Torres Strait Islander people and their cultures; and to elders both past and present.
Baha'i Blog is a non-profit independent initiative
The views expressed in our content reflect individual perspectives and do not represent the official views of the Baha'i Faith.
Visit the site of the
Australian Baha'i Community
and the Baha'i Faith Worldwide