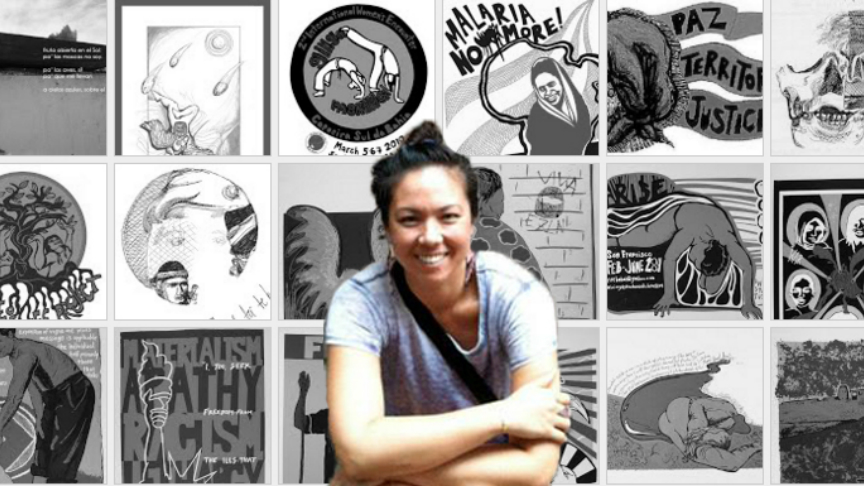 Melanie King Dollie is a California–born creative with a background in printmaking and cultural anthropology. Having lived and worked in China, Israel, Latin America, and currently living in Sydney, Australia, she's passionate about the exploration and use of the arts in helping with social change, so it's no wonder that Melanie and I hit it off straight away when we fist met recently in Sydney.
Melanie agreed to be interview by Baha'i Blog about her art and the ideas behind her work:
Baha'i Blog: Hi Melanie! Please tell us a little bit about yourself and your artistic background.
I'm a Baha'i from California, with an educational background in cultural anthropology and printmaking. I currently live in Sydney, Australia with my husband, where we just relocated after 2 years in Southern China. As of late, I stay busy on art commissions, illustrations, and web design projects.

From a young age I always enjoyed drawing and making things. I remember taking ages to cut stencils out of paper and in order to make multiples. During my first semester at University, which I started after doing a year of service in Honduras, I took a class with a Professor who changed the course of my education and artistic practice. His name was Malaquias Montoya and he taught in both the Art and Chicano/a Studies' departments. Through him I was exposed to the art of social revolutions — the Cuban and Mexican Revolutions, and the Chicano movement and social movements in Asia, the Americas and Africa in the 60's and 70's. These were primarily silkscreened posters and murals. I was also introduced for the first time to the concepts that our artistic focus and cultural biases are always intertwined with the art we produce, and that art should be used a tool for social change and for the advancement of communities.

The images I was exposed to inspired my soul, and the idea that art could be used to as a tool for social change resonated with me as a Baha'i trying to contribute positively to the advancement of society. After that first course, I learned to silkscreen, eventually setting up my own studio, and worked on collaborative community murals with Professor Montoya. I continue to choose subject matter and imagery that I hope will explicitly contribute to dialogue about the realities of both justice and injustice in the world, as well as spiritual realities.
Baha'i Blog: So what type of art work do you do?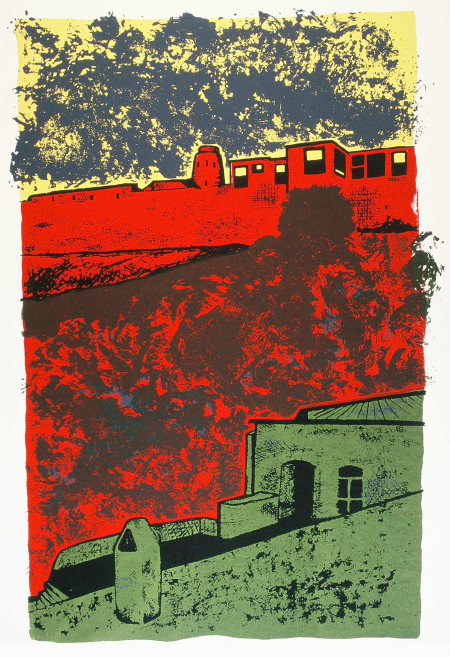 Principally, I'm a screen printer. It's the medium I feel the most love for, because I love the process of stencil-making and ending up with multiples of the same image. Silkscreen (or screen-printing) as a medium also has a rich history rooted in giving a voice to underrepresented communities, as it has been used to make posters for social protests and demonstrations the world over. So the medium itself is beautiful to me because of that historical and stylistic context. The work I feel best represents me as an artist are my silkscreen posters that touch on culture, race and identity, and Baha'i principles.

However, a silkscreen studio requires a lot of space and material resources—it requires a printing table, wash-out room with power washer, a dark room and exposing unit (the size of a large table), and a drying rack (or at least space to put your pages to dry). Since I've been living abroad for the past five years, in small spaces and without access to a print studio, I've pretty much used whatever has been available to me: goache, acrylic, watercolor, ink and spray paint. And of course I've started experimenting with digital art a bit, since it is something I can take anywhere easily.
Baha'i Blog: What effect do you want your artwork to have on the viewer?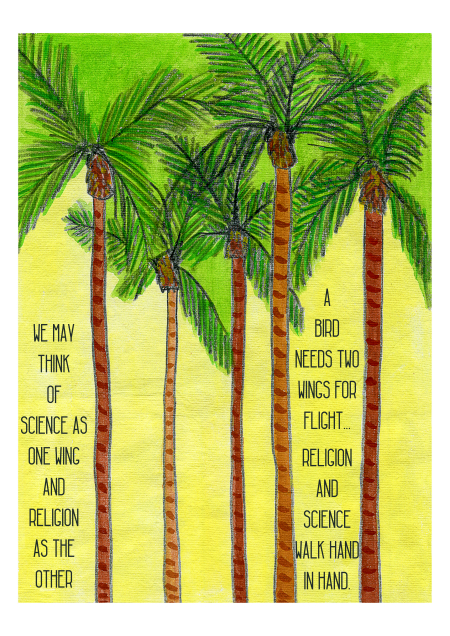 I'd like people to see that the Baha'i Writings can be illuminated bright and bold, and that they can also be communicated through diverse aesthetics and mediums. Growing up a Baha'i, I think my view of how the Baha'i Writings could be integrated with images was limited to the Persian tradition of calligraphy, or a kind of "hippy transcendental" type of American new-age imagery. Obviously my exposure was quite limited! But there is no definition of "Baha'i art", and so that really throws the door open for Baha'is from all backgrounds to create in their cultural tradition, or in new, explorative ways, that no one has seen before. Of course, there is always a fine line between connecting the Faith with old or outmoded ways just by using similar imagery are aesthetic, but it would also be a shame to think that all art inspired by the Faith has to be in one style.
Baha'i Blog: What's your artistic process like?
I always start from a concept, and with words, and let the imagery grow out of that. And because I want my work to communicate an idea or message, I can sometimes be quite literal in my use of imagery and symbolism. So I will usually have the concept in mind, and then start thinking about the cultural context of the intended audience and how the images I create, and their juxtaposition to one another, may be understood. I want the audience to recognize the elements, so that they can then see something new in the way that I've brought them together. I also try to think "locally" about universal themes. One way to do this is by using a personal story to talk about something that expresses a larger principle—for example, a print about the essential Oneness of Mankind, via the image of my Grandfather. In this print, he is pulling back an outdated page containing our Japanese family crest to instead reveal a map of the world.
Baha'i Blog: How do you decide what ideas to focus on, and before starting on a piece do you ever think "Okay this piece of work is going to be a 'Baha'i focused' piece, and this other piece will be a 'non-Baha'i' focused piece."?
I think when I first started to silkscreen, I really had such a freedom to choose whatever I wanted to choose to talk about. So my first prints were all very much inspired by the Writings, touching on themes of the equality of men and women, the destructiveness of war, women as peacemakers, the Oneness of humanity. I was creating out of my own desire to express and to understand, so I had the advantage of starting the kind of conversations that I wanted to be having.
These first prints became really useful for sparking a dialogue about principles of the Faith, and also allowed me to make art that I believed in and had to interrogate more rigorously as I created them, since they had the weight of the Teachings behind hem.
Since then, while working full time in other capacities, I've mostly followed the opportunities that have arisen when people themselves approach me to commission work. Some of these projects have been explicitly Baha'i inspired—starting with a quote and creating an artwork around it—like a series of illustrated posters I did for a National Baha'i Centre based on 11 Principles of the Faith outlined by Abdu'l-Baha in 'Paris Talks'. Other projects, like a mural I painted in a capoeira studio in Santa Barbara where I was training, are part of contributing to a more vibrant and beautiful community, whether that's through directly Baha'i inspired art or "not". I've found that new opportunities to create naturally emerge from relationships with positive individuals and communities, both Baha'i and non-Baha'i. And once that happens, there's no choice but to do my best to bring the image to life.
Baha'i Blog: Thanks so much for taking the time to do this interview Melanie, and I hope your artistic endeavours continue to contribute towards this ever advancing civilization we are all working towards.
You can check out more of Melanie King Dollie's work on her website: www.ememkd.com
And you can purchase some of her original silkscreen prints from her shop on Etsy: www.etsy.com/shop/EMEMKD
Or buy digital prints of her work on Society6: society6.com/ememkd
Posted by
Naysan is passionate about using the arts and media to explore the teachings of the Baha'i Faith. Back in 2011, Naysan started up the Baha'i Blog project, channeling his experiences in both media and technology companies to help create a hub for Baha'i-inspired content online.
"*" indicates required fields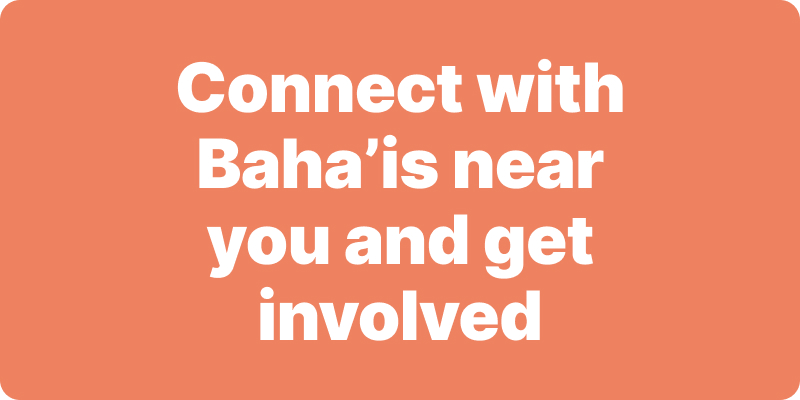 Join activities, celebrations, study groups, spiritual empowerment and education programs for young people, and more.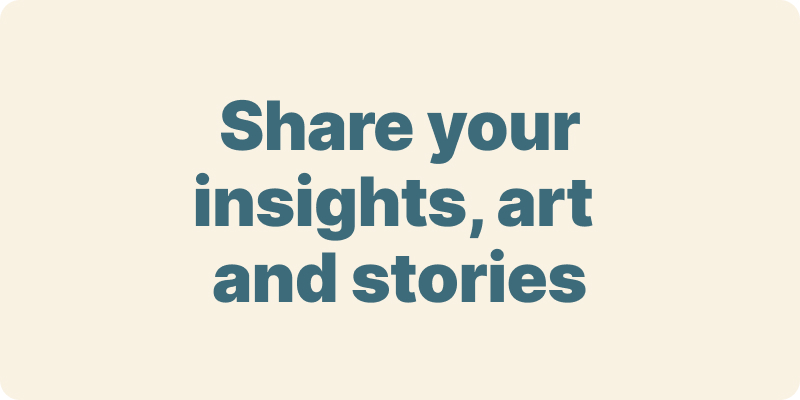 The arts and media have a critical role in how we share our community experiences. We've got resources, projects and more to help you get involved.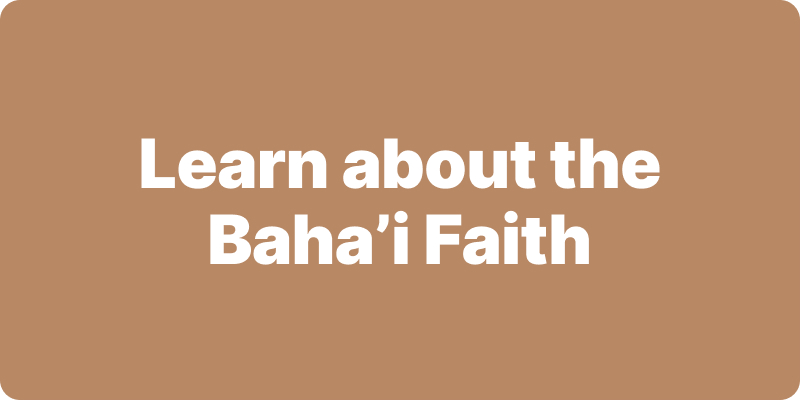 Baha'i beliefs address essential spiritual themes for humanity's collective and individual advancement. Learn more about these and more.
We acknowledge the Traditional Owners of country throughout Australia.

We recognise their continuing connection to land, waters and community. We pay our respects to Aboriginal and Torres Strait Islander people and their cultures; and to elders both past and present.
Baha'i Blog is a non-profit independent initiative
The views expressed in our content reflect individual perspectives and do not represent the official views of the Baha'i Faith.
Visit the site of the
Australian Baha'i Community
and the Baha'i Faith Worldwide