Celebrations are taking place this year in countries far away from each other but with a special bond that unites them.
Sixty years ago, individual Baha'i volunteers left their jobs and homes and emigrated to distant lands.
They were responding to a call by the head of the Baha'i Faith at the time, Shoghi Effendi, to take the faith into every corner of the globe.
This phenomenon led to the doubling of the number of countries with a Baha'i presence within a decade. It was an astounding event in world religious history.
It had all started the year previously but by 1954 there were still many countries without a Baha'i available to offer local people the world-embracing teachings of their faith.
And so ordinary folk bravely set off, often with little information about their destination and not knowing if they could land a job.
Sixty years on there are now flourishing Baha'i communities worldwide, many of which began with the seeds planted by these folk, most of whom were to be honoured with the title "Knight of Baha'u'llah".
One of the anniversary celebrations that has already taken place this year was in Samoa where the Prime Minister, the Honourable Tuilaepa Sailele Malielegaoi attended and expressed thanks to the Baha'i community for its long service to the development of Samoan society. The Faith had been taken there by a 24-year-old, single Australian woman, Lilian Wyss, later Lilian Wyss-Ala'i.
Here are some brief anecdotes about the first Baha'is who arrived in some of the communities now celebrating their 60th birthdays:
Equatorial Guinea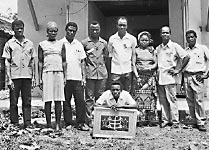 A young journalist from the United States, Elise Schreiber (later Lynelle), arrived in May 1954, fortuitously on a festival day, which prompted the military authorities to permit her to stay on. Due to restrictions on relations between the races, she could not meet with black Africans but in June she joined a group of surveyors and went to the island of Corisco where she met King Santiago Uganda Mdelo, who had a premonition about somebody arriving with a religious message. He and his nephew, Edward Robinson, became Baha'is.


Guam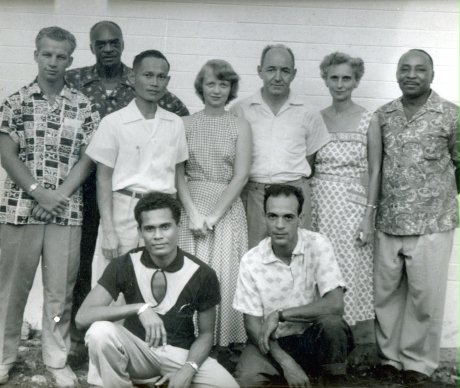 Cynthia and Edgar Olson were middle-aged when they courageously decided to sell up in Delaware, USA, and move to Guam. They later became well-known there for their work in the media and for owning a popular Swedish pancake house, which attracted locals from all parts of the country. They also provided food for the soul, and the community grew. A former media colleague of Cynthia's, Madeleine Bordallo, became a US congresswoman for Guam and a decade ago recalled her friend's loving support and encouragement for her, and said she was "kind with her words, abundant with faith and hope, and generous with her love."



Kiribati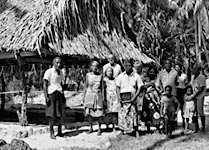 Roy Fernie was easily able to entertain locals in Kiribati after he and his wife Elena became the first Baha'is there after leaving their home in Panama in 1954. Mr. Fernie was an amateur magician so the people loved seeing his tricks, and they also enjoyed listening to the piano and the radio the couple had brought with them. One of those who came for entertainment was Peter Kanere Koru, who translated what the Fernies said, and then became the first of what is now a thriving community of many Baha'is.



Papua New Guinea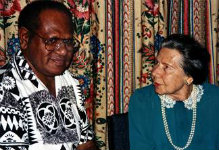 The first Local Spiritual Assembly in Papua New Guinea was elected in Madina Village, New Ireland Province on 21st April 1958.An Australian Baha'i, Violet Hoehnke, was the first Baha'i to arrive in Papua New Guinea, followed closely by New Zealander, Rodney Hancock. Mr. Hancock, still a regular visitor to PNG from his home in Brisbane, Australia speaks about the difficulties of talking about the Faith to locals because the Australian administration disapproved of any friendly association between them and expatriates. However, a year after they arrived he and Ms. Hoehnke introduced the Faith to Apeilis Mazakmat, a teacher in the province of New Ireland, who, after saying the teachings were the answer to all his dreams, became a Baha'i.



Solomon Islands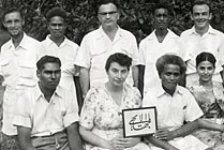 As US Baha'is Gertrude and Alvin Blum, with their daughter Keithie, were embarking on a ship to take them from New Zealand to the Solomon Islands, Mr. Blum was called back down the gangplank to receive a telegram, which read: "Loving prayers surrounding you. Shoghi." The encouragement would sustain them forever. Honiara was hardly a town at that time, but the couple started up a businesses, and established a Baha'i community. Their inspiring story is told in the book Of Wars and Worship by Keithie Saunders.



Swaziland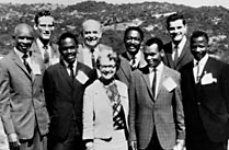 It took an admirable measure of detachment for John and Valera Allen to leave their affluent San Francisco life , where John ran a big, successful car business, to move to Swaziland. However, with his business acumen and generosity, they were able to build and largely finance schools and Baha'i centres in the country. Among the first local people to become Baha'is were Isaiah Phala, a teacher, and his wife, Jemima. Others to follow were Ben Dlamini, Chris Kuhlase, Andrew Mofokeng, Maxwell Ndlovu, and some of the children of the late King Sobhuza II. One of those was Princess Gcinaphi, an ardent promoter of Baha'i principles, who went on pilgrimage to the Holy Land in 1984.



Taiwan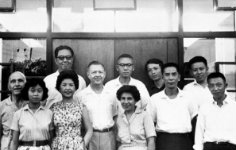 There was a fledgling Baha'i community of only 10 souls when Persian couple Suleiman and Ridvaniyyih Suleimani answered the call for volunteers to move to the island to support the fledgling Baha'i community there. After many year of service, they passed away in the 1980s and bequeathed their home to the Faith. Their Western-style villa with an oriental flavour and a beautiful garden now serves as a Baha'i centre.





Tonga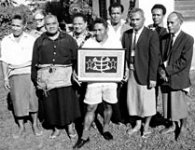 After Australian Baha'i Stanley Bolton and US Baha'is Dudley Moore Blakely and his wife Elsa (Judy) Blakely introduced the Baha'i teachings to the Kingdom of Tonga 60 years ago, the society was not initially receptive to it but since then many strong and courageous people have become Baha'is, and the faith has a good reputation. Among the early Baha'is were Latu and Mele Tu'akihekolo, Peni and Lupe Tutu'ila Tevita Tu'ipulotu and Seini Toutaiolepo, Lisiate Maka, Tevita Halaholo and Hesekaia Vaohingano. Mosese Hokafonu travelled extensively for the Faith throughout the kingdom and the Pacific, and Suliana Halaholo Korean, a notable translator of the Baha'i writings, lived as a Baha'i pioneer with her husband Masao in the Marshall Islands.



For stories about other countries, visit the Baha'i World News Service or check out the official pages of each national Baha'i community found here: National Baha'i Communities
Posted by
Michael Day is the author of "Journey to a Mountain", "Coronation on Carmel" and "Sacred Stairway", a trilogy that tells the story of the Shrine of the Bab, as well as a photo book "Queen of Carmel" on the same topic. He also authored the 2021 publication "Fragrance of Glory: An account of the Ascension of Abdu'l-Baha". He was a journalist for daily newspapers in Australia and New Zealand. Then, from 2003-2006, he was the editor of the Baha'i World News Service at the Baha'i World Centre. Now based in Benowa, Gold Coast, Australia, he is researching and writing on aspects of Baha'i history.
"*" indicates required fields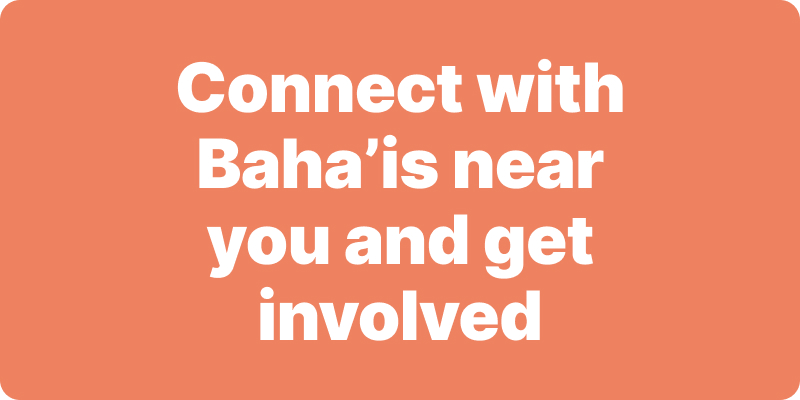 Join activities, celebrations, study groups, spiritual empowerment and education programs for young people, and more.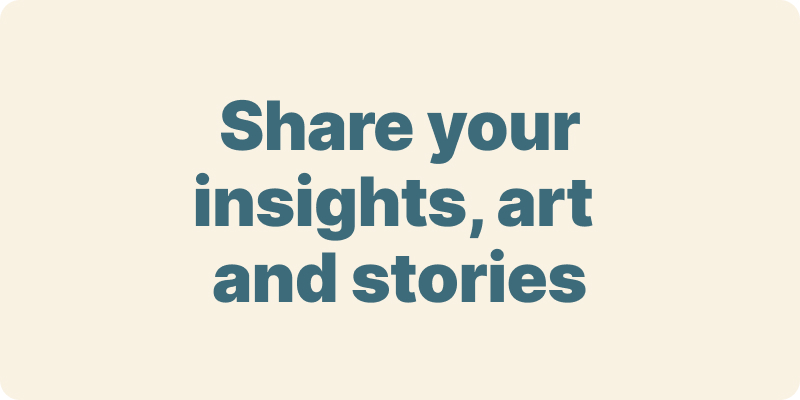 The arts and media have a critical role in how we share our community experiences. We've got resources, projects and more to help you get involved.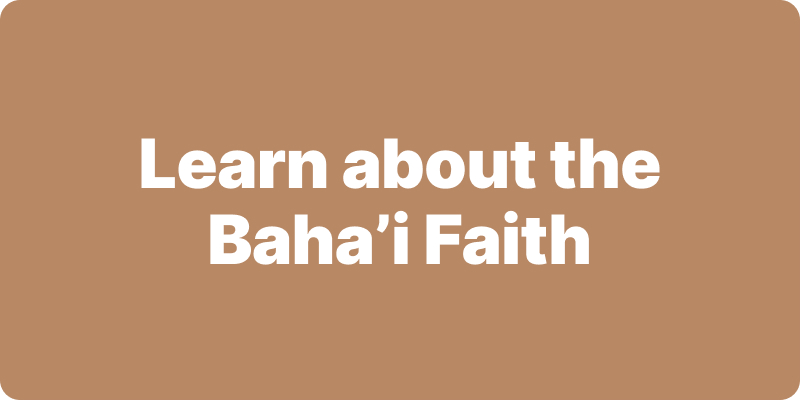 Baha'i beliefs address essential spiritual themes for humanity's collective and individual advancement. Learn more about these and more.
We acknowledge the Traditional Owners of country throughout Australia.

We recognise their continuing connection to land, waters and community. We pay our respects to Aboriginal and Torres Strait Islander people and their cultures; and to elders both past and present.
Baha'i Blog is a non-profit independent initiative
The views expressed in our content reflect individual perspectives and do not represent the official views of the Baha'i Faith.
Visit the site of the
Australian Baha'i Community
and the Baha'i Faith Worldwide